The leading payment service Visa is concerned about the merchants who haven't migrated their stores to Magento 2 yet.  Within the United States in 2019, there were 340 million Visa credit cards in circulation, with another 800 million cards outside the U.S. The company states that merchants should migrate to a supported version or alternate platform to remain PCI compliant.
Consequences of Not Migrating to Magento 2
As you know, June 30 is the end of life for Magento 1 platform. After that time all Magento 1 stores and websites will face the next issues:
Without any upgrade or security patches, merchants' eCommerce sites may degrade and become unstable;
Extensions or plug-ins functionality may break or become unavailable;
Over time, Magento developers will only be familiar with Magento 2;
Merchants will fall out of compliance with PCI DSS;
eCommerce sites will be more exposed to security risks and increased likelihood of an account data compromise due to the lack of security upgrades.
eCommerce is a tidbit for hackers and the sphere loses billions $ each year. Unfortunately, these figures continue to grow. As well as VISA, our team is concerned about the sound payment environment and the safety of customers' transactions. Rejecting Magento migration, you compromise not only your customers but your life's work.
Look Ahead Migrate Now
Currently, we're all having hard times and struggling with the common threat. I guess you know what I am talking about. It's a time of great responsibility. The responsibility for the future, for how the world will look like after the disaster.
The world will never be the same and the new one is going to be an eCommerce world. It's time to make the decision whether you're joining it or not. During the quarantine period, we've already helped dozens of stores to shift their stores to the new epoche, Magento 2 epoche.
If you're considering a migration or already migrating here's a list of articles that may help you: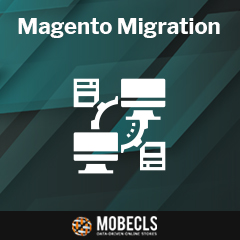 Mobecls Team provides several Magento migration packs. We help both middle-sized and large stores to smoothly migrate their data, design, custom functionality, extensions, SEO, etc. If you're interested in our migration scenarios, contact our experts or click the orange button.