eCommerce YouTube Channel Promotion and Optimization
Unlock the Power of YouTube for Your eCommerce Success
Why YouTube Channel Optimization is Beneficial for eCommerce

YouTube is the second-largest search engine globally, processing more than 3 billion searches per month. By tapping into this vast audience, you expand your brand's visibility and attract new customers.

Videos have proven to be highly engaging and memorable, making them an ideal medium for showcasing your products, demonstrating their usage, and engaging with your audience on a deeper level.

Optimizing your videos with relevant keywords and links can enhance your overall SEO strategy and drive organic traffic to your eCommerce website.

YouTube is home to numerous influencers and content creators who have built loyal followings. Potential partnership leads to increasing your customer base and brand awareness.
YouTube is

2 billion
logged-in monthly active users.

70%
of YouTube users have reported buying from a brand after seeing it on YT.

90%
of YouTube users say they discover new products or brands on the platform.
3 billion
YouTube processes more than 3 billion searches per month.
What eCommerce Companies Do Wrong in Promoting Their YouTube Channels
While eCommerce companies recognize the importance of YouTube, they often make common mistakes that hinder their channel's growth.
These include:
Inconsistent Content:

Posting sporadically or irregularly can lead to a lack of engagement and poor channel performance. Consistency is key to building a loyal subscriber base and establishing your brand's authority.

Lack of Optimization:

Many eCommerce companies overlook the importance of optimizing their YouTube channel and videos. Neglecting crucial elements such as titles, descriptions, tags, and thumbnails can result in low visibility and missed opportunities.

Neglecting Analytics:

Without tracking and analyzing key metrics, it's difficult to understand your channel's performance and make informed decisions. Failing to utilize YouTube's analytics tools can hinder your ability to refine your strategy and maximize results.

Overemphasis on SEO:

Many merchants invest significant time and resources into SEO optimization, despite YouTube algorithms prioritizing other factors in video ranking. Instead, it is advisable to focus on content creation and its optimization rather than solely relying on SEO.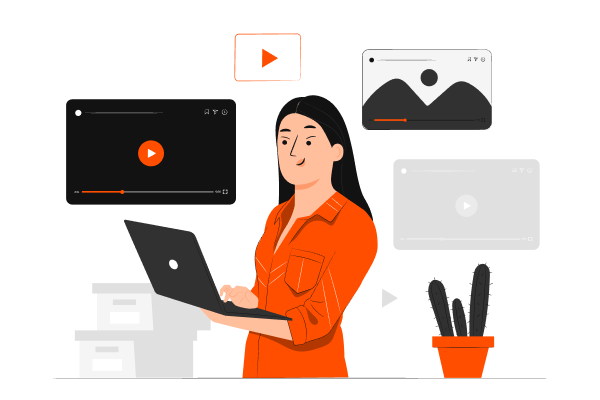 YouTube Channel Promotion
and Optimization Packages
Setup Package
We  set up your YouTube channel from scratch, ensuring it aligns with your brand's identity.
Setup includes:
Creating an appealing channel banner
Setup of channel description and tags
Basic video optimization for search engines (5 latest videos)
1-2 weeks
Audit Package
We  identify areas for improvement, provide actionable recommendations to optimize your content, and help you refine your YouTube strategy.
Audit includes: 
Keyword research
Optimization of channel tags and descriptions for 5 latest videos
List of expert recommendation on improving user engagement and SEO
2-4 weeks
Optimization Package
We  implement advanced optimization techniques to enhance the visibility and engagement of your YouTube channel.
YouTube channel optimization includes: 
Keyword research
Optimization of titles, tags and descriptions
Designing eye-catching thumbnails
Implementing strategic calls-to-action
Social media accounts integration with YouTube
2-4 weeks
Why Mobecls

Our team includes a specialist with over 5 years of experience in blogging and eCommerce. We understand the unique challenges and opportunities in promoting eCommerce businesses on YouTube, and we have a track record of delivering successful results.

We believe in tailoring our strategies to fit your specific eCommerce business goals. We take the time to understand your brand, target audience, and objectives, allowing us to develop customized YouTube promotion and optimization strategies that yield the best results for your business.

We offer end-to-end solutions, from channel setup to optimization. Whether you're starting from scratch or need to revamp an existing channel, we ensure your YouTube presence is fully optimized for success.

Algorithm Strategy Management
YouTube's algorithm is a constantly evolving landscape, requiring frequent adjustments and staying informed about the latest trends. Our team of experts will handle all the nitty-gritty details and keep your strategy in line with the algorithm's changes.