CRM Integration
Zoho
SugarCRM
Microsoft Dynamics
Salesforce
Shipping Integration
FedEx
DHL
Canada Post
Royal Mail
CRUX
Accounting Integration
AvaTax
Sage
QuickBooks
FreshBooks
Payment Integration
PayPal
Skrill
Amazon Payments
Braintree
ERP Integration
Epicor Eclipse
NetSuite
Microsoft Dynamics
SAP
Marketplace Integration
Amazon and Ebay Integration
Google Merchant Center (Google Shopping)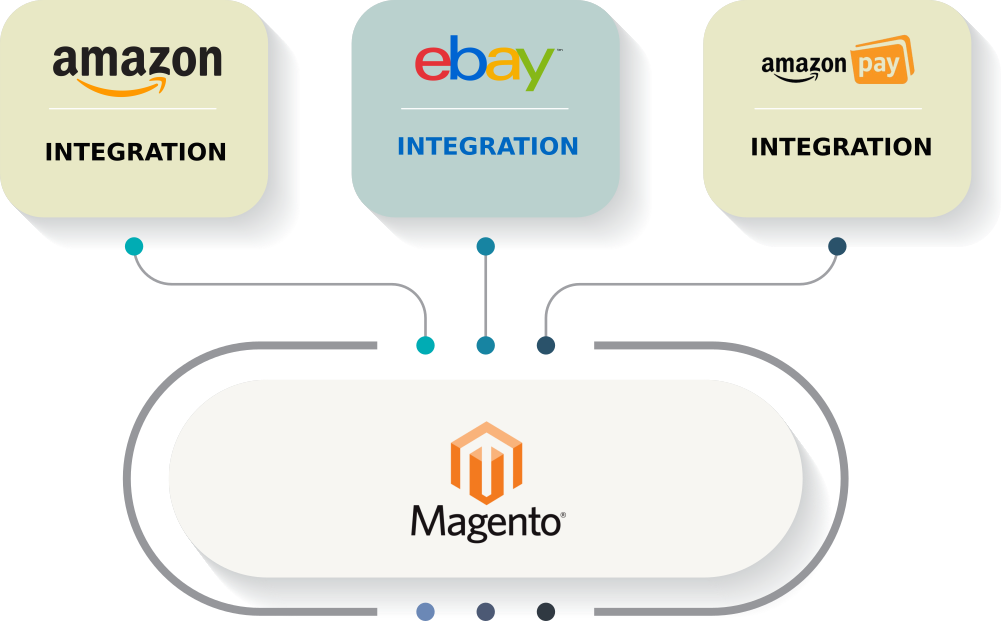 Amazon and Ebay Integration for Magento | Adobe Commerce
9 of 10 US shoppers head to Amazon even after they found an item on any website. Amazon's catalog has more than 350 million items. People choose this marketplace because of competitive pricing, reliable customer service, and fast shipping.
Amazon and eBay integration allows merchants to increase sales significantly. We choose the most suitable extension for your business, install and configure it. We have experience working with M2E PRO, MCF.
Quickbooks Integration for Magento | Adobe Commerce
We integrate QuickBooks to Magento | Adobe Commerce by developing custom functionality or extension package installation. We'll help you choose the solution according to your business needs and specifics.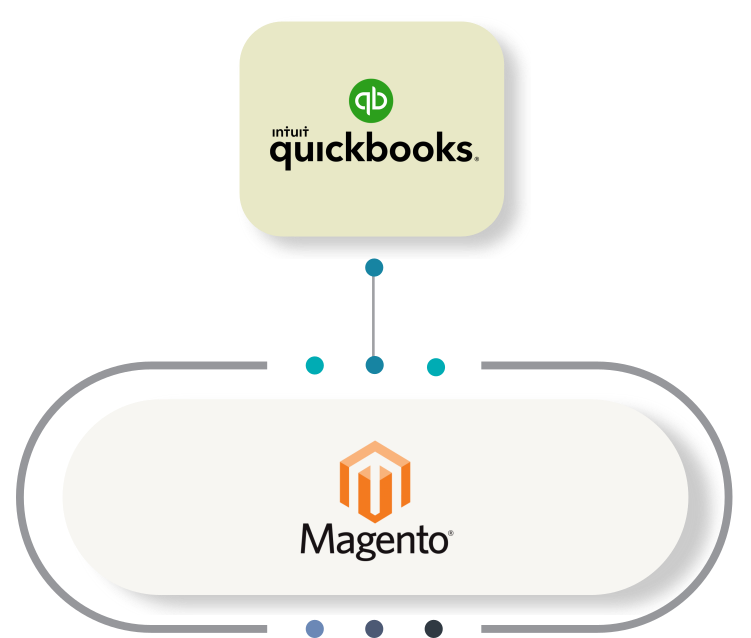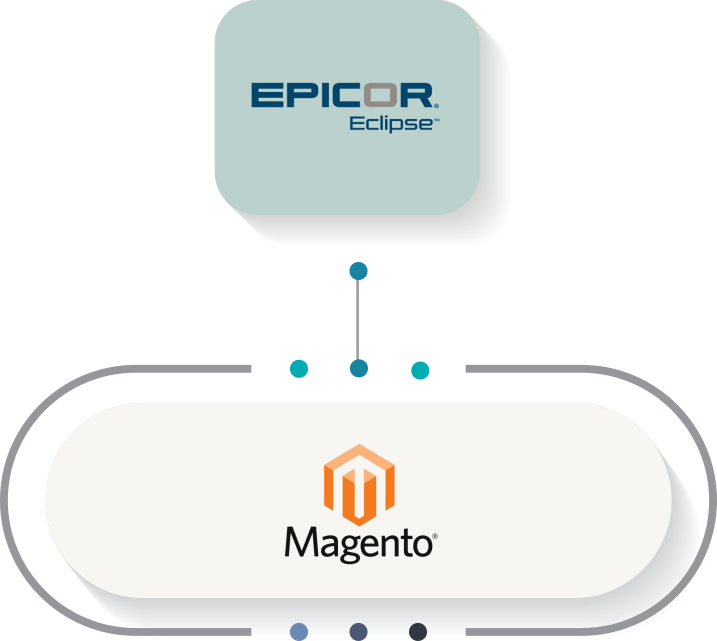 Epicor Eclipse Integration for Magento | Adobe Commerce
Epicor Eclipse is an ERP CRM business system aimed at electrical, plumbing, HVAC, and PVF distributors. It offers numerous features to grow sales, improve margins and increase productivity. Epicor Eclipse functionality lets users anticipate and satisfy shifting customer demands.
Epicor Eclipse integration will help you to increase sales, reach new customers and shorten sale cycles.
Zoho Integration for Magento | Adobe Commerce
Zoho integration allows transferring customer data automatically, preventing data duplication and saving time for more essential tasks.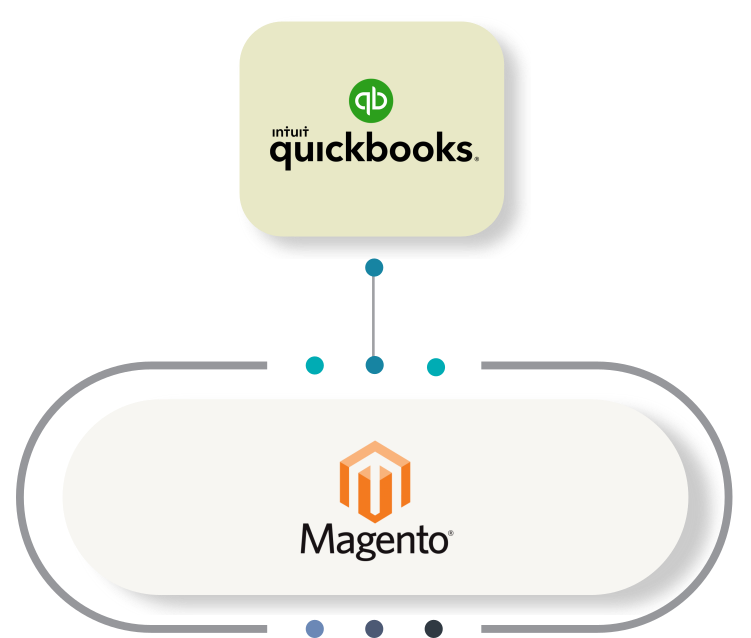 "Integrations are like a pair of extra hands that helps you to multitask
Modern consumers generate tons of data which makes the business environment more complex. Processing this information becomes a real headache for the merchants. It slows down and reduces the efficiency of forecasting, decision making, and sales/purchase processes. If you want to take your business to the next level, you should consider third-party software integration:
ERP Integration for eCommerce
Enterprise Resource Planning (ERP) software is a Swiss army knife with all the necessary integrated applications to manage your most important processes. Its arsenal includes order processing & fulfillment, human resources, supplier and customer management, manufacturing, purchasing, etc.
Costs Reduction
ERP integration is a time and money-saving solution for your business. Forget about spending money on multiple systems as you have all the necessary applications at hand. There's no need to invest in staff, licenses, infrastructure, and support teams.
Visibility And Forecasting
It's the biggest selling point of ERP systems. The software gives you and your managers total access to every business process. Monitor your inventory, future consignments that are not received yet, and supplies in transit. It allows you to control your capital on a more precise level, make decisions quickly and be confident that you see the full business picture at any moment.
Enhanced Reporting 
If you implement an ERP system across all your departments you get an ultimate reporting system on every business level. It provides you with reports and real-time analytics. You can forget about numerous spreadsheets and emails while analyzing and comparing the work of your departments. ERP systems also have built-in financial reporting, which includes income and cash flow statements.
Customizations
ERP system is like LEGO. You can customize it in your way according to certain business specifics. If you need more applications to meet business needs, it won't be a problem to integrate a couple of them. Pick and choose elements that work best and get rid of unnecessary ones.
Data Security
Data is the heart of any ERP system. All your marketing, sales, and business data is shared across all your departments. ERP software has built-in controls to provide data security. You can decide who can see and edit the information.
ERP is a single input system what means it has one information repository. It enhances the security, consistency, and accuracy of data. Cloud-based ERPs offer an extra security layer as you have 24/7 security experts that make cyber attacks highly doubtful.
Top ERP Systems
Epicor Eclipse perfectly suits for electrical, plumbing, HVAC and PVF distributors with complex business processes. It perfectly manages accounting, financial reporting, distribution and manufacturing processes.
The system's advantages:
Accounting
Business Intelligence
Customer Relation Management
Inventory Management
Product and Purchase Planning
Supply Chain Management
NetSuite is the world's most deployed ERP solution. It's one of the most flexible ERP systems that's targeted to high-growing, mid-sized businesses and large enterprises. It won't be painful to afford it as each client gets the price tailored to his needs and capabilities.
This software optimizes such front and back business processes like financial management, revenue management, fixed assets, order management, billing, and inventory management.
NetSuite's management functionality also supports sales, finance, HR, operations and service departments. It enhances employee productivity via its cross-departmental collaboration. Real-time data visibility helps you to make quick decisions and place your goods on the market on time.
Microsoft Dynamics is a robust ERP for small businesses and large enterprises. It streamlines manufacturing and administrative processes, offers warehouse and production management, materials requirement and business intelligence, product lifecycle and asset management.
It's good because of its multilayered manufacturing functionality, 360-degree visibility across sales and distribution, seamless Microsoft Office integration.  Also, it offers both process- and discrete-based manufacturing functions.
SAP ERP accommodates extensive industry-specific functionality, best practices and processes.
It's a comprehensive, integrated and user-friendly ERP solution that supports a wide variety of industries. The hallmark of the software is that users can connect to and run queries from multiple data sources at the same time, allowing them to multitask and simplify a workload.
It can be deployed both on-premise and in the cloud with a business intelligence module that provides precise analytics.
Payment System Integration for eCommerce
A payment gateway is essential for every eCommerce business as it provides a secure Internet connection to process credit card payments. It verifies, accepts, or declines payment operations. All the sensitive payment data like credit card numbers are securely passed between customers and merchants. These gateways use advanced encryption and verification technologies to provide proper payment data security.
Why integrate payment gateway:
Data Security
Chargeback Management
Advanced Decision-Making
PayPal is the most recognizable payment gateway when it comes to payment security. It provides advanced encryption and 24-hour security monitoring. The fees associated with this payment gateway are 2.9 percent + 0.30 USD per transaction.
Braintree is a flexible payment gateway that meets the needs of any business starting from small to enterprises. It has basic fraud protection, secure data storage, and PayPal built-in integration. The fees associated with this payment gateway are 2.9 percent + 0.30 USD per transaction.
Amazon Payments allows customers to pay through their Amazon account. It significantly reduces checkout time and boosts sales. Customers who use Amazon Payments choose payment and shipping methods in WordPress widgets, so they don't have to leave your store.
The fees associated with this payment gateway are 2.9 percent + 0.30 USD per authorization. There is no upfront cost to enable this payment gateway on your site.
Accounting Software Integration
Quickbooks
 is a reliable and cost-effective eCommerce accounting solution. It offers a range of advanced tools, full sales recording with credit and debit card friendly invoices and payment notifications, downloadable bank transactions, common accounting tasks at the push of a button, full mobile integration.
Sage have established themselves as experts in user-friendly business accounting. With its help, it becomes easier to manage income and expenses, unlimited bank transactions, and even generate reports for better decision making. Their pricing policy will satisfy every business starting from a start-up to a large enterprise.
The most solid Sage's features are payroll services, fully integrated accounting and finance management, mobile integration for all users, cloud-based software giving instant access to real-time data, full support and ongoing training.
AvaTax is an effective solution to fulfill your tax requirements in time and in a correct way. AvaTax handles VAT, GST, and other transactional taxes for millions of products and services across 12,000 tax jurisdictions. AvaTax's cloud-based software is easy-to-use and fast-to-implement, ensuring a rapid return on investment.
Freshbooks is a cloud-based accounting software designed for small/mid-size businesses and freelancers. It manages finances, client invoices, track projects and timekeeping, and communicate with team members.
FreshBooks is best for bill paying, smartphone users, small business owners, invoicing, Medium-size business owners.
Shipping Solutions for eCommerce
Shipping issues can be a real threat to your business: late shipment, expensive shipping costs, unfulfilled orders, wrong product shipped, unclear return policies, poor packaging, etc. When customers face these issues their retention and satisfaction go down to zero. The most popular shipping solutions we integrate:
FedEx. Create and print FedEx shipping and return labels. You can also create "invert" labels for shipping from customer to shop. All labels can be created in fully automatic, bulk and manual modes. The system automatically inserts Tracking Number into the Shipping Information block of the shipment and sends it to the customer by email.
DHL. Fast and easy label creation of your domestic and cross border orders; auto tracking codes; convenient handover notes creation, bulk printing.
Canada Post. Register your shipment with Canada Post; track shipped parcels using your Canada Post tracking number; set all shipment options including Signature and Coverage; delivery to Post Office in the nearest area; on-demand pickup.
Royal Mail. Real-time sync with Royal Mail; shipment email with a tracking number; in-order holding multiple items; partial shipment; create and cancel the shipment without any difficulty.
CRM Integration for eCommerce
Customer Relationship Management tool is a must for every business that wants to enhance customer satisfaction. CRMs help you to identify, understand and assist your clients. CRM solution will optimize client data gathering and storing, starting from transaction history to needs and concerns. The more you know about your clients, the more benefits you gain. The deployment of CRM systems boosts client retention by 27 %.
Zoho is a cloud-based CRM solution that meets the needs of small and mid businesses. Zoho interface includes sales and marketing automation, customer support and help desk, data reporting and customer analytics.
The software allows you to communicate with your clients via emails, social media, live chats and calls. A gamification feature allows your employees to be rewarded after achieving their sales goals. A pleasant little thing that adds a competitive spirit to your sales process.
SugarCRM is available both as a cloud and on-premise CRM solution. It has a traditional set of functions such as sales automation, marketing automation, account management and etc. What stands out this software is its open-source nature. It allows you to customize this CRM the way you like to meet your company's needs. The system can run on Windows and Mac, supports Linux, SQL server and MySQL, Oracle.
Need Help with any Integration?