In the heart of the city that never sleeps, where innovation meets commerce, an event of monumental proportions is on the horizon for the eCommerce world. Mark your calendars for October 10-11, 2023, as Meet Magento New York 2023 takes center stage, poised to redefine the future of online commerce.
This annual eCommerce extravaganza is a must-attend for digital pioneers, forward-thinking merchants, and eCommerce enthusiasts alike. Meet Magento New York serves as a dynamic platform that brings together professionals, experts, and enthusiasts from both the Magento community and the broader eCommerce landscape. It's more than just a conference; it's a nexus for networking, knowledge-sharing, and collaboration in the ever-evolving world of eCommerce.
Why Attend Meet Magento New York 2023? 
As our team gears up for Meet Magento New York, we want to provide a brief overview of this event and explain why it's a must-attend for anyone involved in and interested in eCommerce.
Diverse Tracks
The event caters to a diverse audience by offering tracks that cover a wide spectrum of interests:
Technical Track: Learn from the industry's most experienced technical leaders about the latest advancements in Magento. Gain insights into the future of eCommerce technology.

Business Track: Immerse yourself in inspiring sessions hosted by successful Magento merchants. Discover innovative strategies that have propelled businesses to new heights in the world of eCommerce.

Solutions Track: Access actionable insights that will empower you to scale your eCommerce business. Dive deep into solutions that can drive efficiency and growth.
Stellar Speakers
Meet Magento New York 2023 is proud to present a stellar lineup of keynote speakers and special guests who are set to inspire, educate, and elevate your eCommerce experience. These distinguished individuals bring a wealth of knowledge, industry expertise, and innovation to the stage, making their insights invaluable to attendees like you.
Speakers Our Team is Excited to See: 
Marsha Naidoo
Credentials: Chief Ecommerce Evangelist, Above The Fray
Topic: Opening Keynote 
Track: General 
Why to be Excited: Marsha Naidoo, Chief Ecommerce Evangelist at Above The Fray, is a seasoned eCommerce expert with seven years of dedicated involvement in the Magento community. Her international experience across diverse sectors, combined with a passion for community and relationship building, makes her insights invaluable. Marsha's contributions to the Magento Association and her engaging talks at industry events have established her as a prominent figure in the eCommerce landscape. At Meet Magento New York 2023, attendees can expect fresh perspectives on eCommerce and community development insights.
Talesh Seeparsan
Credentials: CEO, Bit79
Topic: Pragmatic Strategies for Incorporating AI into Your Magento Store
Track: Technical
Why to be excited: Talesh Seeparsan is a true pioneer in the world of eCommerce and Magento. With a journey that spans over a decade, Talesh's expertise dates back to the early days of Magento Beta, making him one of the most seasoned professionals in the field. His extensive experience has led him to evolve into the role of a Consulting Magento Architect, where he guides and rescues Magento projects for companies. Talesh is renowned for his dedication to enhancing security within the Magento ecosystem and has transitioned into pioneering Artificial Intelligence solutions for eCommerce.
Willem Wigman
Credentials: Founder/CEO, Hyvä
Topic: Why Developers Love Hyvä Theme, Checkout, UI and…
Track: Technical 
Why to be excited: Willem is the visionary founder behind Hyvä Themes, renowned for creating the fastest Magento frontend solution available today. With a journey in Magento dating back to 2011, he honed his expertise in performance optimization, eventually leading to the creation of Hyvä Themes. Willem's passion for performance, simplifying complexity, and enhancing developer experiences has made Hyvä Themes a game-changer in the Magento ecosystem. Attendees at Meet Magento New York 2023 can anticipate insights into the future of eCommerce frontend performance and the impact of Hyvä's innovative products like Hyvä Checkout and Hyvä UI.
Muliadi Jeo
Credentials: CTO, Sirclo
Topic: Demystified: Is Magento Open Source Still Relevant for Business of All Size?
Track: Business 
Why to be Excited: Muliadi Jeo, the CTO of Sirclo, brings two decades of eCommerce expertise to Meet Magento New York 2023. As the founder of ICUBE, a leading eCommerce agency and Adobe Solution Partner in the Asia Pacific, Muliadi has a proven track record in retail omnichannel and retail innovation.
His impressive portfolio includes collaborations with renowned international brands like TOMS Shoes, Ray Ban, Footlocker, and Oprah Store, as well as leading local retail giants such as The Body Shop, MAP Group, and Wacoal, among others. With a merger of SIRCLO and ICUBE in 2020, Muliadi assumed the role of CTO of Enterprise Solutions at Sirclo, further solidifying his commitment to advancing eCommerce technology.
Neha Singh
Credentials: CEO & Founder, Obsess
Topic: Maximizing Shopper Engagement Through Immersive E-commerce Solutions
Track: Business
Why to be excited: Neha Singh, the visionary Founder & CEO of Obsess, is at the forefront of transforming the eCommerce landscape. Obsess is an innovative platform that empowers brands and retailers to create immersive 3D virtual stores on their websites, revolutionizing the online shopping experience. Neha's journey began with a strong foundation as a software engineer and tech lead at Google. She later served as the head of product at Vogue, where she steered the company's digital business to new heights. Her exceptional career trajectory includes an Undergraduate Degree from The University of Texas at Austin and a Graduate Degree from MIT.
If you want to see the full list of speakers and topics, visit the official Meet Magento New York 2023 website.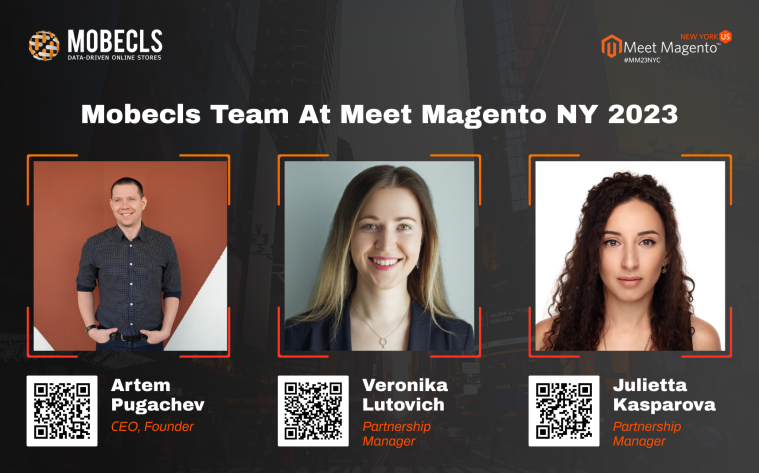 Sponsor Exhibitions 
At Meet Magento New York 2023, sponsor exhibitions are a dynamic hub of innovation, solutions, and industry expertise. Here, you'll have the opportunity to engage with leading eCommerce service providers, technology partners, and solution experts who are shaping the future of digital commerce.
Why Visit Sponsor Exhibitions:
Cutting-Edge Solutions: Our sponsors are at the forefront of eCommerce innovation. Explore their booths to discover the latest technologies, tools, and services that can empower your eCommerce journey.

Expert Guidance: Connect directly with experts from sponsor companies who can offer personalized advice and insights. Whether you have technical questions, need strategic guidance, or seek solutions for specific challenges, they're here to help.

Networking Opportunities: Sponsor exhibitions are a fantastic place to network with like-minded professionals, peers, and potential collaborators. Forge new connections and expand your eCommerce network.

Live Demos: Experience live demonstrations of cutting-edge eCommerce solutions. See these technologies in action and gain a deeper understanding of how they can benefit your business.
Who You'll Meet:
Technology Partners: Explore the latest integrations, plugins, and tools that can enhance your eCommerce platform.

Service Providers: Connect with experts in eCommerce design, development, marketing, and more to find the support you need.

Solution Providers: Discover actionable insights and strategies for scaling your eCommerce business and optimizing operations.
Meet Magento New York 2023 Sponsors 
Adobe (Headline Sponsor): The industry leader in digital experiences, Adobe brings cutting-edge solutions to eCommerce.

PayPal: A trusted name in online payments, PayPal simplifies transactions for merchants and customers alike.

Bold: Bold offers eCommerce solutions that empower businesses to succeed in a competitive online landscape.

Vertex: Vertex provides innovative tax technology solutions for eCommerce businesses.

ShipperHQ: Streamline your shipping processes with ShipperHQ's eCommerce shipping solutions.

Atwix: A Magento solutions provider with expertise in optimizing eCommerce operations.

Scandiweb: Leaders in eCommerce design, development, and strategy.

Nexcess: Reliable hosting solutions to ensure eCommerce stores' performance and security.

Avalara: Simplifying tax compliance for eCommerce businesses.

Hyva: Leading the way in eCommerce frontend development.
If you want to find a full sponsor list, visit Meet Magento New York 2023 website. 
Networking Opportunities 
At Meet Magento New York 2023, we understand that networking is the lifeblood of professional success and growth. It's the power of connections, the exchange of ideas, and the forging of partnerships that can elevate your eCommerce journey. We've curated a range of networking opportunities to ensure you get the most out of your conference experience.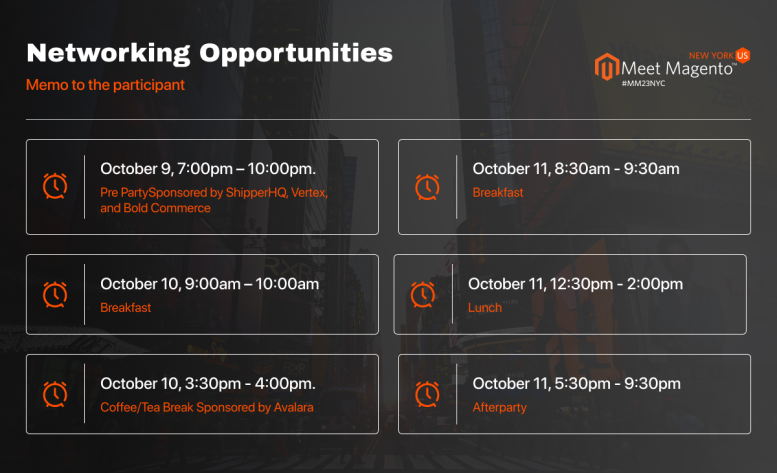 Kickstart your Meet Magento experience at the Pre Party on October 9th, brought by ShipperHQ, Vertex, and Bold Commerce. Connect with some of the brightest minds in the eCommerce ecosystem. This is your chance to build relationships and share insights in a relaxed and welcoming environment.
The Afterparty on October 11th offers an ideal setting to unwind and continue networking. Extend your discussions from the conference floor to a more casual and social atmosphere. Forge lasting connections and solidify the relationships you've built during the event.
Effective Networking Tips
Be Approachable: Approach networking with an open mind and a friendly demeanor. Smile, make eye contact, and be receptive to meeting new people.

Listen Actively: When engaging in conversations, listen actively to others' perspectives. This shows respect and can lead to more meaningful discussions.

Exchange Contact Information: Don't forget to exchange contact information with those you connect with. Business cards or digital contact sharing can be invaluable.

Attend Social Events: Participate in social events like the Pre Party and Afterparty to relax and connect on a more personal level.
Remember, the connections you make at Meet Magento New York 2023 can have a lasting impact on your eCommerce journey. So, seize these networking opportunities, engage with your peers, and let the power of networking propel your success in the eCommerce world.
Let's Connect and Rock at at Meet Magento New York 2023
We're thrilled to be a part of Meet Magento New York 2023, and we can't wait to meet you in person. At Mobecls, we're not just about business; we're also about making lasting connections and forming new friendships in the vibrant eCommerce community.
Why Should We Connect?
Tailor-Made Solutions: Share your unique challenges with us, and together, we'll craft tailor-made solutions. We believe in the power of customization, and we're here to ensure that the strategies and solutions we offer align perfectly with your business objectives.

Proven Success Stories: Discover our impressive track record of successful eCommerce projects and strategies. We'll share real-world examples of businesses we've transformed and the results we've achieved. You'll see how our expertise translates into tangible success. 
Passionate Professionals: When you connect with us, you'll be meeting a team of professionals who are genuinely passionate about all things digital commerce. We love what we do, and we're excited to share our passion and knowledge with you.
Let's make your Meet Magento New York 2023 experience not only informative but also inspiring. Connect with us, and together, we'll explore the endless possibilities of eCommerce success!