In the context of rising requests for Magento | Adobe Commerce migration, Mobecls team shares experience with you. Artem Pugachev, a general manager at Mobecls, has kindly agreed to provide some insights on the migration of the store that sells Ferrari and Maserati parts. You'll know how our team works with merchants, finds an individual approach to business specifics, overcomes challenges, and more.
Ricambi America Case Study
Hi, Artem! How's it going? 
Even though today is Friday, we have a lot of work. This week we're doing a migration from PHP 5.3 server to PHP 7, and it's a real headache. However, this is our work, and I enjoy it, especially the challenging one.  
Has the number of Magento | Adobe Commerce migration requests changed since "Magento end of life"? 
I think the rise of requests started a year ago, when numerous payment gateway providers like PayPal and Visa announced that Magento 1 would become non-PCI compliant after its end of life. No support, no security patches, huge fines, all of these pushed online retailers to switch to Magento 2. Numerous merchants are still migrating their stores to M2, and it's right.
Can you share some insights on one of the latest Magento | Adobe Commerce migrations by the Mobecls team?
I guess I have no choice.
You're absolutely right, so let's start. First of all, can you describe the client's business in a few words? 
Ricambi America is a company that sells parts for Ferrari and Maserati online. I'd say it's a small, niche business as not so many people own these luxury cars, compared to the regular ones.
Do online stores that sell parts differ from clothing or grocery stores? I mean, did you expect any difficulties migrating this store to Magento | Adobe Commerce? 
I wouldn't say so, it depends on the number of custom features. For example, the way people buy things in grocery stores differs from buying parts online. When you visit a grocery store, you know what you need to buy. Spare parts are more complicated products, customers often don't know how the necessary parts are called and how they look like.
Ricambi America implemented a new type of page to its website, diagrams. They resemble recipes, where the parts are ingredients. Customers were coming to the website and looking at the diagram to understand which part they need. Almost all web site's pages are connected to those diagrams, and we were expecting that it could be the most challenging thing during the migration. We should have understood the business processes standing behind this feature.
The second concern about these diagrams was code quality. Magento | Adobe Commerce is a complicated platform in terms of coding, so we were expecting that these diagrams could be coded in the wrong way. However, it turned out that everything was fine with it.
Was it just a standard migration? I mean, nothing more than data, custom features, extension, design, etc.?
Well, I was mainly involved in the project during the go-live period, when we had to switch the previous hosting company to JetRails. That was not the first we were working with the JetRails team, and they really helped us to make a shift without a hitch, thanks to their expertise.
I'd say that we had some difficulties during this stage as we had to coordinate the old hosting provider with the new one, supporting, and development teams. Usually, when you go live, some things don't work smoothly. The funny thing was that when we were doing pre-migration, we found out that we had different types of products. We spent two weeks planning, building architecture, hosting, products, orders, and we missed this little thing. That wasn't an issue, but it surprised me a lot.
We also redesigned the homepage of the website. We found out that Ricambi was using the same design for 5 years, so we decided to refresh it a little bit without exceeding the budget, make it more clear and user-friendly, and change some styles.
By the way, how many people were working on this project?
This time we had an account manager, a developer who was doing the initial review of the project,  a project manager, a search engine optimization specialist, two developers (one for front-end stuff, and one for custom diagrams). In this project, we also used a UX designer for some tasks.
What are the migration results? 
It's difficult to say. 2020 is a disaster for numerous online retailers. Due to COVID, the demand for parts fell a little bit. Moreover, the company couldn't ship parts from Italian manufacturers for some time. However, when I was talking to Daniel, the owner of Ricambi America, he said that the average check grew twice. Is it connected to redesign or other factors? I don't know but hope that our work influenced it.
Did you receive any feedback from Daniel after finishing the project? 
Daniel is a great guy. When I ask him how does he feel about our work, he always says that he's happy to work with us. Of course, during the migration process, especially in the beginning,
there were some moments when we couldn't understand each other. Daniel wasn't sure about the decisions we were taking. However, later we coped to establish great communication, and everything went well from that moment. I don't hesitate to call this project a success.
Nice to hear it. Do you have something to say to merchants who haven't migrated? 
Yeah, there's one thing about Daniel that you need to know. The way he worked with us differentiates him from all other business owners.  He spends a lot of time on the website and always ready to explain how his business works and how his clients think. It helps the development team to understand which architecture is the best for the store and background tasks.  That is what customers often don't do, they just request migration and that's all. When you ask some questions on how the business works, they just say that they are busy with management tasks.  Thanks to Daniel, we completed a perfect project, the goals were clear, we met the client's expectations, budget, and deadlines.  We are happy that our cooperation is not over, and we continue to work side by side, overcoming new eCommerce challenges.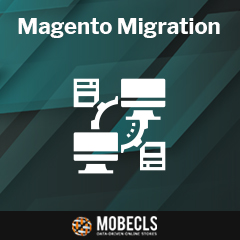 Mobecls Team provides several Magento migration packs. We help both middle-sized and large stores to smoothly migrate their data, design, custom functionality, extensions, SEO, etc. If you're interested in our migration scenarios, contact our experts or click the orange button.