Is your data safe from cybercriminals? Do you have adequate prevention measures in place? What is the impact of cyber attacks on businesses like yours?
As a business manager, it is crucial to ask yourself these questions. Cyberattacks on e-commerce platforms have reached up to 66% in the past 12 months. The COVID-19 pandemic is of course at the origin of this strong increase.
Starting an eCommerce website should be an enjoyable and exciting experience, but to keep the business  and its customers secure, there are some important points to consider. 
Top eCommerce Cybersecurity Threats
A cyberattack is an attempt to gain unauthorized access to a computer system, resource, or device within a corporate network. Cybercriminals rely on different methods to achieve this, such as malware, phishing, and ransomware.
Financial fraud

is criminal deception conducted during a commercial transaction over the Internet with the goal of financial or personal gain of the fraudster while negatively affecting the bottom line of the merchant. Ecommerce fraud is also called payment fraud.

Spamming

is any kind of unwanted, unsolicited digital communication that gets sent out in bulk. Once you click on such links, they will direct you to their spam websites, where you may end up being a victim.

DoS and DDoS attacks

seek to take down an online service by flooding it with traffic from many sources. These assaults target a wide range of critical resources, from banks to e-commerce platforms, and pose a significant barrier to obtaining critical information.

e-Skimming

is a type of attack involving the introduction of code onto a web page for the purpose of intercepting sensitive user information as the individual is entering the data into a web form.
eCommerce Cybersecurity Basics
Let's come to the four basic cybersecurity rules that you absolutely must follow to run a safe online business:
Train your team
Cybercriminals often take advantage of the teams' lack of knowledge to attack. If your employees don't understand how a cyberattack happens, what it means, and how to identify it, they risk making serious mistakes, like downloading an infected file.
To avoid this type of easily avoidable error, it is important to train your teams. They will thus be able to identify a cyberattack attempt upstream and take the necessary measures.
Train your employees on the following topics:
Passwords and authentication: tips for setting strong security codes and passwords, benefits of multi-step authentication.

Mobile Device Security: Tips for protecting devices with sensitive data from malicious apps.

Social networks: privacy settings to use on social networks to limit the risk of account hacking.

Appropriate behavior in telework: good security practices to limit the risk of data leaks.

Responsible Internet and Email Use: How to Identify Fraudulent Emails, Websites, and Ads.
Use antivirus and firewall
An antivirus and a firewall are among the easiest tools to use to strengthen the security of your business. An antivirus detects and eliminates suspicious elements from your desktops and laptops.
Add a firewall to monitor and filter viruses trying to gain access to your devices or work network. The firewall blocks any access attempt and can prevent a cyber attack. Most operating systems such as Mac and Windows have their own firewall.
Backup your data
Data backup is one of the most often overlooked elements of cybersecurity. This represents a significant risk of financial and material loss for your business. Be sure to backup your information continuously, whether online (in the cloud) or offline (on hard drives).
Ask your employees to do the same very regularly. So you can restore any lost information and restore workflow quickly if you ever fall victim to a cyberattack.
Here are some tips for managing the data backup process:
Use backup software.

Back up your data to multiple storage platforms and to different cloud providers.

Enable automatic data backup for all systems.

Always encrypt data backup platforms with a security code.

Note the data recovery times for each platform used, which will be very useful to you after a cyberattack.
Update your software and platform regularly 
Developers encrypt their software, operating systems, and devices with up-to-date security codes to prevent unauthorized access. It's up to you to update your tools regularly if you don't want to attract the interest of cybercriminals, always on the lookout for outdated security mechanisms.
Indeed, nothing is easier for a hacker than to take advantage of a flaw in the updates to steal information.
If you're having trouble keeping up with updates for all of your systems, here are some suggestions:
Invest in patch software or try a free tool.

Enable automatic updates for all software, systems, devices, and web browsers.

Update browser extensions such as Flash and Java.
Bottom Line
Cyber ​​threats are not going away.  They will continue to evolve, grow and transform. However, we can minimize the risks. In a downtown store, you can see shoplifters coming. Just keep an eye on the CCTV and call the police if someone slips a few products under their jacket. But with an online store, thieves are much smarter and more discreet; when they are visible again, it is usually too late. By being aware of the risks, you can take the necessary steps to prevent and manage these risks. You can thus create an online store that will make you happy rather than that of the scammers.
Haven't Migrated Your Online Store to a More PCI Compliant Platform?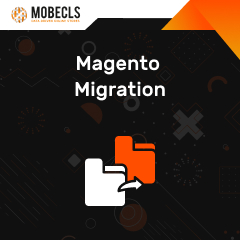 Mobecls Team provides several Magento migration packs. We help both middle-sized and large stores to smoothly migrate their data, design, custom functionality, extensions, SEO, etc. If you're interested in our migration scenarios, contact our experts or click the orange button.