Surely in some cases, you have heard or talked about the term CMS, but at the same time, you did not know for sure what it means. When you make the decision to start an eCommerce business, you definitely must know this term. 
If you still have doubts about what it represents, what they are for, and its characteristics or advantages over other technologies, it's time you start to understand everything. And for this reason, next time we will talk with you about what CMS is and everything related to it that you should know.
What is an Ecommerce CMS?
For starters, CMS stands for "Content Management System". Simply put, this is a tool for creating a website, administering and managing everything inside it. In other words, we are talking about a system that is responsible for creating web pages, which allows you to manage, sometimes even without programming knowledge.
Many people use a CMS to build their websites, where it is used not only for a "regular" website but also for a blog, eCommerce, etc. In general, for any page that needs to be updated regularly, these tools are the best. That's why you can find different types of CMS, depending on the pages: there are for blogs, for corporate pages, for eCommerce, etc.
Types of Ecommerce CMS
All content management systems can be divided into four types: open-source, boxed, self-written, and frameworks. Let's briefly understand how different types of CMS differ from each other.
Open source means that anyone can modify the engine. Thanks to this, new additions and themes regularly appear in such CMS, as well as find and fix vulnerabilities faster. This is one of the main reasons why WordPress has become such a popular engine. Popular open-source CMS: WordPress, OpenCart, Joomla!, Drupal, Magento, PrestaShop.
In fact, such engines differ only in that they have a closed code, which means that only official developers can make changes to the engine. This does not mean that such CMS systems are less secure or have worse functionality, but the number of themes and add-ons is usually really less. Popular CMS: Tilda, Wix, SitePro, Shopify, Squarespace.
Such engines are developed to order for a specific project. Their functionality is not as wide as that of boxed CMS or CMS with open source, but it most closely matches the tasks and does not contain unnecessary tools. The only thing is, if you need to expand the functionality or close vulnerabilities, you will have to contact the engine developer or look for a specialist who will understand the code from scratch, and this is money and time. 
A framework is an add-on to a programming language; a set of libraries with which you can conveniently create a site for any task. Developing a site on a framework will require more money and time, and in addition to the site, you will need to separately develop a site control panel, and this is essentially another site. But in this way, you can implement any functionality that you need. That is, for atypical projects, this method will be just right. Plus, the performance of a well-made site on the framework will be higher. Popular frameworks: Laravel, Ruby on Rails, Django.
CMS Benefits for Your Online Business
As you already understood, the presence of a content management system is fully justified, because it helps to solve and automate many processes of working with content. In this regard, there are 5 main advantages of using CMS:
Convenience.

All the necessary tools are concentrated in one place, and managing most CMS is quite easy even without experience.

Safety and reliability of work.

The system has basic protection against viruses and hacker attacks, in addition, rollback of settings is provided in case of critical errors. There are also different access levels in the system: you can restrict content management rights so that resource administrators can make adjustments only to their section of the site, for example, a blog, news feed, etc.

Saving money.

You do not have to hire additional specialists or resort to the help of programmers.

Maximum functionality.

CMS developers try to provide for every little thing so that you can change your web resource the way you need it.

UX and Design.

Website design plays an important role in interaction with users, so you can customize its appearance in accordance with the aesthetic preferences and corporate identity of the company.
Essential Features of a Good Ecommerce CMS
When creating your eCommerce site, there are certain essential points to include in your specifications to optimize the comfort of your visitors. This is all the more true when we know that the user experience is as important for customers as it is for search engines.
SEO Optimization
SEO skills are required to improve your search engine ranking. Google should crawl your website's pages, learn about your business, and link the pages to important keywords.
If you want your website to rank in the top ten on Google, check for these top three SEO principles in a CMS.
Customizable URLs: You should be able to make your URL SEO-friendly.
Canonical tagging: If you have similar material on your site, you should use a canonical tag. Assume you operate an eCommerce business where you sell T-shirts. Most of your items are similar but differ somewhat; canonical tags inform search engines that there is a comparable copy to avoid "duplicate" material showing on several URLs.
Make sure your site looks fantastic using image optimization! Web photos that have been optimized give high-quality images in the correct format, dimension, and size.
Advanced Analytics & Reports
Every day, eCommerce shops create a massive quantity of data, including transactional data, customer actions, customer searches, website user activity, log files, and a variety of other visitor-related data. Web administrators must utilize all of the collected data to make shop decisions and drive sales. These goals are driven by eCommerce data.
eCommerce analytics is the process of analyzing and deriving insights from generated data, as well as exploring previously hidden patterns and trends from datasets in order to anticipate company growth and enhance the existing condition based on studied data. Advanced eCommerce analytics tools may be used to examine e-commerce data.
Marketing Tools
Marketing an online store is extremely important for its profitability. The goal of online store marketing is to increase sales. This applies not only to online stores but also to any other trade-related businesses. Entire online store marketing departments create large participants in this segment of the trade. High sales – guaranteed profitability and success, high competitiveness in the market. The specifics of marketing online stores is the creation of favorable conditions for the maximum number of visits to such stores, and if there are many visitors, then sales will definitely increase. Speaking about the appropriate marketing of online stores, it is important not to miss the moment when a visitor appears – a potential buyer and do everything possible and impossible to keep him in the online store longer. And the super success in such a situation will be – a second return to this store, the second purchase in it, and the prospect of turning the buyer into a regular customer.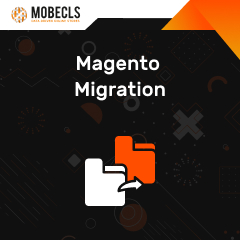 Mobecls Team provides several Magento migration packs. We help both middle-sized and large stores to smoothly migrate their data, design, custom functionality, extensions, SEO, etc. If you're interested in our migration scenarios, contact our experts or click the orange button.