We all know bricks and mortar merchandising strategies. They include well-designed shop windows and checkout desks, bestsellers in plain sight and other tricks make us buy something we even don't need. If you think that visual merchandising is only for the brick and mortar businesses, you may be wrong. This marketing strategy works well in eCommerce too.
Today we'll look at Magento Visual Merchandiser tool and Wallmart's merchandising best practices.
Magento Visual Merchandiser
Magento Commerce and Enterprise editions offer you a Visual Merchandiser. This marketing tool wasn't available in Magento 1, you could use it only as a module or third-party extension. In Magento 2 this feature is built-in, its code is refactored and capabilities are enhanced.
Merchandising is a powerful marketing tool. It doesn't matter how big your catalog is, its function is to be your buyers' guide through their customer journey. Visual Merchandising boosts your conversion rate, average order value and clients' retention.
There are several options for how to use this tool.
First of all, visual merchandiser tool helps you to highlight bestselling items. The principle is the same as in brick and mortar stores. Where do merchandisers place the bestsellers there? Right, in plain sight, on an enticing shop window or in other high-traffic places.
In Magento Commerce and Enterprise edition you can quickly set a "hero" item or items. All you need is just to enter the SKU of your bestseller and it will appear at the top of your store's page. It will be your enticing shop window.
To do it successfully you need to analyze your customers' behavior. What do they purchase more? What are the most visited categories and the site's pages? It'll help you to choose the right place and item to display.
The tool is built in the Magento category interface and allows you to manage the merchandising process in two possible ways: applying attribute-based rules or simply drugging items to the top of your pages.
If you prefer to do everything manually, Magento Merchandiser offers a convenient drag & drop interface. Nevertheless, it'll be better to create merchandising rules. Once you've set these rules, all displayed items will be updated automatically according to the rule you've created.
To create solid merchandising rules you also need to do research. The most valuable data are sales volume, pageviews, margin and etc. This information will help you to create more effective rules.
If you want to promote items or to sell overstocked ones you can create a set of rules basing on your goals or aesthetic parameters:
Season. Season labels are essential for apparel and season dependant vendors. You can easily group all the items by collections: Summer, Winter, Autumn, Spring.
Trend. You can label your products under a certain pattern: brand, celebrity, home-decor or whatever. Setting these rules will help you to set up landing pages based on users' preferences.
Set up a basic color instead of descriptive ones. It'll work well for apparel vendors and save a lot of time creating merchandising rules. For example, instead of having indigo, purple and azure labels create a single blue color label that you'll use to create your rules.
In Magento 2 it became much easier to remove and assign attribute labels to your products. Also, it offers you an attribute search in the admin panel. M2 attribute capabilities and UX have been significantly improved comparing them with M1.
The only thing you need to do to create an attribute-based rule is to toggle "match products by rule" option and select the attribute you need.
Magento 2 Visual Merchandiser is a nice out-of-box feature. Nevertheless, it could be done better. For example, you can't create a rule that is based on "Multi-select" attribute.
One of our clients has Magento 2 Commerce Edition and sells cars and spare parts for them. He wanted to create a merchandising rule for engines that have multi-select options: diesel engine, gas engine and etc.
He couldn't create a rule for them because Visual Merchandiser has no default "Multi-select" attribute. If you use no extensions you simply can't use this attribute as the basis of the condition.
Walmart's Visual Merchandising Best Practices
Show Product Form The Different Angles
One of the most obvious advantages of brick and mortar shops is that a customer can hold a product and look at it from different angles.
Nevertheless, you can compensate it by adding multiple images to your online store.
That's the example of how Walmart implemented this solution to their website. Customers can click on any part of the coffee machine and enlarge its image.
To help shoppers to make purchasing decision these images contain also a written description of every part.
Use Product Video
This eCommerce merchandising solution also compensates the inability to hold a product like in a physical store. Videos make clients more confident in making buying decisions. 40 % of customers call your sales managers only after watching a video. Moreover, video content stills to be in the top of content marketing trends.    
Walmart combines Product Videos and Multiple Images solutions like this:
Shoppers can not only look at the product from different angles via the images but also watch a showcase video.
Free Shipping Banner On Home Page
All people like freebies and to save money. It's just a human's nature. You can consider placing a free shipping banner on your home page to boost the conversion rate. It'll work like a magnet for buyers. Especially, if it's the first thing they see after the page load.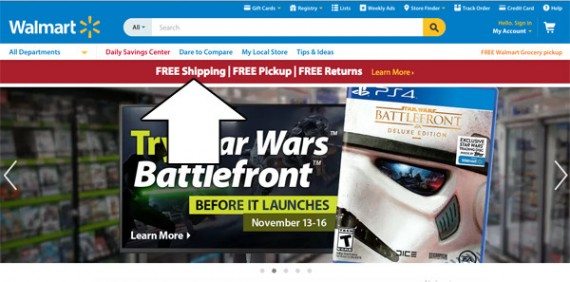 Home Page Carousel
Place a carousel at the top of your home page. Your images should be eye-catching and really big. Moreover, they should be trendy. Walmart's carousel contains 5 offers: back-to-school items, summer fashion, summer faves, fans and air-conditioning, The Lion King toys and merchandise.
Almost all of these items are seasonal ones, except for The Lion King because it's just hyping at the moment. Air-conditioners, school items, summer home-decor items, clothes all these products are in great demand among buyers in summer.
Advanced Site's Search
Your site's search shouldn't contain just text lists and results. When customers use your search box, you should give them visual results of what they're looking for.
For example, if they look for a coffee maker route them to a page of coffee machines. They should be marked according to a certain set of rules: bestsellers, reduced price, special offer and etc.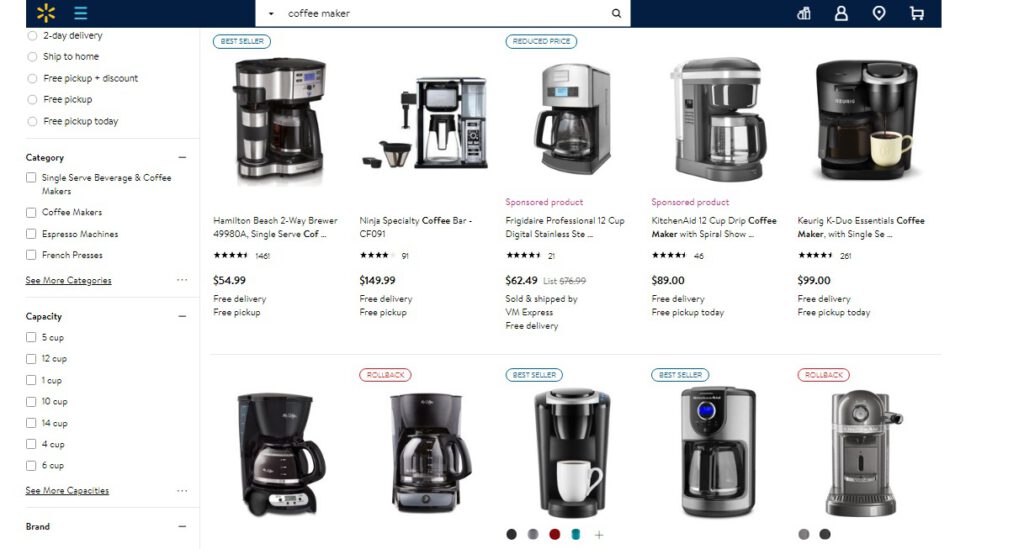 Advanced Search Implementation 
Final Words
eCommerce stores need visual merchandising more than brick and mortar stores. It aims to push customers from your landing page to the checkout process as fast as possible. Visual merchandising is one of the best ways to do it. If you can provide your customers with excellent user experience while navigating your online store, personalized or special seasonal/exclusive offers, your conversion can go up to 70 percent.