You can't start a marketing campaign if you don't know who your buyers are. Perhaps, you can do it, but is there any sense? You'll spend money on advertising, your ads will reach some people, but will you reach your goals? Such an approach to business won't bring you any benefits. You shouldn't dive into paid advertising or content marketing without an understanding of your target audience.
It doesn't matter If you are a mature entrepreneur, a business newcomer or a startup — building buyer persona is a must!
Buyer Persona Definition
A buyer persona is a generalized portray of your target audience. Persona includes demographic and psychographic information. These attributes include age, gender, location, goals etc. I'll cover these points in the next paragraph.
Some people create a persona as an ideal customer. It's a grave mistake. You shouldn't idealize your persona. A good persona should reflect the real state of your customers. A real persona will work better for you rather than a persona you want to have in the future or a celebrity. It is good to look to the future, but you sell your products or services today, that's why time orientation is important.
What Information Do I Need to Build a Buyer Persona?
I'll list only the most essential points, which you'll need to create your persona:
Location — Where is my persona from?
Gender — What is the gender of my persona?
Age — How old is my persona?
Education level — What education level does my persona have?
Hobbies and interests — How does my persona spend leisure time?
Income — What is the income of my persona?
Marital status — Does my persona have a family?
Occupation — What is the professional sphere my persona work in? What are the responsibilities of my persona?
Channels — What websites or social media does my persona use?
Motivation — Why does persona buy my products? What is my persona's goal?
Fears and pains — What are the concerns of my persona? How will my product help my persona?
In spite of being major points, you don't have to answer all of these questions. You can define your own points if it helps you. The idea is to learn more about your clients and make an effective strategy for your advertising campaign.
Demographic information influences not only the success of your ad and marketing campaign but also secure your business. One of our clients offers vapor goods and they face strict limitations. It's illegal to sell it to minors. The knowledge of just one demographic factor protects you from returns and penalties. We did a great work to optimize their online store and implement the age verification.
How To Collect Data?
If you've been working in a certain sphere for some time, you have some info about your customers. If you are a business newcomer, think over about the goals of your company and the products, you offer. Put yourself on the customer's place. Try to imagine, what pains do you have and will this product solve them?
Don't be afraid to make assumptions, it is possible to build a real buyer persona using this method. Sometimes it can be even more effective than basing on studies but don't be too passionate about your assumptions. Otherwise, you'll create an ideal persona and it can ruin your project or marketing campaign. All of your assumptions should be close to the reality and proved by facts. It's OK to make assumptions if you haven't got accurate numbers. Keep in mind, later you'll have to do proper research. It is inevitable.
As I've already said, it is great if you have clients. There is a big difference between making assumptions and talking to real people. It'll help you to get the data about the education level, background and leisure time. Don't forget about web analytics. If you are a well-established business, you can use such tools as Facebook Insights or Google Analytics Audience Report. These are good methods to get the essential demographic information such as gender, age, social media they use. If you haven't got a lot of resources, you can use a survey for data collection.
How Many Buyer Personas Do I Need?
When you've done all the marketing research, you know what is your group of customers. This group can be diverse in age and goals e.g. That's why you should divide it into subgroups according to the most similar characteristics.
Sometimes there can be a great number of subgroups. For example, if your business is food retailing. Let's imagine a cafe owner. How many personas does he have? The target audience will be extremely diverse. It can be a loyal client who loves the cuisine, people who just like hanging out here because of the sincere atmosphere or office workers who want just to have a fast lunch and a cup of coffee. It was just the first thought popped into my head. The real list of personas is much wider.
Should I define all the possible subgroups? No, you shouldn't. It is better to choose the most essential subgroups. It'll be OK to have 3 — 5 buyer personas. If you have more, you can merge several small personas into a bigger one. It will save your time because your personas need a regular update. Personas evolve together with you. You get more information about them while making more sales. Their goals and wishes will be changing, your partnership will strengthen and you'll learn more about your core customers. So, what is less time-consuming? To edit 10 insignificant personas or 3 — 5 essential? I think, there is no need to answer this question.
Are There Any Tools For Building a Buyer Persona?
If you have all the necessary data, you can create your persona even using Word or PowerPoint. Will it be cheap and cheerful? Cheap — yes, cheerful — don't think so. It is possible to do it with the Microsoft Office stuff but the process won't be pleasant. It'll take a lot of emotional and physical efforts to organize the information with charts and tables. It's just a waste of time, so let's move to the real tools.
Today there are a lot of services, which can help you to build your persona in a few minutes, whether you have all the necessary data or not.
In my opinion, there are three top services for persona building: HubSpot's Make My Persona, Xtensio and UXpressia.
Let's take a look at all of them closely.
Make My Persona by HubSpot
The main advantage of the service — it is absolutely free. I would say that this tool is the most user-friendly. It provides a high level of interactivity as it's a 7—step walkthrough that helps you to answer the most essential questions about your buyer persona.
As you can see the walkthrough covers a wide range of details from age to motivation. If you aren't sure about some points you can skip some steps and fill them later in the persona profile.
I really like the design of the service. Just look at these cute avatars. One more cute thing is that they are animated, you'll notice it while moving through it.
You can edit all the fields if you need to update your persona. If you think that you need more fields, you can easily add as many fields as you need and fill them in your own way.
After completing your profile, you can download it as a PDF and share with your colleagues.
To be honest, I don't see any cons. It's free, well-designed and easy in use. Every step is accompanied with tips; you should only answer the questions, whether you've made your audience analysis or not.
If you need a sketchy persona profile without spending a lot of time for its creation, Make My Persona is for you. If you want a wider range of features, let's move to the next tools.
Xtensio
Xtensio is a service for creating documents of any kind. It can be a business model, meeting agenda, case study etc. We are interested only in building your buyer persona profile.
The service offers 2 individual and 2 team plans. If you pay yearly, you save 25% because the cost of a month reduces by 5 $.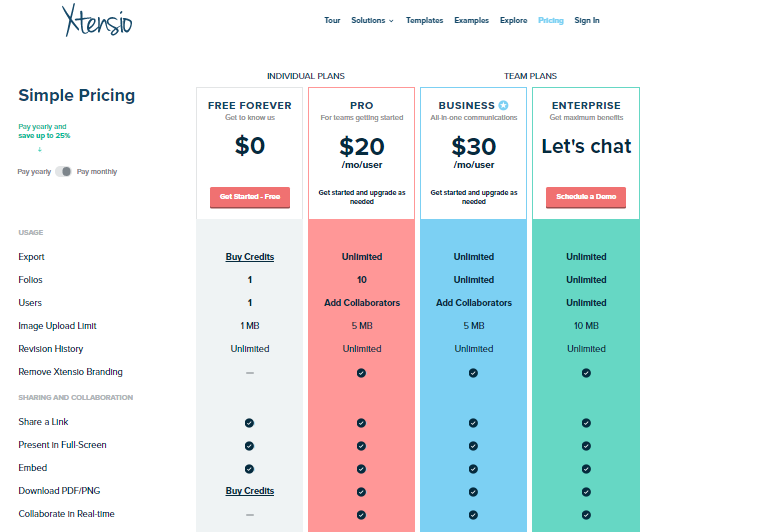 There is also a free pricing plan, but you can create only one template or edit an offered one. To export template or download a PDF/PNG you need credits. You can purchase 10 credits for 10 $.
Let's take a look at the one of the offered template: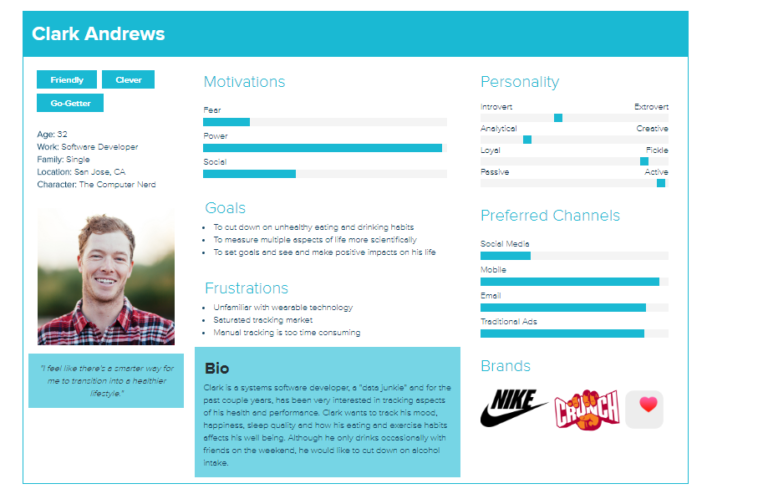 If you think that the offered template isn't good enough for you, you can easily add or delete modules. You are free to customize modules according to your wishes. You can change the color scheme; insert backgrounds, images, videos. A local toolbar has everything you need to edit the text: font family and size, tables, prints, text aligning. It is quite similar to the Microsoft Office toolbar.
Except for creating a single persona, Xtensio offers nice templates for defining subgroups and their comparison: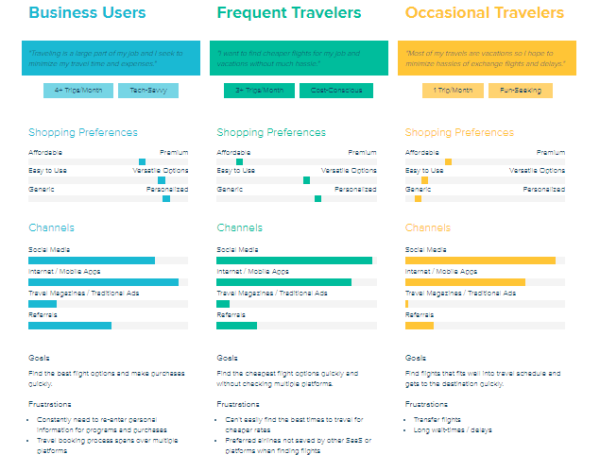 If you just want to build a buyer persona, you'll be satisfied with the functionality of a free version. It is easy in use, has a nice toolbar and options for template customization. Save it on your dashboard and edit it in any time you want, if there is a need to update it.
UXpressia
In my opinion, UXpressia surpasses the previous services as it offers a more detailed analysis of your persona and has the best UX.
First of all, let's look at the persona profile:
The modules are similar to the other persona builders, but the difference is in the details. I like the name and avatar generator. Choose your persona's nationality and gender to generate a unique name. There are more than 50 countries from Albania to Vietnam. The amount of stock photos isn't so wide but you can always upload the image you want.
I really like the way they designed the dashboard and color spectrum. One more plus is the way of customizing it. The authors did a great work to find the balance between sticker-and table-based solutions with an intuitive drag and drop interface. The routine work becomes more pleasant using this tool.
What else can UXpressia offer us? What are the features that derive it from the other persona builders? There are two additional tools, which allows you to understand your persona in more details and make a better marketing or business strategy.
The first one is Customer Journey Map (CJM). CJM is the way your persona passes through to purchase your product or service.
Here you set the stages of your persona's journey. On each stage, your personas have certain goals, expectations, experience and problems. You also put on the map your ideas and solutions to persona's problems. There is even a storyboard of the journey which helps you to visualize it. UXpressia offers more than 30 templates for a wide range of industries such as food and drinks, e-commerce, transport, traveling, education etc.
There are 5 main sections: business goal, persona, impact, deliverables and user stories. Business goal and persona are evident. Impacts answer the question "How should the behavior of our clients change to achieve my goal?". The impacts are "they should buy coffee more frequently" and "stay longer inside". After you've set the impacts, you think about how as a coffee store you can support these impacts. For example, to introduce a loyalty program or make the atmosphere more comfortable for customers. User stories are short descriptions of a feature told from the perspective of the person who desires a new capability.
Overall, we have 3 tools for making not only a buyer persona profile but a whole customer journey and an impact map. All of these features will help you better understand your clients, theirs and your objectives; visualize your audience research.
There is one main con for me — the absence of text editing. In some sections, the text is too small and it is hard to read it. Some people say that it is a little bit expensive to pay 24$ in a month for individual use. Of course, you can use UXpressia for free but you'll be able to create only one persona profile, one CJM and one Impact Map, have no export opportunities and technical support.
Conclusion
Buyer personas are fictional characters. You create personas based on your research to help you understand your users' needs, experiences, behaviors and goals. A Defined persona increases the social media engagement and ROI for your online ads. If you want to succeed, take time for audience analysis and building your persona.
Forget about the dull and irritating process of creating personas on paper or with the help of PowerPoint. Each of these three tools will bring bright colors to this routine work.
If you haven't got a lot of time for it and need a simple persona profile — HubSpot is for you. If you've already upgraded your Xtensio account for creating living documents, there is no need for you to switch to another service. If you are looking for a more detailed and specialized tool for persona creation — use UXpressia. As all of them have a free version, you can try all the services and find the most convenient for you.