eCommerce website development is in huge demand nowadays. After the recent pandemic, the number of people buying products and services online has shot up in an unprecedented way. If you're considering moving your business online and looking for a solid eCommerce platform, you need to pay attention not only to out-of-box features but also SEO capabilities. In this article, we'll cover native Magento SEO features.
Why Does SEO Matter?
The belief that once you have built an eCommerce website, there is nothing to worry about is a common misconception. You're going to have a tough time running an online store if users can't discover your website through Google. Imagine you want to try a new product but don't know which brand to buy. An internet product with a few reviews will be more attractive than a product without reviews. However, a product with outstanding reviews and a few people you trust and recommend will make it even more compelling. SEO is the online version, except that keywords and links are used instead of reviews and recommendations. The more and better their quality, the more the search engine will recommend your site to the user.
Why is Magento ahead in terms of SEO?
Listed below are the top SEO friendly features found in Magento that gives it an edge over rival products in the segment:
Product Fields Auto-Generation
In any website, the major SEO elements are the H1 tag and meta title for sure. In Magento, users get the benefit of Product Fields Auto-Generation. This helps in generating product meta-texts with the product attributes.
Category Page Optimization
In any eCommerce site, items are shown in different classifications, and there are subgroups as well. This assists in making items effectively available to the clients. For compelling category page optimization, it is important to set the standard URLs in the correct manner. You need to search for duplication as it makes your site look less professional. The Layered Navigation highlight found in Magento SEO services guarantees the customers can explore and track down the right items short issues. The customers can likewise use drop-down filters to change search results.
Sitemap Enhancements
Primarily, an XML sitemap is a document containing a rundown of URLs that the browsers like Yahoo, Bing, and Google crawl. The XML sitemaps frequently have ascribes that offer valuable information about the URLs to the search engine crawlers. When SEO crawlers crawl your website, this sitemap guarantees they find and index all your web pages. Magento offers a tool for generating an XML sitemap, so this issue is actually easy to fix. You can submit an XML sitemap to Google, Yahoo, or any other browser.
Independent Navigation Links and Page Titles
Navigation links are basically the text links for your site's product pages. The majority of e-Commerce platforms/tools create such links automatically, as per the product category and name. In some tools, changing these links may be tedious. Magento gives the users absolute control over the navigation links. From the SEO perspective, it is bliss. You may have seen texts appearing on the browser top, and that is the Page titles. It is also useful for defining the bookmarks that users save in their browsers. Magento allows the users to make free page titles for all the site pages.
Integrated Content Pages
In SEO, the number and quality of links in a site are important. However, getting quality links to your site also depends on the type of platform you use, to an extent. In Magento, using engaging and shareable content is easy, and these help in attracting useful backlinks.
Faster Load Times
In SEO, site loading speed is very important. Online shoppers hate waiting for websites to load, whether they are using PCs or mobile devices. Studies have shown even a delay of 1 sec in page loading can make your site lose approx—7% of prospective customers. So, Google pays importance to site load speed for SEO. Using Magento's inbuilt settings, it is possible to accelerate the loading speed of a site. These settings are available under configuration.
Apart from Customization options, Magento's architecture is equipped to adapt to immense site traffic better than many competing platforms. That is the reason why such countless enormous organizations depend on Magento. Guaranteeing you get the most out of Magento from an SEO perspective.
While Magento is by default an SEO-friendly platform for eCommerce site development, it is possible to obtain better results by adopting some policies.
Bottom Line
Magento is one of the most famous and straightforward eCommerce platforms that make buying and selling online easy. The tool gives a blend of scalability, flexibility, and extensibility at your disposal. It is all about the SEO-friendly features you need to run your store 24 hours a day, and 7 days a week, nonstop. The great thing is that Magento is free and open-source software. That means talented web developers are working hard to make it better and safer for e-commerce stores and web shoppers.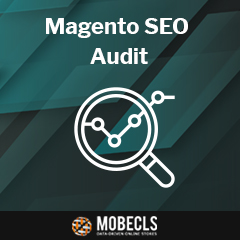 Mobecls team provides basic and advanced SEO audits, SEO and performance optimization services. We are SEO-focused development company that specializes in Magento | Adobe Commerce. It means that we know what and how to fix SEO issues, taking into account your UX, Marketing and Business specifics.