The user and the user experience are at the center of Google's concerns today, UX, therefore, becomes an essential lever for your SEO positioning.
The most well-known search engine on the web strives to continually enhance its search results for consumers, including frequent Google upgrades. Internet users must be able to find information fast and have a nice online experience. That is why Google assists admins in creating even better websites. Google launched Web Vitals to enhance website content: consistent data that allows a clear statement about a website's technical quality to be made. Web Vitals should now be part of your SEO goal if you manage your own website and don't want to delve into the SERPs.
How Google Measures User Experience
Google has formally introduced user experience at the heart of its SEO and SEO ranking algorithms by introducing a score on Core Web Vitals metrics. The Core Web Vitals will thus quickly become decisive criteria for the ranking of web pages in the organic and sponsored search results of the American giant. Core Web Vitals scores will directly impact brand visibility, SEO and Marketing investment, and revenue growth.
Understanding and mastering the Core Web Vitals, therefore, becomes essential for Web teams, from developers to Marketing and product and e-commerce managers.
This is the complexity of the project, measuring the interest of an Internet user for your site goes through usage data such as the time spent on a page, the number of clicks, or even conversions. Except that if you have this data, the robots do not have it.
To improve the results of the SERPs in natural referencing, it was necessary to transcribe the possible use of an Internet user into measurable elements at the code level. Google has therefore developed an algorithm capable of measuring the "use experience" of your visitors. This novelty, named Core Web Vitals, has just been put online and should have a definite impact on the SERPs in the coming months.
LCP, FID, and CLS: What are Core Web Vitals?
What are the criteria used by Google to measure the experience on the page? There are three of them: LCP (Largest Contentful Paint), FID (First Input Delay), and CLS (Cumulative Layout Shift).
Each has its own objective and interest:
Loading time (LCP): As always at the center of Google's attention, this indicator measures the time before the largest content appears on the screen without scrolling.

The time before interaction (FID): the user must be able to interact with your site and perform an action quickly.

The stability of elements (CLS): this should be of interest to everyone, this metric measures the stability of elements in the website (images, texts, buttons) anything that could interrupt or disturb your reading.
How To Fix Cumulative Layout Shift (CLS) On Magento Websites
What to do to meet Google's expectations?
The integration of UX, therefore, brings important advantages. To benefit from these advantages, building a user-friendly site is essential because a poorly-thought-out user experience is often the cause of a high bounce rate.
It is necessary to know, first of all, why users leave your site?
Bad navigation

Too much advertising

Poor content structure

Too many videos and audio

Mandatory registrations

Poorly designed content and design

An unreadable site

Irregular content
Here are some key steps in improving the user experience on your site:
Speed Up Your Website 
To begin with, the speed of your website is an important factor not just in terms of user experience, but also in terms of Google SEO. Indeed, Google analyzes your site's performance in terms of speed and penalizes sites that are excessively sluggish.
A/B Testing
In order to effectively improve the user experience on your site, do not hesitate to use A/B Testing which will clearly reveal the behavior of Internet users on your site and their preferences in terms of navigation.
A/B Testing will allow you to identify the effectiveness of two different versions for:
The implementation of Call-to-Action

The landing pages

Product page layouts, etc.
Compatibility with different media
Finally, a user-friendly site must also be a site adapted to different browsing media (computer, tablet, smartphone). Indeed, the number of Internet users viewing sites or making purchases directly from their mobile is increasing.
Did you know?
Today, more than one in five online purchases are made from a mobile!
The quality of the user experience must therefore be just as high regardless of the medium used by the Internet user. This is important data in terms of SEO on Google, which also offers a tool to test the mobile compatibility of your web pages.
The satisfaction of Internet users and the quality of the sites offered to them being a key factor in the eyes of Google, UX is now an essential element in the process of SEO optimization of a website.
Content
Common SEO and content tactics that have an impact on UX! Image tags give information when pictures fail to load, ensuring that the reader receives a comparable explanation of whether there is an image or not. Headings, on the other hand, aid to organize page content and increase readability. Creating a 600+ word page also helps to improve UX. This assures the content's richness, dependability, and answers to readers' inquiries.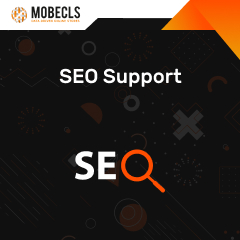 Mobecls team provides basic and advanced SEO audits, SEO and performance optimization services. We are SEO-focused development company that specializes in Magento | Adobe Commerce. It means that we know what and how to fix SEO issues, taking into account your UX, Marketing and Business specifics.