You are never alone, no matter what you sell. Every area has intense competition, with competitors fighting for valuable positions in the organic search market.
Your company may lag behind if you don't have a well-coordinated plan. We are well aware that referring to eCommerce sites is more than just a means of getting traffic. It's all about reaching out to the right people for your product and guiding them through the conversion process. We include this into our approach from the outset, ensuring that your investment yields meaningful and long-term results.
SEO strategy is a large-scale program to achieve the company's main SEO goals (positions, traffic from search, attracting the target audience through search traffic). The development of an eCommerce SEO strategy involves determining the main goals pursued by potential customers of the site being promoted, selecting the necessary methods to attract such an audience, determining the time periods for the main events, and resolving funding issues. The eCommerce SEO strategy is formed based on the analysis of competitor sites and the initial data of the site being promoted.
How to Create an eCommerce SEO Strategy
Referencing necessarily goes through an indexing phase, during which a database is created. Referencing therefore also defines the action of registering something in a database so that the latter can then be found/consulted. SEO is an essential acquisition channel for e-retailers, who are by nature very dependent on their online visibility. But by what means to take it, what are the important criteria to take into account, the good practices to implement?
Use Right Keywords
Keywords are one of the cornerstones of SEO. After all, it's what drives users to your e-commerce product pages. It's also what Google's algorithms use to understand your page. This is why it is important that any e-commerce product page fully optimizes the keywords it uses.
When searching for anything, consumers frequently use relatively broad terms, especially if they do not yet know what they are looking for. They are asking for general colors, combinations, sizes, and descriptions. This is where categories and subcategories come into play since this is how you will lead people to what they are looking for. Aside from people, keywords are what will assist search engines scan and comprehend the structure of the eCommerce website. The more search engines that comprehend your website, the easier it will be to drive consumers to it. It is the SEO base of your eCommerce.
Create Relevant Product Titles
The names of your product pages should appropriately summarize the product. It should also include the terms that consumers commonly look for so that they may be found in search engines. It is critical that your title not exceed 60 characters. The reason for this is that just the first 60 characters of the title are visible when it is shown in search engines.
Optimize Your Multimedia
When searching for something online, people value images, especially because customers need to view the product to determine whether or not it is what they are looking for. It is critical to have high-resolution pictures of the merchandise. Customers will be unable to notice the specifics of your goods if your photo depiction is of low quality. This will deter them from completing a transaction. You should also make sure that the filename for the image is optimal. This assists Google in understanding what the image is about and allows you to appear in Google image search. This also applies to product videos, in addition to images. Videos must be unique and accurately represent the product. Be sure to optimize it though so that it doesn't affect your page loading speed.
Create Unique, High-Quality Content
Many eCommerce sites find it too cumbersome to provide unique product descriptions for each product, as there are thousands of them. While this is understandable, it will hurt page performance. When search engines see that your website has multiple pages with duplicate content, they will mark your website as low quality.
As for the product description, it does not have to follow a specific length. The advantage of longer descriptions is that they give you the opportunity to incorporate more keywords.
Use Unique Meta Descriptions
When your page appears in search engine results pages, readers will see a short summary called a meta description. According to Google rules, meta descriptions should be original and no more than 160 characters long. Make sure to add your keywords in the meta descriptions as well. This helps Google understand your page and makes it simpler for consumers to locate it. You may also include any product specials to persuade people to click through to your page.
Optimize Your Content for Mobile Devices
Google values websites that are mobile-friendly. As more people use mobile phones to access the Internet, Google is working to ensure that these users have a pleasant surfing experience. This is why Google favors websites that are optimized for mobile phones. Google even published a guide for mobile-first indexing to assist developers in understanding what they must do. As a result, mobile optimization is a wise decision for your eCommerce product page. You will make it easy for mobile phone customers to discover your online store.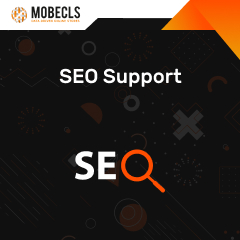 Mobecls team provides basic and advanced SEO audits, SEO and performance optimization services. We are SEO-focused development company that specializes in Magento | Adobe Commerce. It means that we know what and how to fix SEO issues, taking into account your UX, Marketing and Business specifics.