If you are an owner of a small, medium-sized, or large business and plan to take your place on the Internet, then Magento is the one of the best eCommerce solutions you can rely on. Magento is currently considered the leader among e-commerce platforms and offers a number of advantages for developing online stores.
Magento helps you manage all of your store's operations, providing flexibility, ease of integration, multitasking, and more. This is one of the most trusted e-commerce CMS platforms. 
To achieve this, you must act wisely and make wise decisions choosing an eCommerce platform. Magento is the absolute leader with a consolidated position as one of the top 3 platforms in terms of distribution of e-commerce usage statistics. 
Why Choose Magento for eCommerce
Ease of information management
A high-quality and intuitive interface allows you to efficiently work with images, quickly update product items, view and analyze analytical data, quickly change the required attributes, identify and offer customers complementary and similar products, and work with prices. The obvious advantages also include responsive design and layout, that is, the ability to view the site on any device with different resolutions and forms. Magento also integrates with popular PIM (Product Information Management) solutions.
Advanced Marketing
Magento allows you to set price rules for the basket and catalog, manage promotions and discounts according to the established product matrix, manage banner sites, automate email newsletters, remind customers about abandoned carts, work with up-sell and cross-sell technologies, receive and analyze information in real-time, as well as quickly solve a number of other important marketing tasks.
Search engine optimization
Traffic from search engines can undoubtedly be considered an important promotion tool today. Magento has special functions that allow for effective SEO optimization, among them: working with meta-data, automatic generation of a sitemap, the ability to create pages with a product matrix corresponding to certain filters and edit them separately, as well as other useful options.
Navigation and search
In an online store built on Magento, it is possible to display the widest range of nomenclature, while the client can quickly find the desired product.
Globalization and community 
Most e-commerce web development companies choose Magento because of its diverse features. One of the most significant benefits of this highly sought-after technology is the ability to create stores with different currency characteristics. This will give you the opportunity for international cooperation. Customers from all over the world will be able to buy products in your Magento store. Simple payment gateways for multiple currencies expand your reach for any business area and also increase your profitability.
Scalability
The system can boast of stable operation, the online store will perfectly cope with its functions with an influx of guests, and with a large number of orders, and with a constantly high activity of visitors on the site. The scalability of a given application is directly related to throughput. It can handle a large number of user requests without increasing computational resources, thereby making the scalability indicators high. Magento is able to expand functionality by adding modules without involving programmers. Sites built on Magento are fast, so they have more conversion and rank better in search engines.
Integration capability
Thanks to its flexible architecture and various extensions, an online store on Magento can be customized to suit any needs. In fact, any solution related to e-commerce can be integrated with stores built on the basis of Magento: a payment system, an analytics system, a courier service, CRM, and ERP systems.
Mobile experience
More than half of the website traffic comes from mobile devices. To make your online business a success, you must focus on maintaining the maximum number of mobile shoppers. With Magento, you don't need to worry about this because it is also compatible with smartphones and other devices. All this is due to support for HTML5, which makes shopping as convenient as possible and adjusts images and videos. What's more, you can customize whatever you want with the built-in drag and drop functionality to offer your customers the best mobile shopping experience.
Security 
The information security of the online store is at a high level, due to the support of SSL encryption and constant security updates. Magento maintains and regularly releases security updates, this allows you to maintain the state of information security of the online store at a high level.
An interesting novelty for Magento is the introduction of V-commerce. Voice commerce is a new stage in the development of Internet commerce. With the help of this tool, it will be possible to perform commands that require mechanical action, using only the voice. The Magento developers are now working with the Amazon and Google teams to bring voice shopping to every customer.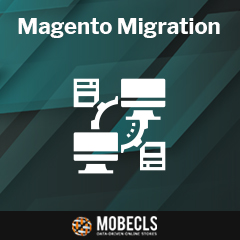 Mobecls Team provides several Magento migration packs. We help both middle-sized and large stores to smoothly migrate their data, design, custom functionality, extensions, SEO, etc. If you're interested in our migration scenarios, contact our experts or click the orange button.