Wholesale eCommerce is growing in popularity as traditional B2B companies migrate their businesses online. This article offers an in-depth look at the modern B2B buyer, the benefits of eCommerce for wholesalers, and what to expect from a wholesale eCommerce platform.
Five Benefits of Starting an eCommerce Wholesale Business
Until now, the B2B sales process has relied heavily on long-term relationships between sellers and prospects, even for the simplest transactions. However, the rise of e-commerce has changed this status quo, offering many advantages to B2B companies that now choose to sell online.
Automate Manual Operations
Selling things using an eCommerce platform is an excellent approach to automating time-consuming manual tasks. Apps, rather than humans, handle processes like payment, invoicing, and inventory management with the correct platform.
Employees may then concentrate on other elements of the firm, such as digital marketing or customer support. Furthermore, sales personnel may devote time to difficult significant clients that were previously spent on order processing, which can be readily handled by a self-service model on the website.
Attract More Customers
Wholesale eCommerce enterprises are also liberated from the restrictions of a physical presence. Through their website, social networks, and marketplaces, they may draw clients from all over the world.
Your consumers will be able to locate you more quickly when they browse across devices and channels with this omnichannel experience.
Furthermore, internet wholesale is a great way to build brand recognition since it allows you to enter new markets and reach previously unreachable consumer bases without investing in a physical site.
Advanced Analytics and Reports
A website also means access to more accurate data about customers and their experiences, including:
The most popular pages and items each day, week, and month.

The number of visitors that viewed a given promotion and then clicked on it.

The average amount of time spent on a web page.

The proportion of people who instantly left the site and those who prolonged their visit to further pages.
This data can drive your marketing campaigns, product offering, pricing and discounts, and more. Combined with customer feedback collected by sales representatives and customer service, it is essential to better understand your customers' needs.
Enhance Customer Service
eCommerce allows you to give self-service portals to your customers and customize them to improve their experience. Catalogs and customized price lists, for example, will allow your customers to simply click to your site and acquire the items they choose without having to interact with a salesperson.
For added convenience, you may also give shipping cost estimates, product suggestions, and sophisticated quotations that many stakeholders can view and confirm.
Reach Out Mobile Users
Wholesale buyers are on the move. The majority of them do not spend their time in front of a desktop or laptop computer. They prefer to find product information on the road or on-site using their mobile devices.
They can study options and make purchases instantly from their cell phone thanks to eCommerce.
Bottom Line
B2B customers need to shop through digital channels. This seems logical since wholesale buyers already make their personal purchases online:
They are used to shopping on Amazon.

They use Google to search for new ideas and new products.

They pay with credit cards and digital wallets.

They browse social media on their phones.
Moreover, these buyers attach great importance to the shopping experience offered online. They do extensive research on the brand and its products before even contacting a sales representative.
Before purchasing from a certain brand, B2B customers conduct around 12 web searches. Furthermore, 74% indicate they use internet research for at least half of their business purchases. This shift can also be attributable to the influx of millennials into the labor sector. By 2020, over half of all B2B purchasers will be millennials, a proportion that has more than quadrupled since 2012.
This generation is also very interested in the buying process. A 2019 survey found that 44 percent of workers make purchasing decisions, with percent stating they play a key or important role in the process. As the wholesale industry changes online, pleasing B2B buyers, particularly millennials, is vital. A dynamic platform that allows you to design B2C shopping experiences while interacting with your existing systems to assist easy order administration is an excellent tool in this scenario.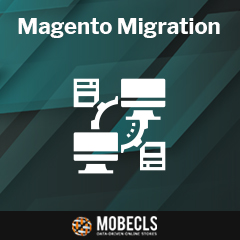 Mobecls Team provides several Magento migration packs. We help both middle-sized and large stores to smoothly migrate their data, design, custom functionality, extensions, SEO, etc. If you're interested in our migration scenarios, contact our experts or click the orange button.