Developed in 2000, OsCommerce is one of the first eCommerce platforms. Although the last official version of the platform was released in 2017, 81,564 online stores still use it. Official OsCommerce partners regularly update and improve it to keep it alive. Can one of the first eCommerce solutions sustain competition with big players like Shopify, Magento | Adobe Commerce & WooCommerce? Today we're going to find out whether it has any chances to struggle with Magento.  
Magento | Adobe Commerce vs OsCommerce
Magento | Adobe Commerce and OsCommerce are open-source systems, which means you can download and use them for free. Moreover, you can change the source code to meet your business specifics and make your online store more competitive. Simply put, they provide merchants with flexibility, which is so vital in the fast-paced eCommerce business. 
Magento | Adobe Commerce took the best things of OsCommerce such as an open-source nature and customization opportunities but brought them to a higher level. Magento has a clean backend that makes it easier for developers to customize any part of online stores, starting from the admin panel to design. After all, both platforms require coding skills and a development team. 
Besides, these two platforms are self-hosted. It means that no one will take care of your hosting except you. The best thing about self-hosted platforms is that you have total access and control over your server environment. On the other hand, hosted solutions relieve you from security and performance issues, allowing you to concentrate on the other pressing problems.  
Magento | Adobe Commerce vs OsCommerce: Hosting 
When it comes to hosting, Magento | Adobe Commerce requires a dedicated server for smooth functioning, whereas OsCommerce can run on a shared server for 1$ a month. Magento hosting, it's more reliable than OsCommerce' one. This platform is a little bit outdated and hardly copes with big traffic. Moreover, as OsCommerce has poor built-in functionality, you need numerous add-ons to have basic features. The more plugins you install, the slower your site becomes. 
At the same time, Magento | Adobe Commerce can handle hundreds or thousands of customers and products. If you pay enough attention to your Magento hosting and its configuration, you won't face any unplaced orders, payment issues, etc. Provided that you invest enough time and resources to it. Fortunately, it's not so difficult to find a Magento hosting solution as numerous providers are tailored to Magento | Adobe Commerce like Sonassi, Nexcess, etc.  
Magento | Adobe Commerce vs OsCommerce: Built-In Functionality 
Magento | Adobe Commerce and OsCommerce provide merchants with basic eCommerce features:
Unlimited Products

Product Management

Product Attributes

Customer Management 

SSL Support 

Shipping

Payment Options

Multilingual and Multi-Currency Support
Despite basic out-of-box features, Magento | Adobe Commerce has an advanced toolkit that outperforms not only OsCommerce but also other popular eCommerce solutions like Shopify, WooCommerce, etc. 
Multi-Store Functionality allows Magento users to manage multiple stores and brands using one admin panel. This feature is a must-have for B2B and international retailers. For example, you can set restrict some dealers to sell goods in certain countries, set special "price" attributes at different local and global levels, etc. 
The key Magento | Adobe Commerce Advanced Marketing Features are built-in promotion engine and customer segmentation. The promotion engine allows merchants to set defined conditions that are used to offer customers discounted products automatically when they are met. For example, if a customer spends a certain sum of money, he gets a coupon. OsCommerce doesn't even have default coupons. 
Magento | Adobe Commerce is an SEO-friendly platform that allows merchants to create custom search engine optimization strategies. You won't find a better eCommerce solution when it comes to no-follow links, redirects and canonical tags. Also, you can set up permalinks and meta-content for your inventory. 
Magento | Adobe Commerce vs OsCommerce: Extensions, Support, Updates
The last official OsCommerce version was released in 2017. Since that time, the platform has been supported by the community of developers. That's why patch note releases and updates are not as frequent as they should be. You may wait for a long time for a patch that will fix essential bugs, security, performance, and other issues. Meanwhile, Magento | Adobe Commerce has regular updates that constantly make it dynamic and progressive.  
Magento | Adobe Commerce marketplace comprises more than 5,000 extensions both free and paid. On the other hand, you can configure OsCommerce with more 9,000 free addons. However, such a wide choice may turn into a drawback as it requires more time to find a proper one in a haystack. Considering that these add-ons are almost similar, the decision-making process becomes even more complicated.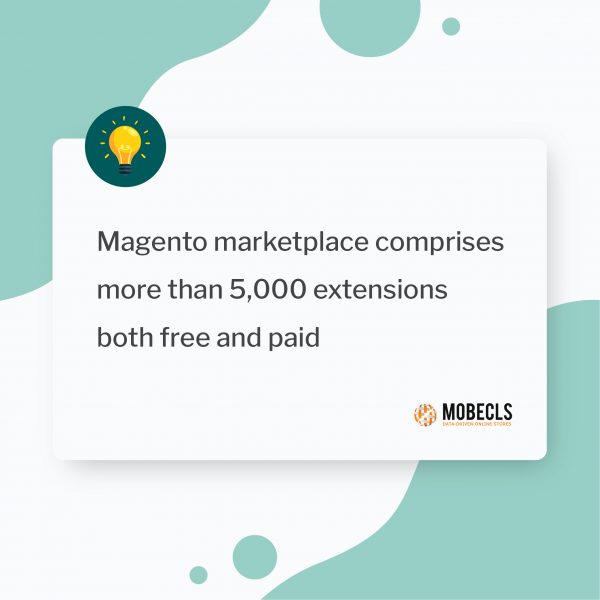 Both platforms have large communities. You can find any issue solution on their thematic forums. That's only if you maintain your online store on your own, of course. If you use Magento Commerce (a paid edition), you have 24/7 support that will take care of all the updates and bug fixes. 
Magento | Adobe Commerce vs OsCommerce: Summary 
OsCommerce 
OsCommerce is a time-tried, stable but outdated platform when it comes to the latest eCommerce trends and solutions. The platform lacks cross- and up-sell options, promotions, SEO and content management.  
There are no doubts that you'll have fewer expenses in maintaining it. The platform itself and its add-ons are free of charge. Nevertheless, OsCommerce can't respond to the needs of modern customers and merchants.    
If you're already using OsCommerce, we recommend you to think about migration to Magento | Adobe Commerce. It's a more reliable option in the competitive eCommerce industry that will satisfy the most ambitious retailers.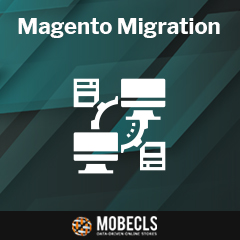 Mobecls Team provides several Magento migration packs. We help both middle-sized and large stores to smoothly migrate their data, design, custom functionality, extensions, SEO, etc. If you're interested in our migration scenarios, contact our experts or click the orange button. 
Magento | Adobe Commerce
Magento | Adobe Commerce was developed to respond to the most creative merchant needs. Although this platform is rather complicated, it provides merchants with the best eCommerce features that facilitate online store management, meet the competition and increase sales. A sophisticated open-source code makes it one of the most flexible eCommerce platforms. It has no borders for creating and implementing any custom solutions and strategies.  
Magento | Adobe Commerce is good for merchants who have an established business with regular traffic, a budget and a desire to expand market presence. The best option to go online with Magento is to migrate to it from another CMS.   
If you have a couple of dozens of products and planning to start an online store, Magento | Adobe Commerce won't be the best option for you. In this case, it'd be better to consider Shopify or WooCommerce.
Read more:

Magento | Adobe Commerce vs Shopify: Which Suits You Best?

Magento | Adobe Commerce vs WooCommerce: Making a Smart Choice