Choosing an eCommerce platform for a future online store is the most important decision every retailer makes. Moreover, it's the most difficult one as this choice decides the fate of your business. Lucky you are, you've found this article. Mobecls team is a development agency specializing in eCommerce, that's why we've written this text to help you.
We know that all eCommerce platforms meet different business needs, have their strengths and weaknesses. I'm sure you asked yourself these questions: "What is the best solution?", "How to choose a solid platform without getting into a marketing trap?". The truth is that there's no universal answer. The choice should depend on your business specifics, model, size, ambitions, and many more factors.
I'll help you to narrow it down as we're going to compare the two most popular eCommerce platforms: Magento | Adobe Commerce & Shopify.
Magento | Adobe Commerce vs Shopify
Numerous people think that all eCommerce platforms are similar. Although their purpose is the same, they are completely different. It concerns everything starting from architecture to functionality.
Magento | Adobe Commerce is one of the leading eCommerce platforms that occupy 6% of the market (200.000+ online stores). This self-hosted platform is popular with both individual entrepreneurs and big brands like Nike, Samsung, Ford, etc.
Open-source nature is the best Magento | Adobe Commerce calling card. The open-source ecosystem means that you can change the code of the platform, which gives endless possibilities for customization and business scaling. It's the most flexible eCommerce solution you can ever use.
Shopify is the second biggest eCommerce player that occupies 20% of the market (500.000 + online stores). It's extremely popular because of its simplicity as you can start your online store within a few minutes. Moreover, Shopify is a hosted solution, which means you don't need to find a hosting solution and pay for it as its cost is included in the subscription plan.
Magento | Adobe Commerce vs Shopify: Built-In Functionality
There are no doubts that Magento | Adobe Commerce beats Shopify when it comes to built-in functionality as it's a more complicated platform. Facts are better than words, so let's get straight to out-of-box features comparison.
1.Promotions/Discounts
Magento | Adobe Commerce has a built-in promotions engine that supports numerous discounts and promotions. You can easily use this engine as a part of the other basic Magento features like customer groups segmentation and content scheduling. Catalog price rules and cart price rules are the keystones of promotional campaigns in Magento | Adobe Commerce.
Catalog Price Rule is a set of defined conditions that offers customers a product with a discount. These conditions may include customer groups, product color or size, product categories, etc. Simply put, you can use any product attribute to set catalog price rules. The important thing is that this rule triggers before a customer adds a product to a shopping cart. As a result, the catalog price rule doesn't use coupon codes.
When you define and set conditions for a rule, it automatically displays products with a discount price if they meet this rule. You can set the start and end of the price rule, and it will work during the set time-frame.
Cart Price Rule is also a set of conditions you apply in shopping carts. It automatically displays discounts when the conditions are met or when a customer enters a coupon code. Coupons are not the only way to use cart price rules. Moreover, you can also use built-in features like free shipping, "buy X, get Y free", discount with a minimum purchase limit.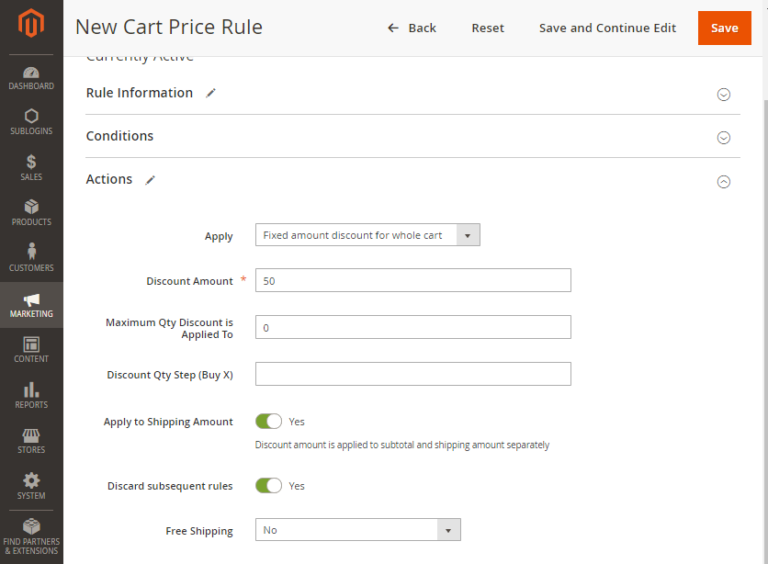 Shopify also supports promotions, but this functionality isn't as advanced as in Magento | Adobe Commerce. Shopify users prefer to rely on Ultimate Special Offers app or scripts. This app adds to your monthly expenditures from $19 to $99 ($228 – $1188 per year), depending on your pricing plan.
The main problem of promotion scripts in Shopify is that coupon codes don't stack. It means that you'll need to add more scripts in the future. With time, big stores become messy and turn into a headache for retailers with bigger catalogs.
2. SEO & Marketing
When you plan to start an online store, you definitely don't want to spend too many resources on SEO. That's why built-in SEO functionality is also one of the major factors you should consider choosing an eCommerce platform.
Shopify has a basic SEO kit tool that allows you to edit meta tags, optimize inventory and product pages. Moreover, you can modify the file structure, which will help search crawlers do their job better. However, Shopify's SEO capabilities are limited because it's a hosted solution. You are not able to do any server configurations.
At the same time, Magento | Adobe Commerce allows its users to integrate and implement custom SEO/marketing strategies. The open-source nature helps you to customize store design and SEO for maximum performance.
You can easily set up permalinks for inventory items as well as meta-content. Furthermore, Magento | Adobe Commerce is second to none when it comes to no-follow links, redirects and canonical tags. All these features facilitate search engines to index online stores.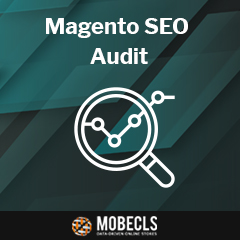 Mobecls team provides basic and advanced SEO audits, SEO and performance optimization services. We are SEO-focused development company that specializes in Magento | Adobe Commerce. It means that we know what and how to fix SEO issues, taking into account your UX, Marketing and Business specifics. 
3. Product & Catalog Management
Magento | Adobe Commerce can handle 6 product types by default:
Simple product (a physical product with no selectable options like color, size, material, etc.)
Grouped product (a combination of several simple products like furniture, teacup set, etc. Customers can purchase these products separately or as a group)
Configurable product (a combination of simple products with options like color, size, material, etc.)
Virtual product (a product without physical appearance)
Bundle products (a collection of simple products that can't be sold separately)
Downloadable product (e.g. online software)
Shopify provides only 2 product types: simple and configurable ones. If you sell products like clothes when customers need just to choose a color or size, Shopify will fully satisfy you. If you're selling complex or several types of products, it'd better consider Magento | Adobe Commerce as your eCommerce platform.
One more important thing you should know about product management in Shopify is that it has some limitations:
Your products can have a maximum of 3 option names (e.g. Color, Size, Style). These options can be different for each product. One product can have Color, Size and Style options, the other one — Material, Weight and Finish.
You have a limit of 100 variants. A variant is a variation within an option name. "Size" is an option name while S, M, and L are the variants. For example, if you have an item that comes in 5 sizes and 5 colors, you already have 25 variants. This way Shopify aims to simplify catalog management as you can see how many items you have for certain variants (e.g. 13 green Small T-shirts or 47 red Large T-shirts).
Don't panic if your products have more than 3 options and 100 combinations, there are some ways to break the limit:
Edit your theme code (requires strong knowledge of HTML, CSS, Javascript, and Liquid)
Invest in third-party apps
Magento | Adobe Commerce is a more robust solution when it comes to built-in product management functionality. However, Shopify is more user-friendly in terms of catalog management due to its simplicity as it has only two product types by default.
Managing 6 types of products in Magento | Adobe Commerce can be a hard nut to crack, especially if you sell all of them. Nevertheless, this process can be automated and improved by customizations or third-party extensions (e.g. expand or shorten the product grid, edit data right on the grid, add advanced filter options, create a custom grid, etc.)
4. Multi-Store Management
This feature is the best Magento's selling point. It allows merchants to manage several brands and stores from one admin panel. The key point is that you share your catalog across different websites and stores. Moreover, you are free to change it on different levels. For example, you can set the "product name" attribute at a global level, but define the "price" at a local one. This feature is a must-have for B2B, international and multi-brand retailers.
On the other hand, Basic Shopify plans can't boast with a feature like this. Although its users can set up several stores, they can't manage them from a single interface. Even the most advanced Shopify plan (Shopify Plus will cost you a minimum of $2.000 per month) has no proper multi-store architecture as merchants are allowed to manage just 10 clone stores. Nevertheless, some workarounds can help merchants to manage multiple stores in Shopify:
Use a Product Information Management system to manage data independently of Shopify
Data synchronization between the different stores
Enhance order and customer management via ERP or CRM integration
Invest in apps that support multi-store setups
5. Payments
By default, Shopify supports 100 + payment gateways. It sounds nice, doesn't it? However, do you need all of them? I guess no, it'll be enough to use a couple of the most wide-spread ones like PayPal, Stripe, ApplePay, Stripe, etc. This choice depends on your business specifics and target audience.
Magento | Adobe Commerce natively supports only PayPal and Authorize.net. However, you can add more gateways to your Magento store via third-party extensions (Magento Marketplace).
Shopify payments have one big problem. It charges transaction fees. Credit card transaction fees vary from plan to plan:
Basic Shopify — 2.9% + 30¢ per transaction
Shopify — 2.6% + 30c per transaction
Advanced Shopify — 2.4% + 30¢ per transaction
Moreover, wherever you use external solutions like PayPal, Stripe, and others, at the end of the month you'll be charged:
Basic Shopify Plan – 2%
Shopify Plan – 1%
Advanced Shopify Plan – 0.5%
Let's imagine the next case: you use Basic Shopify, your only payment gateway is PayPal, you generate $1000 a month (100 transactions of $10 products). How much will be transaction fees?  ($1000 * 2.9%) + (30с * 100) = $29 + $30 = $59. Moreover, you shouldn't forget about a 2% Shopify fee for using external payment gateways. (1000 * 2%) + $59 = $20 + $59 = $79. In this case, annual transaction fees are $948.
Shopify forces its users to use Shopify Payments (a built-in payment gateway) that has 0% transaction fees. The problem is that it's not so great.
First of all, Shopify Payments operates only in a limited number of countries. The second reason is the chargeback fees. You should be ready to pay $15 each time you face a chargeback. The last con is that Shopify can freeze your funds when its team investigates chargeback issues or suspicious account activity. Moreover, these investigations often happen unexpectedly. Visit any Shopify forum, and you'll find a lot of complaints about it.
Magento | Adobe Commerce vs Shopify: Hosting
Shopify is a hosted solution. It means that you don't get total control over your server. Although Shopify allows users to write in CSS and HTML, you can't get access to your server environment.
The good thing is that the platform takes care of security and performance issues so you can fully concentrate on managing more vital tasks. Hosted solutions exist to support online stores starting from features and integrations to customer support.
One more advantage of hosted solutions is that it's easier to plan a budget. Shopify subscription includes hosting, security, and domain registration. The platform does everything for you when it comes to hosting.
Magento Open Source edition is a self-hosted solution. It means that you get total control choosing your server and hosting. The open-source ecosystem gives Magento users endless customization possibilities. You can update and customize the store at your will and not be restricted to access any level of integration.
However, you'll need the help of experienced developers to embody all your requests and ideas. If you don't want to hire any developers or development agencies, you can use a third-party provider or even a cloud (Magento Commerce Cloud includes cloud hosting).
Magento | Adobe Commerce vs Shopify: Themes, Extensions & Integrations
Both platforms have well-established third-party marketplaces where merchants can purchase thousands of extensions and hundreds of themes.
On average, a Shopify theme will cost you about $140 – $160. Shopify also offers 10 free themes. All Shopify themes are easy to install. However, they are not so customizable as Magento ones. You can only hide some blocks.
On the other hand, Magento | Adobe Commerce themes are quite cheaper, and you can find a good one that costs less than $100. If you want to stand out hundreds of similar online stores, you can fully customize a ready-made theme or even create a custom one. However, custom themes are not as cheap as simple customization. Approximately, a custom theme may cost you from $600 to $5,000.
Both platforms offer a wide range of extensions that enhances SEO, accounting, reporting, and other aspects of online store management. Shopify apps are easy to integrate, while the installation of Magento | Adobe Commerce extensions requires coding skills or experienced developers. Moreover, you should pay a lot of attention to the compatibility of the extensions as modules from different vendors can conflict with each other.
When it comes to extensions, you should keep in mind that Shopify users pay the extensions monthly while extensions for Magento | Adobe Commerce are one-time paid. For example, you need an advanced search extension for your store. If you run a Magento store, you may find a good one for $100 and pay once. If you use a Basic Shopify plan, an extension like this will cost you $15 a month, which equals $180 for a year, $360 for two years, etc. Is Shopify as cheap as people say?
Shopify and Magento | Adobe Commerce are the most mainstream eCommerce solutions. As a result, you can integrate lots of third-party systems like ERPs, shipping services, payment gateways, etc.
Magento | Adobe Commerce vs Shopify: Pricing
Shopify
Shopify offers merchants a subscription-based model. It means that you have to pay for it monthly or annually. Shopify has three pricing plans: Basic Shopify, Shopify & Advanced Shopify. They cost $29, $79, and $299 respectively. Like every subscription-based service, this eCommerce platform also provides newcomers with a 14-day free trial.
In addition to these plans, there is also a Shopify Plus (enterprise-oriented). It will cost you $120,000 – $280,000 per year. This price includes license, development, and apps.
I should also mention a Shopify Lite Plan that starts from $9 per month. However, this option provides you with just a tool that allows selling products from your Facebook page or via the messenger.
What does not include Shopify pricing plans? First of all, you need a theme. Although you can skip money on it and use a free one, I don't recommend you to do it. Your store will simply get lost in the crowd of the same stores. A good theme will cost you about $140 – $160.
However, Shopify offers some free apps that enhance online store functionality – you pay for every little thing monthly. Do you need a social login? This feature will cost you about $9 per month. If you need one line on the top of your site that informs customers how much money they should spend to get a discount, pay $4.99 per month. More solid extensions that manage shipping, content, and other eCommerce aspects may cost from $30 – $300 per month.
Although these expenditures don't seem to be low, they turn into thousands per year as your store grows and you add more applications. The sad thing is that all these little things could have been easily included in out-of-box features as you already pay for the platform each month.
Magento | Adobe Commerce
When it comes to Magento | Adobe Commerce, it's harder to calculate the cost you need to start an online store. If you use Magento Open Source, you don't need to pay for it as it's absolutely free. Just download and install it. However, the final price of a Magento store includes hosting, development, extensions and integrations, support, and maintenance.
As Magento | Adobe Commerce is a self-hosted solution, you need a server. Moreover, you need a good one because Magento's performance highly depends on your hosting solution. The cost of the unmanaged hosting starts from $10 to 250$ per month, the managed one will cost you at least $190. A dedicated server costs about $500 – $900 per month.
A basic Magento | Adobe Commerce store may cost from $2,500 to $10,000. For this price, you'll have a free or cheap ready-made theme with no customizations, basic functionality, some essential extensions installed by a small development agency. However, complex development, custom modules, unique appearance, and backend system integrations are beyond this price range.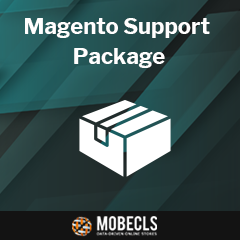 Mobecls team offers fixed-price service packages for Magento store support. Moreover, we'll help you to choose a plan according to your business needs and specifics. The starting price is $2000. You can also select the number of working hours and the range of services. A service package may include updates, the installation of modules, bug fixing, SEO support and many more. Contact us and we'll help you. 
The price range of Custom Magento | Adobe Commerce stores varies from $10,000 to $100,000. It depends on the features you want to have, your business and product specifics, your vision and business model. For this price, you can have customized features and extensions that suit your product and business specifics. It also includes a custom theme with enhanced user experience developed by an experienced team of front-end developers, support, and maintenance of your store by a development agency.  An agency that specializes in Magento | Adobe Commerce costs on average from $45 – $120/hour. The cheapest development agencies are in Eastern Europe, the most expensive ones – in the US and UK.
Magento Commerce and Magento Commerce Cloud provide a more advanced toolkit that fits big merchants. The cost of these editions based on your gross revenue. It may start from $22,000 and can go as high as $190,000 per year for the merchants that generate over $25,000,000.
Magento | Adobe Commerce vs Shopify: Final Words
Both eCommerce platforms have their pros and cons. First of all, look at your strategic plan, products, resources, and scale. Any small-size and mid-size will be satisfied with both of them.
Shopify is super friendly and easy to use. If you're new to eCommerce, sell standard products, have only 1 or 2 storefronts, a medium-sized product list, and no tech team or specialist, Shopify is the best choice for you. The monthly expense for Shopify & Paid Add-on is acceptable for the majority of small to middle business.
If you sell complex products, you are a multi-store or multi-brand, you have thousands of SKUs, give a shot to Magento Open Source, especially if you run an already established business. Although it might be hard to get used to, a free Magento edition will provide you with limitless customization possibilities along with full control over your website. That makes it a brilliant choice for eCommerce businesses.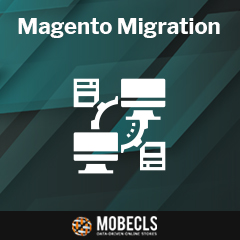 Mobecls Team provides several Magento migration packs. We help both middle-sized and large stores to smoothly migrate their data, design, custom functionality, extensions, SEO, etc. If you're interested in our migration scenarios, contact our experts or click the orange button.