In 2020 eCommerce revenues reached $3.53 trillion and the sales will continue to grow. What will stimulate customers to purchase more in 2025? What trends will rule the next years? How COVID-19 will influence the eCommerce world?
We've made a list of eCommerce trends that have been already working well and will be in high positions for the next few years.
# 1 Customizable Products & Personalization
It's hard to imagine a more frustrating eCommerce experience than spending hours searching for the right item fruitless. Even if a store has thousands of goods in a catalog, there's a great chance to buy nothing. Every consumer group has its own tastes and preferences, so online stores should satisfy all of them. If it's impossible to do it outright, it's time to implement customizable products.
Custom products are the quintessence of eCommerce personalization. Nike is one of the best examples of how this feature should be implemented. The brand has been using this feature for years proving its efficiency and benefits. All Nike customers are free to choose a base, laces, airbag, Swoosh color, laces and etc.
This feature was launched in 2012 and it was a real breakthrough in the fashion industry. Nevertheless, there're not so many brands that offer this option to their clients.
One more good example of custom product usage is Nissan. Customers can choose engine model, interior and exterior accessories/color and etc. Nissan claims that personalization and customization will deliver 25 % of the company's after-sale revenue by 2022.
Read more: Nike Marketing Success Story And Best eCommerce Practices 
Custom products satisfy the most demanding customers, increase brand loyalty, and make shopping more interactive. This process becomes less exhausting but more exciting. Usually, users are very curious and like to click on everything. There's no more interactive eCommerce feature than Product Customization. If your products can be customized, think about implementing this feature on your website.
#2 Flexible Payment Options
There are no doubts that COVID-19 has influenced the economy and unemployment rates around the world. Unfortunately, we still don't know the extent of the lasting consequences of the pandemic.  However, we know for sure that working people need a financial break to afford to buy things they want and need.

Flexible payment options like loyalty rewards make customers feel they can buy your products without getting into debts. Moreover, it will help you to provide a great user experience and build long-term relations.
#3 Exclusive Products & Subscription-Based eCommerce
2020 and the pandemic showed us the importance of staying home and not doing unnecessary shopping trips to stay safe and sound. Subscription-based eCommerce offers a way for people to receive what they need, including medical prescriptions, groceries, and toiletries that people who are vulnerable to COVID can subscribe from home with no risks to get COVID and infect other people.
The simplest example of this eCommerce model is a membership program. It's some kind of a closed community on a website. Each member of this "society" gains certain benefits like discounts, free shipping, exclusive products and etc.
Let's take a look at Adidas's example. In 2018 Adidas announced the launching of its new membership program, the Creator Club. Every participant gets early access to Adidas production, exclusive offers, and invitations to special events. These rewards depend on customers' activity. The more members spend or attend Adidas events, the more rewards they have.
There are four Adidas membership tiers:
Challenger: Access to limited edition Adidas shoes and apparel.
Playmaker: Member-only access to special products created with or for you.
Gamechanger: Access to sneaker and apparel drops before everyone else.
Icon: Invitations to the most exclusive parties and events; Personalized training apps and nutrition plans.
Exclusive products and subscription-based eCommerce are the ultimate tools to gain customer loyalty. They liberate merchants from competition battles. Clients are more likely to continue establishing long-term relationships with a brand because of the perks they get.
This eCommerce trend also works well for luxury and premium class goods. Porshe has a program that allows its participants to drive a Porshe of their dreams for a monthly fee. Moreover, club members have an option to swap the model a few weeks later. The monthly fee includes insurance, maintenance, 24/7 customer care and etc.
#3 Visual Merchandising
The next eCommerce trend of 2025 struggles with one of the disadvantages of online stores — the inability to hold a product and look at it from different angles. That is one of the biggest bricks and mortar advantages over online stores. The more real a product looks like the easier customers make purchasing decisions.
Porshe provides online shoppers with a 360 3D model view. Every visitor can spin it in all directions and examine everything.
It's not obligatory to develop a complex functionality like on a Porsche website. You can make your products more live by adding some interactivity. For example, a shopper clicks on any part of the product and enlarges it. You can also supplement these pictures with information or videos.
That's how Walmart implemented visual merchandising to its website:
#4 Micro-Moments
Micro-moments are spontaneous moments when users want to find information or place, order a product or service via mobile devices. Usually, these moments happen in snatches and a decision is made quickly.
Merchants should provide all the necessary information that will satisfy the users' requests at the right time. They need to understand when a buyer may need this product/service information.
There are 4 main users' intentions:
A person is looking for product information but isn't ready to buy it. "What are the benefits of gluten-free products?", "How to choose a vacuum cleaner?", "Which cars are the most fuel-saving?" — these are the questions a potential buyer wants to answer planning a purchase. Usually, we use mobile devices for googling them, so think about the optimization of your online store for mobile users.
A person needs to buy a product and hasn't got a lot of time. In this case, convenience and time are more important than brand loyalty. It's not enough just to be somewhere "Near Me". Brands also need to provide a useful, relevant, frictionless experience. Can your mobile app or site provide the user with pricing/inventory info in a user-friendly and quick way? Do you use user context in advertising? Do you use location extensions or inventory ads to provide a user with all the relevant information about your business? Think about how you can be there when people are looking for you.
A person may need instruction or training videos to learn how to use a product. This is the case when video content wins. Customers get all the necessary information in the blink of an eye.
One of the most important micro-moments. A person is already ready to make a purchase. At this micro-moment merchants should quickly offer assistance and establish communication. To win an I-want-to-buy-moment you should know what influences buying decisions. Talk to clients or make a survey to understand how they shopping online. After that, you can create solid content and ad campaigns to influence customers.
Read more: Micro-Moments Marketing: How To Win Clients In One Second
#5 Video Content
Online shoppers often search for video tutorials, reviews, tips, life-hacks to make the buying decision. More than 40% of people under 35 searches the information primarily on YouTube rather than with the help of search engines. You should have already started creating video content to capture these people. Don't be afraid if you've missed it. Video content will still be in high positions in 2020. It's never too late to start.
Posts containing videos or stories on social networks make content more alive than staged or stock photos. A video about a product on a landing page is the best way to look at the product from all sides.  Use this eCommerce trend in 2025 to catch and deter your audience.
#6 Long Sales
Did you notice that last year's mailings with discounts from stores came well before Black Friday, Cyber Monday, and New Year? It has been and will be one of the most robust eCommerce trends in 2025. Everyone is trying to outrun each other and be the first to profit. As a result, sales stretch for 1-2 months.
To build a long-term relationship with customers you should convey research to find out what motivates your clients to purchase your products. It will be great to create a Customer Journey Map to define their concerns and think about how your product releases customers from their pains.
#7 Promote Content, Not Store
Content marketing will still be a top eCommerce trend even in 2025. Your content should be ahead of your competitors. All video training, tips, and reviews should be promoted equally as landing pages. It will help you to be at the right time and catch the target audience in micro-moments.
#8 No Photoshop
Body positivity and naturalness become more and popular. I guess, this trend will merge into e-commerce: famous models with no makeup, photo sessions with people of different complexions, promotion of natural beauty instead of plastic surgery.
If a person on an advertising photo looks natural, he/she won't differ radically from an online shopper who looks at this photo. People cease to envy glossy ideal people and begin to trust a brand that is closer and more friendly to the audience. Naturalness should become a new eCommerce trend by 2025 as it proves the brand's credibility.
#9 Big Data
If you want to personalize content for your buyers in the most efficient way, you need to know exactly who they are and what they are doing.
Large companies use Big Data. These are tools, approaches, and methods for processing large amounts of unstructured data. This data helps to define the demands of your customers and their behavior.
However, this technology is expensive and few companies can afford it.  Fortunately, there are less expensive ways to make a profound customer analysis: Customer Journey Map and Buyer Persona.
#10 Find Your Niche
It will sound more like a useful piece of advice rather than a new eCommerce trend of 2025. Large offline retailers open online stores and start seizing the market. Even without them, competition is growing every day. Numerous newcomers try to expand their nets and break into new markets instead of concentrating on the quality of their products and improving their service. The desire to spread burns out these businesses.
Nevertheless, small shops can struggle with the sharks of online retailing. There are two main advantages:
flexibility in responding to customer requests, individual approach to solving problems, and communicating with clients.
the ability to create and offer exclusive products, as opposed to mass production.
Competition in online retailing is growing, but there is still a place for newcomers. If you were always wanting to start your online store, it's worth trying right now. We hope our list of eCommerce trends in 2025 will help you to embody your dream.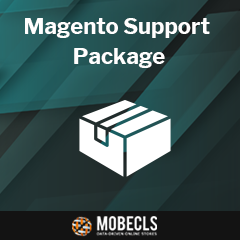 Mobecls team offers fixed-price service packages for Magento store support. Moreover, we'll help you to choose a plan according to your business needs and specifics. The starting price is $2000. You can also select the number of working hours and the range of services. A service package may include updates, the installation of modules, bug fixing, SEO support and many more. Contact us and we'll help you.