The eCommerce industry has experienced explosive growth in recent years, and this trend is set to continue well into the future. In 2020 alone, global eCommerce revenues reached an astounding $3.53 trillion and this number is expected to continue to grow in the coming years. With the industry constantly evolving, it's important to stay on top of the latest trends to remain competitive. In this article, we'll explore the top eCommerce trends that are expected to dominate the industry in 2025.
eCommerce Trends to Expect in 2025
As we look towards the future, it's clear that staying on top of emerging trends will be crucial for success. Let's take a look trends that are expected to make a significant impact in 2025 and beyond. From the rise of social commerce to the growing importance of sustainability, these trends have the potential to transform the industry and drive growth for businesses of all sizes.
# 1 Customizable Products & Personalization
It's frustrating to spend hours searching for a product on an eCommerce website, only to come up empty-handed. With thousands of items in their catalogs, stores can't always cater to every customer's tastes and preferences. That's why customizable products are crucial for personalizing the eCommerce experience.
Nike is a prime example of how to implement this feature effectively. The brand has been offering customization options for years, giving customers the freedom to choose everything from the base to the Swoosh color. By providing this level of personalization, Nike has demonstrated the efficiency and benefits of customizable products.
This feature was launched in 2012 and it was a real breakthrough in the fashion industry.
Nissan is another excellent example of how customized products can be used effectively. Customers can choose from a range of options, including engine models, interior and exterior accessories, and colors. Nissan even predicts that personalization and customization will generate 25% of its after-sale revenue by 2025.
Read more: Nike Marketing Success Story And Best eCommerce Practices 
Customizable products not only satisfy the most demanding customers but also increase brand loyalty and make shopping more interactive and exciting. Product customization is, without a doubt, one of the most interactive eCommerce features available that makes shopping less exhasuting and more exciting.
#2 Flexible Payment Options Like BNPL & Crypto
The COVID-19 pandemic has had a significant impact on the global economy and employment rates, with lasting consequences yet to be fully understood. As a result, it's crucial to provide customers with flexible payment options to make purchases more affordable and accessible.
One such option that has gained immense popularity in recent years is "buy now pay later." Companies like Klarna have emerged as leaders in this space, allowing customers to split their purchase into installments without any interest. This payment option not only provides financial relief but also enhances the overall user experience and builds long-term relationships.
The rise of cryptocurrency has also impacted the way consumers make purchases online. With the introduction of digital currencies like Bitcoin, Ethereum, and Litecoin, consumers can now make transactions without the need for a traditional financial institution.
While cryptocurrency is still a relatively new concept, it has gained popularity in recent years due to its decentralized nature and enhanced security features. Online businesses can benefit from accepting cryptocurrency as a form of payment, as it allows for quick and secure transactions without the need for a third-party intermediary.
However, it's important to note that cryptocurrency is not yet widely adopted, and some consumers may still be hesitant to use it. You should carefully consider the potential benefits and risks before deciding to accept cryptocurrency as a form of payment.
Considering Klarna Integration? 
#3 Exclusive Products & Subscription-Based eCommerce
The COVID-19 pandemic has taught us the importance of staying home and reducing unnecessary shopping trips to stay safe. Subscription-based eCommerce provides a convenient way for people to receive what they need without leaving their homes. This is particularly beneficial for vulnerable individuals who are more susceptible to COVID-19.
A simple example of this eCommerce model is a membership program. It functions as a closed community on a website where members receive exclusive benefits, such as discounts, free shipping, and early access to new products.
In 2018, Adidas launched the Creator Club, offering members early access to new products, exclusive offers, and invitations to special events. Members earn rewards based on their activity, such as the amount spent and attendance at Adidas events. This program has been a hit with customers, enhancing their experience and building long-term loyalty.
There are four Adidas membership tiers:
Challenger: Access to limited edition Adidas shoes and apparel.
Playmaker: Member-only access to special products created with or for you.
Gamechanger: Access to sneaker and apparel drops before everyone else.
Icon: Invitations to the most exclusive parties and events; Personalized training apps and nutrition plans.
Subscription-based eCommerce and exclusive products are powerful tools for building customer loyalty. By offering unique benefits and experiences, you set your business apart from the competitors and establish long-term relationships with their customers.
This trend can also effectively work for luxury and premium goods. Porsche, for example, offers a program that allows members to drive their dream Porsche for a monthly fee. Members also have the option to switch to a different model every few weeks. The monthly fee includes insurance, maintenance, and 24/7 customer care, providing a hassle-free and exclusive experience for their customers.
#4 Visual Merchandising
One of the biggest challenges for online stores is the inability for customers to physically touch and inspect a product before making a purchase. This has traditionally been a major advantage of brick-and-mortar stores over their online counterparts. However, visual merchandising is aiming to overcome this limitation.
One example of this is Porsche, which provides online shoppers with a 360-degree 3D model view of their cars. This allows potential customers to spin the model in all directions and examine every detail, providing a more immersive and realistic online shopping experience.
It's not obligatory to develop a complex functionality like on a Porsche website. You can make your products more live by adding some interactivity. For example, a shopper clicks on any part of the product and enlarges it. You can also supplement these pictures with information or videos.
That's how Walmart implemented visual merchandising to its website:
#5 Micro-Moments
Micro-moments are spontaneous moments when users want to find information or place, order a product or service via mobile devices. Usually, these moments happen in snatches and a decision is made quickly.
There are 4 main users' intentions:
A person is looking for product information but isn't ready to buy it. "What are the benefits of gluten-free products?", "How to choose a vacuum cleaner?", "Which cars are the most fuel-saving?" — these are the questions a potential buyer wants to answer planning a purchase. Usually, we use mobile devices for googling them, so think about the optimization of your online store for mobile users.
A person needs to buy a product and hasn't got a lot of time. In this case, convenience and time are more important than brand loyalty. It's not enough just to be somewhere "Near Me". Brands also need to provide a useful, relevant, frictionless experience. Can your mobile app or site provide the user with pricing/inventory info in a user-friendly and quick way? Do you use user context in advertising? Do you use location extensions or inventory ads to provide a user with all the relevant information about your business? Think about how you can be there when people are looking for you.
A person may need instruction or training videos to learn how to use a product. This is the case when video content wins. Customers get all the necessary information in the blink of an eye.
One of the most important micro-moments. A person is already ready to make a purchase. At this micro-moment merchants should quickly offer assistance and establish communication. To win an I-want-to-buy-moment you should know what influences buying decisions. Talk to clients or make a survey to understand how they shopping online. After that, you can create solid content and ad campaigns to influence customers.
Read more: Micro-Moments Marketing: How To Win Clients In One Second
#6 Video Content
Online shoppers often search for video tutorials, reviews, tips, life-hacks to make the buying decision. More than 40% of people under 35 searches the information primarily on YouTube rather than with the help of search engines. You should have already started creating video content to capture these people. Don't be afraid if you've missed it. Video content will still be in high positions in 2020. It's never too late to start.
Posts containing videos or stories on social networks make content more alive than staged or stock photos. A video about a product on a landing page is the best way to look at the product from all sides.  Use this eCommerce trend in 2025 to catch and deter your audience.
#7 Long Sales
Did you notice that last year's mailings with discounts from stores came well before Black Friday, Cyber Monday, and New Year? It has been and will be one of the most robust eCommerce trends in 2025. Everyone is trying to outrun each other and be the first to profit. As a result, sales stretch for 1-2 months.
To build a long-term relationship with customers you should convey research to find out what motivates your clients to purchase your products. It will be great to create a Customer Journey Map to define their concerns and think about how your product releases customers from their pains.

#8 Promote Content, Not Store
With the continued growth of social media platforms like Instagram, TikTok, and YouTube, content marketing through social media will be crucial for eCommerce businesses to succeed in 2025.
Moreover, the rise of AI and AR technologies (salute ChatGPT) will also play a significant role in content marketing in 2025. AI-powered content can provide personalized and relevant recommendations to consumers, while AR technology can allow consumers to virtually try on products before purchasing, providing a more immersive and engaging shopping experience.
Overall, content marketing will remain a crucial eCommerce trend in 2025 as online retailers strive to create more engaging and personalized experiences for customers.
#9 Green Commerce and Sustainability
Sustainability will be one of the biggest eCommerce trends in 2025 due to several reasons. First of all, customers are becoming more environmentally conscious and socially responsible, and they prefer to support brands that share these values. Second, governments are increasingly imposing regulations to reduce the carbon footprint of businesses, and eCommerce companies need to adapt to these regulations to avoid penalties and negative publicity. Third, the supply chain disruptions caused by the COVID-19 pandemic have highlighted the vulnerability of the traditional linear supply chain and the need for more sustainable and resilient alternatives.
To address these challenges, eCommerce companies are adopting various sustainable practices such as reducing waste, using eco-friendly materials, optimizing packaging, and implementing circular supply chains. They are also leveraging technology such as AI, blockchain, and IoT to track and optimize their environmental impact. By adopting sustainable practices, eCommerce companies can reduce costs, improve brand reputation, and attract customers who value sustainability. Therefore, sustainability will continue to be a key eCommerce trend in 2025 and beyond.
#10 Big Data
To efficiently personalize content for your buyers, it's crucial to have a clear understanding of their demographics and behavior. Big Data is a set of tools, approaches, and methods that allow companies to process large amounts of unstructured data. By analyzing this data, you can gain valuable insights into their customers' preferences and behavior, allowing them to better cater to their needs and improve the overall customer experience.
However, this technology is expensive and few companies can afford it.  Fortunately, there are less expensive ways to make a profound customer analysis: Customer Journey Map and Buyer Persona.
Competition in online retailing is growing, but there is still a place for newcomers. If you were always wanting to start your online store, it's worth trying right now. We hope our list of eCommerce trends in 2025 will help you to embody your dream.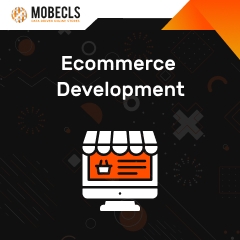 Mobecls team provides a wide range of eCommerce development services, starting from SEO and design to custom functionality development. Our 10+ years of eCommerce expertise allow us to provide unique  solutions taking into account industry and business specifics. If you want to take your business to the next level, we're ready to help!