Since the company was founded in 1964, the Nike brand (originally Blue-Ribbon Sports) has become one of the most recognizable in the world thanks to the famous "The Swoosh" logo created by student Carolyn Davidson for $35. The brand gained its popularity thanks to innovative products, but it is unlikely that it would have gone so far ahead from its competitors if there were no solid marketing strategy.
Nike: The Beginning
For over fifty years of existence, Nike's marketing approach has changed dramatically. At the very beginning, Nike focused on design and manufacturing as these innovations helped the company to leave its competitors far behind. However, in the 90s, after a number of failures, Nike rethought its business strategy. The company placed customers and marketing at the heart of its policy.
In 1992, Nike's CEO Phil Knight commented on these changes in a Harvard Business Review: "We used to think that everything starts in a laboratory. Now we understand that everything depends on the buyer. Technology plays a significant role, but it is the buyer who should direct them on the right track. We have to innovate for a reason, and the source of this reason is the market. Otherwise, we will become a company that produces museum exhibits.
New Policy
For years, Nike relied on its print and television advertising campaigns, which represented one thing – either Nike created or a sponsorship model. The slogans "Just do it" and "Bo Knows" literally became synonymous with the word Nike.
Today, the company has moved away from this type of ads to digital marketing. From 2009 to 2012, their advertising costs decreased by 40%, although the company's marketing fund increased by a record 2.4 billion dollars. What does that kind of money go to? The answer is advertising, which includes new technologies and which allows to directly reach the target audience- seventeen-year-old customers, who spend 20% more on shoes than older brand fans.
Emotional Branding
Nike emotional branding is about building a reputation which ensures potential customers that the brand appeals to their needs, desires and emotions.
Emotional branding is especially strong when customers feel connected to a brand when they feel affection, love or friendship. These feelings can be conscious or not.
When it comes to emotional branding, Nike is one of the leaders. Perhaps the thing is that the company relies on the image of the Hero which is old as time. Anyone can lose sight, watching with admiration when two powerful forces fight and the strongest one wins – especially if the buyer himself feels like a Hero. That is a significant part of Nike business strategy.
Nike interprets these old-fashioned images in a different way, concentrating the buyer's attention on the internal enemy, and not on the external one. Who is this enemy? Laziness. All Nike advertising motivates buyers to stand up, move forward, not to give up. Simply put, "just do it." Nike advertising is an anthem of work and victory of potential buyers over their "lazy side". So, the brand appeals to the desire to be meaningful.
Nike has succeeded so much in this that brand advertising is not just for athletes – anyone can be meaningful since this desire is inherent to all people. This strategy is almost universal.
Even though Nike decided to focus on digital marketing, pushing print and television advertising to the background. Nike ambassadors motivate people on Twitter, Facebook and Instagram. There are not so many companies who communicate with their adepts as Nike.
Nike Digital Marketing Strategy: Social Networks
Like many other large corporations, Nike skillfully takes full advantage of social networks. On its pages, the brand communicates directly with customers. And in this regard, Nike is one of the highest among the most active companies concerned about their presence on social networks. That's why social networks are Nike's competitive advantage.
Twitter
Nike has several different Twitter accounts for different subsidiary brands. The company mainly focuses on using the @mention function. This means that a significant part of Nike's Twitter activity is in responding to buyer's requests that can directly contact their favorite brand. In the past, this approach was not possible.
Nike employees personally answer questions about products, goods remaining in the warehouse, and orders. And this is despite the fact that Nike has a separate account for support services, specially created to answer customer questions.
On the pages of their subsidiary brands (related to golf, football, basketball, etc.), buyers can find training tips, detailed information about the products, get answers to their questions (as on all other pages) or find inspiration. Twitter helps to diversify Nike's digital strategy.
Instagram
The Nike account on Instagram is the most popular on this social network: the number of subscribers is really impressive – more than 80 million! By publishing videos and art photos, Nike creates a very attractive image in both its main account and its subsidiaries – for example, in Nike Running. The company understands what Instagram is for and what subscribers want to see, so you can find a huge amount of breathtaking landscapes and pictures of real people who wear Nike, not as from a catalog.
Besides, the company has a tool called NIKEPHOTOiD, with which customers can use their Instagram photos to customize their sneakers. Instagram is a big part of Nike digital strategy.
Pinterest
At first, the Nike page on Pinterest was dedicated exclusively to the Nike Women line. Now on this site, as many as twelve boards with pictures of different lines of shoes, clothing for the holidays and accessories. However, Nike seems to publish only its own images on Pinterest and uses this site more as a product catalog, and not as a marketing tool that could be the perfect assistant to showcase corporate values and culture.
Facebook
Nike has several pages on Facebook – each is dedicated to a separate product category. On the pages devoted to the sport, new photos and videos are published daily – as a rule, with the participation of famous athletes sponsored by Nike, and the company's products.
Nike Innovation Strategy: Digital sport
Nike Digital Sport is a quite new division of Nike, launched in 2010 (when the company spent more than $800 million on non-traditional advertising), which develops technologies and devices that help customers keep their own fitness statistics. That is a Nike innovation strategy.
The most famous invention of Digital Sport is the Nike + running sensor, developed jointly with Apple. At least twenty million people use it. Nike + helps to track the level of physical activity using a wireless connection. All data is stored on the Nike website, and users can share their achievements on Twitter and Facebook. The complete set, in addition to the Nike + sensor, includes appropriate shoes and a tracking bracelet.
Recently, Nike has created a FuelBand – a bracelet that measures energy costs.
Nike Online Store
The online store Nike.com has won numerous awards for outstanding user experience has been honored at Cannes and at the festivals The Webby's, Digiday & London International. The online store is a big part of Nike business model. Nike has been nominated for plenty of awards, winning them, for the Best Shopping Experience.
Nike Uses Custom Products
Create any sneakers you wish.
Customers can spend hours searching for their "perfect" item and still not find it. It's a frustrating experience for every online shopper. It doesn't matter how vast is store catalog, there will be people who won't be satisfied with it. The best way to avoid this problem is to give customers an opportunity to create their own products.
Nike offers great functionality for sneakers' personalization. Nike's customers can edit base, mudguard, lining, laces, airbag, Swoosh (Nike's logo) and etc. This feature will satisfy the most demanding clients and help to win more loyal clients. Moreover, customers like interactivity. Product customization is the most interactive eCommerce thing.
One of our clients sells golf clubs. He asked us to implement this feature to his online store. Site's catalog contains more than 80.000 SKU and some people can't still find what they need. When we added this functionality, customers got the opportunity to customize their golf clubs. They have 4 main attributes for personalization: hand, loft, shaft model and flex.
Do you want to have custom products in your Magento store?
Nike Uses Special Discounts For Customer Groups
Verify your details and get a 10 % off at Nike.com. Fill in the registration form and upload documentation to verify data.
Nike uses special discounts to win certain customer groups. For example, military personnel and their spouses can get 10 % off at Nike.com. Students can also enjoy such a discount.
Such discounts work great if you want to increase brand awareness and loyalty. People in certain spheres (in this case, students and military personnel) will act as transmitters spreading the information in their social circles.
You can use them to sell new or overstocked products. The only thing you need is just to define what customer group will be the most interested in these products.
We implemented almost the same feature to an online store selling vapor products. We built and designed a registration form to verify the age of customers. The principle is the same, you fill in your data and download documentation to verify the entered information.
Do You Want to Apply Discounts for Customer Groups?
This feature is a must-have if you want to start a special promotional campaign or sell tobacco/alcohol products. If you want to find out what difficulties we faced optimizing age verification for Magento 2 store check it out.
Nike Uses Store Locator
All you need is just to enter your city, address or postcode, find the nearest shop and go shopping.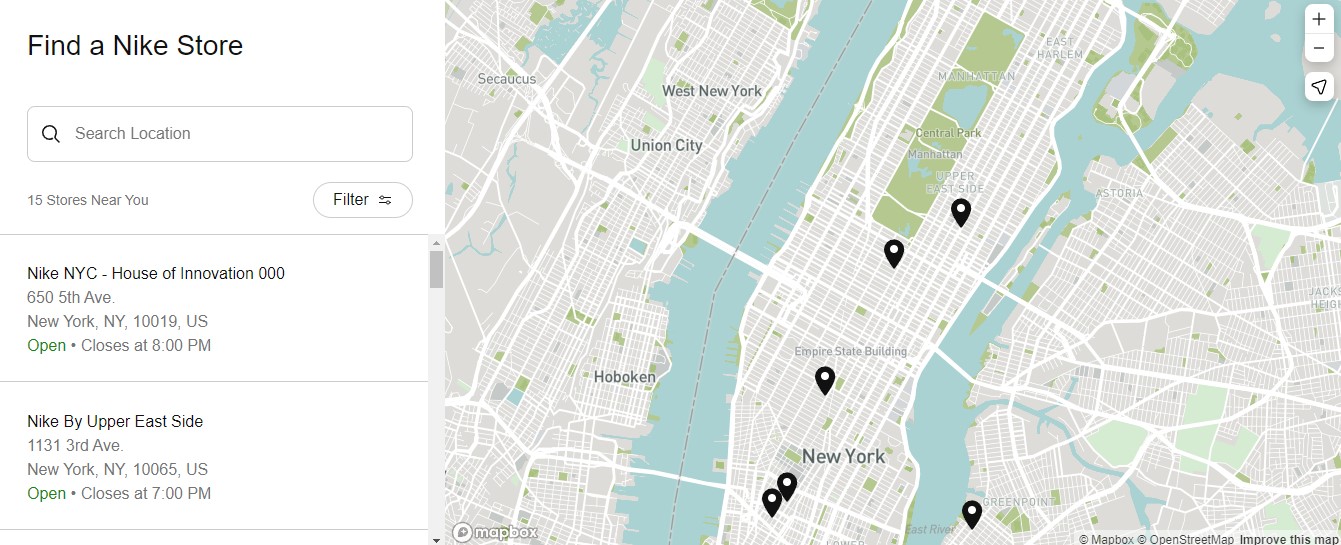 Shopping online is extremely convenient, fast and easy. Nevertheless, some people prefer to purchase goods in brick and mortar stores. This fact isn't surprising. Customers can use online stores as a product catalog. They search items they want to purchase, find them and go to the store on their own. What are the reasons? Let's take a Nike online store as an example.
What is the biggest problem in buying footwear online? You can't try it on. This is a stumbling block for many customers. They are afraid that the sneakers they like won't fit them or they won't like the material they are made from. Some of these people just don't want to wait and they prefer to do everything by themselves.
Our friends from Amasty team has a nice Store Locator Extension for Magento stores. We had some cases when we were customizing it to meet clients' business specifics. It was a B2B case and we were asked to extend its functionality. That client had a wide network of dealers and it was hard to add all of them on the map manually. We provided all the client's dealers with access to Store Locator to add their stores by themselves. It's a win-win situation for both dealers and site owners. 
Nike Uses Exclusive Products
NikePlus Membership unlocks more shopping opportunities.
"Exclusive products" is a nice marketing technique that boosts brand loyalty and awareness. If you want to boost your sales you can use the following Nike's tactics:
Create a membership program
Offer free shipping
30-day wear test
Access to the latest drops
Birthday rewards and gifts
Opportunity to attend special events
Exclusive products for particular countries or dedicated to certain events
The last tactic is used to stimulate clients to purchase items in a particular location or time of year. The manufacturers often release limited products and sell them in a certain country or region to expand their business. Such offers create a big stir around the brand and its production.
Managing exclusive products for B2B online stores may be challenging. Especially, when the number of dealers in a business network is more than 100. One of our clients faced this problem.
Each of his dealers had its own stock, pricing and offers. When our client was releasing an exclusive product he should have taken into account all these dealers' business specifics. When he was receiving an order from a dealer he was manually checking their terms of cooperation. It was necessary to understand whether he could process the dealer's order or not. As every dealer had his own pricing and tax policies it became extremely unbearable and time-consuming to manage this process manually.
We developed a module that optimizes this process. All the dealers' information is stored in one place which makes it easily accessible. With the help of our module, you can grant access to exclusive products on a country level, grant it to specific users, hide exclusive products from certain users.
Nike Uses Gift Cards
A gift card is a nice present for a friend, partner, colleague and etc. Especially if this person is Nike adept. The brand offers a great number of cards' designs. You can purchase a card with just a swoosh or a special one dedicated to some events and dates like Superbowl or Pride Month.
All you need to do is to choose a design, a sum amount, specify the recipient and the way of delivery. You can both send it via an email or ship. Digital cards will be sent to the recipient within 24 hours. A tangible card will be delivered in a mini Nike shoe box which looks really cool.
One more important thing is that every Nike Gift Card Purchase gives 1% to support Marathon Kids, inspiring kids to get active through running.
Every customer can use a gift card as a payment method during the checkout process. Nevertheless, numerous Gift Card Extensions for Magento stores don't have this feature. They allow using gift card code only in a shopping cart, not during the checkout process. Moreover, it may work not entirely correct. For example, it may pay for the whole price of a product or just not work.  To add the gift card payment method we had to merge Gift Card Extension with the client's checkout page.
US merchants, especially those who use Avalara tax solution, can face the next gift card issue. The service taxes gift cards however they aren't products, so they shouldn't be taxed. Even if you set their class as AvaTax Non-Taxable Product Avalara will tax gift cards. The problem is that if a merchant is an SST (Streamlined Sales Tax) member, Avalara calculates the taxes ignoring "Non-Taxable" attribute. The problem solves by changing Avalara Tax Code for gift cards.
Key Advantages Nike's Online Store
Nike digital strategy includes one of the best online shops in the world. Let's highlight its key chips:
Use of only high-quality photos of products: high-quality images with a high resolution not only look more attractive but also do a very important job on the product page: they allow you to look at the product to the smallest detail and literally "feel" it physically;
Multiple product images increase the information content: a well-chosen image in a second can sometimes answer questions that require a large amount of text for an explanation. Since visitors cannot see the real product, the photographs should "become the eyes" of the customer, providing maximum visual information about the product to make a positive purchase decision;
Optimization of the process of searching and viewing other versions of the same product: the alternative product images on the product page are a really great idea. Here you can see and appreciate all the colors of the goods presented in the range without any extra clicks;
Highlighting goods that are not available: Nike did an outstanding job here, showing which models and options for shoes you can order right now instead of the required one.
All these points allow to optimize the sales funnel and increase conversion. No wonder the company has received so many awards for the best shopping experience. Nike's digital strategy is built around two big hotbeds – social networks and an online store.
Wrapping Out
The use of modern popular technologies has helped Nike to reach unprecedented heights and attract millions of fans. Having realized in time that print and television advertising would not help to achieve such results, the brand relied on the use of social media and modern technologies.