Magento 2 is one of the best eCommerce solutions for online businesses. More than 250,000 merchants use this platform and facilitate more than $155 billion in gross annual merchandise volume. Magento 2 offers rich built-in functionality, enhanced security and web performance, solid user experience, user-friendly admin panel, improved SEO and many more excellent features. 
However, if you're considering running your online business using Magento 2, you need a well-designed financial plan to control your cash flow better. In this article, we'll cover the cost of Magento support and maintenance.  
Magento Support and Maintenance Price List 
We've prepared a list of possible support costs to help you to calculate your potential spending on Magento support and maintenance.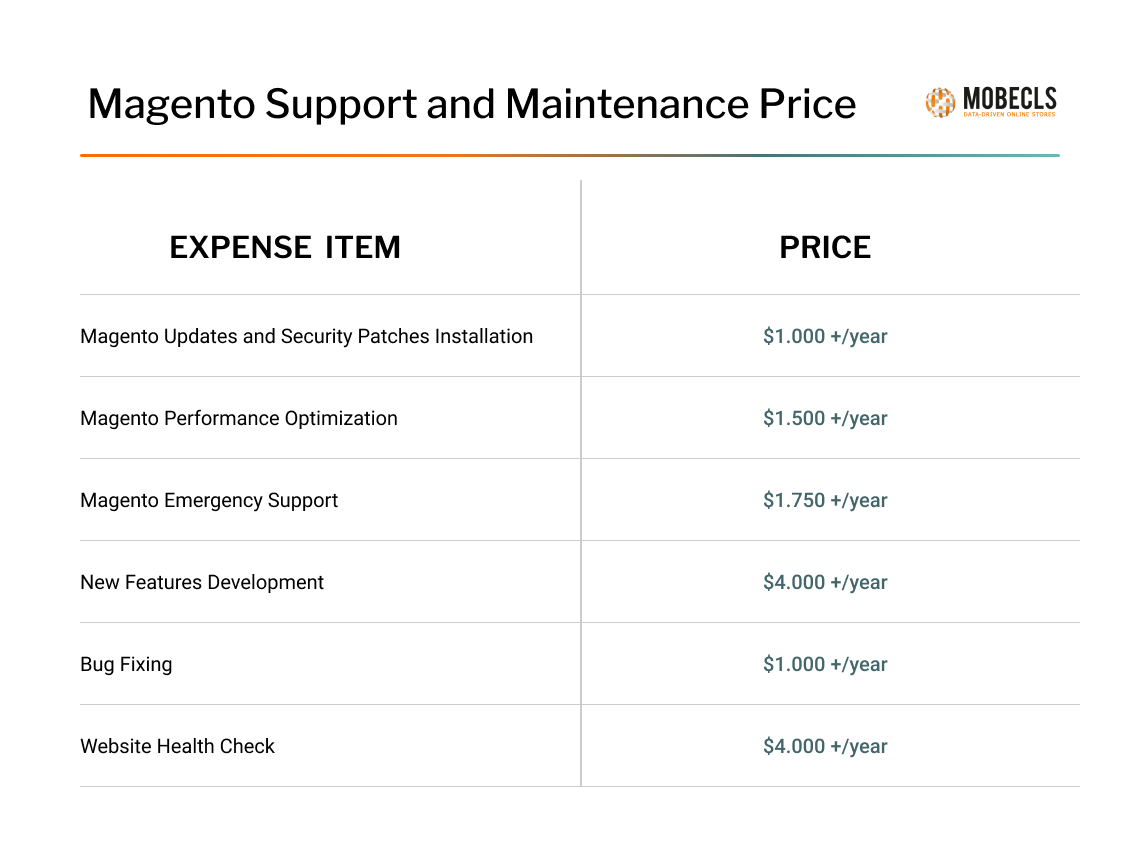 *Based on the $50 hourly rate of a Magento specialist
Magento Updates and Security Patches Installation ($1000 +/year)
Every quarter, Magento releases patches that contain security and functionality updates. For example, the latest Magento Open Source 2.4.3 introduced enhancements to performance and security plus significant platform improvements. This release includes over 370 new fixes to core code and 33 security enhancements, the resolution of 290 GitHub issues by community members.
The security patches installation and version updates are vital aspects of Magento support as they protect your website from cyber-attacks, critical errors, and incompatibility issues. We recommend updating your Magento 2 store as soon as a big patch is released.  If the changes are small, it's enough to install a new security patch.  
Both version and security updates are complex processes that influence the work of the website and require a team of experienced developers. A tech-savvy team will help you back up all the data beforehand and test the new functionality before going live. It'll ensure a smooth and secure update process. 
Furthermore, some third-party providers may not support the new Magento version right after the release. Usually, it leads to incompatibility issues between the Magento code and third-party extensions' code. That is another reason why you need an experienced development team that provides Magento support services. 
If your Magento store is supported to the best standards, a Magento update can take 2-3 hours of work for installation and testing. If you face incompatibilities or other issues during the update, the process can take more time.  
Extensions update ($500+/year)
The Magento version isn't the only thing that requires regular updates. Every third-party extension provider updates its products to align with the latest Magento security and code standards. If you want to avoid any incompatibility issues and bugs, you need to update your extensions to the latest versions as soon as they are available. 
Installation of a new extension version is not a challenging task. However, it may cause bugs, especially if you are using several extensions from different third-party developers. The logic of these extensions can produce bugs and code conflicts. If you lack tech skills, we recommend hiring experts for Magento support and maintenance.  
Magento Performance Optimization ($1,500+/year)
Website speed is one of the most important things that influence customer satisfaction and conversion rate. Google states that your website should load no more than in 3 seconds. According to statistics, 46 % of users don't come back to poorly performing sites. Furthermore, even a one-second delay can drop conversion by 7% and customer satisfaction by 16%. 
The most common reasons of low page load speed:
Non-optimized code of third-party extensions;

Server environment issues;

Code incompatibility;

JS and CSS issues;

Absence of a content distribution network (CDN);

Poorly configured cache, etc. 
These problems require immediate attention and painless solution like: 
Minimization of JavaScript and CSS files;

Optimization of images and site's content; 

Cache configuration;

Database optimization; 

Code minification, and more.
Magento performance optimization is the thing you can't perform without experienced Magento developers. On average, this work takes 40-60 hours, so the total cost of Magento performance optimization starts from $1500.   
Magento Emergency Support ($1,750/year)
Magento emergency support is vital to keep your business up. Sometimes, you can face unexpected challenges like cyber attacks, error messages, server overload, and others. These issues are dangerous as they damage your credibility and sales. In the worst case, they can even ruin your whole business. For example, the violation of GDPR ( General Data Protection Regulation) can cost you €20 million ($22 million) or 4% of annual global revenue. 
You should resolve all these unexpected problems as fast as possible to prevent heavy reputational and financial losses. Magento emergency support usually needs 2-3 hrs per month. This service covers urgent security issues, unexpected website behavior, server fixes, admin panel configuration, etc. 
New Features Development ($4000+/year) 
Besides regular website updates, Magento support services also include the development of new functionality: 
customization of third-party extensions;

automation of routine backend tasks;

redesign of the website pages;

integration of new payment methods and software, etc.
Furthermore, sometimes it may be hard to find a ready-made solution with the necessary features. In this case, Magento support and maintenance include the development of custom modules and functionality.    
Based on our experience, we can say that small and medium-size eCommerce websites need at least 80 hours of development to keep their Magento stores up. Our team has 10+ years of Magento experience, which allows us to develop unique eCommerce solutions that meet specific business requirements and needs. We are a data-driven Magento development agency that thoroughly analyzes clients' business specifics and key performance indicators to find and develop the best solution for you.
Bug Fixing ($1,000+/year)
Customers often drop shopping and abandon eCommerce websites when they face errors or crushes. Unfortunately, bugs can appear unexpectedly on any page of your website:
 Not working buttons;

 404 errors; 

browser incompatibility issues;

disappearing messages and many other random bugs.
All these problems decrease your sales and customer satisfaction. One more sad news is that QA tests do not always discover these bugs as they can appear after unpredicted customer actions or changes in the backend. 
If you don't fix these minor bugs, they will turn into a bigger problem in the future. That's why you need a team of Magento experts who will constantly support and maintain your Magento website. Developers and project managers use a wide range of testing tools that allow them to find unexpected errors and debug them as soon as possible.  
If you have an experienced Magento support and maintenance team where each member understands project goals and tasks, you and your clients will rarely face a single bug. In this case, the only cause of bugs may be third-party extensions or services integrated into your Magento website.  
Website Health Check ($4000+/year)
Regular website audits of UX design, SEO, website speed, code and third-party functionality, server environment will maintain the credibility of your business and save your budgets for years. Website health check helps discover errors, low-performance pages, code and server environment issues, and more problems that need to be fixed and optimized in advance to keep your eCommerce website competitive and make profits. You always need to be aware of any changes happening to your website to fix them proactively.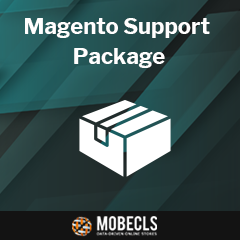 Mobecls team offers fixed-price service packages for Magento store support. Moreover, we'll help you to choose a plan according to your business needs and specifics. The starting price is $2000. You can also select the number of working hours and the range of services. A service package may include updates, the installation of modules, bug fixing, SEO support and many more. Contact us and we'll help you.