Magento 2 Advanced Reports Extensions provide tools to help you keep track of your store through reports. With intelligent and detailed statistical reporting data, you can create business strategies for your store. In this article, we listed high-quality extensions that will help you manage your online store better.
Top 5 Advanced Reporting Extensions for Magento 2 Stores
Ecommerce is tied in with expanding transformation. Taking everything into account, every merchant requires an analytical tool that will permit tracking transformation progression and responses to any conceivable negative patterns. Magento 2 Reports by Elsner gives you access to a suite of dynamic reports, based on your product, order, and customer data, with a personalized dashboard tailored to your business needs. Each report consists of visual graphics and data tables.
Features:
Advanced summary reports that get you important sales data (highest selling product, highest viewed product, products with zero sales, etc.);

Detailed reports, such as sales by payment method report, t

op searched keywords, customer summary reports, inventory reports, abandoned carts reports, etc.

Get reports on emails by setting cron.

Configure which report you want to see.

Install and uninstall the extension without affecting any existing modules.
The extension adds 20+ report types and allows merchants to get all essential sales data in real-time. Moreover, you can create custom reports according to your business specifics and needs. This flexibility helps to effectively analyze customers' demands, explore and compare sales performance in various periods, and more. In addition, you can customize your dashboards to make them more informative. For example, set time intervals to display conversion funnel data, specify a period for sales overview, see current bestseller list, and observe the latest orders statistics.
Features:
Have all key metrics at hand on the informative dashboard.

Track your sales performance from any device.

Build an unlimited number of custom reports.

Use flexible filters for extra accuracy.

Analyze sales trends with interactive charts.
Magento 2 Advanced Reports provides a comprehensive overview of a web store's performance. The reports come via ten report widgets. All data can be compared/contrasted by various periods and sorted by specific customer segments. Each report reflects a specific aspect of the store performance at a varying level of elaboration.
Features:
Measure key metrics quickly via dashboard widgets
Get detailed statistics on sales, abandoned carts, customer behavior, and more
Monitor profit totals and product performance reports
Schedule emailing of reports to have all the updates at hand
Integration with other Aheadworks extensions like Gift Card, Rewards Points, Store Credit & Refund, Refer a Friend, Customer Segmentation, Web API and GraphQL support
Magento 2 Reports extension helps online stores track, process, and manage their business better with advanced customizable reports. Statistical data collected from customers, orders, sales, and products regularly are highly informative, providing great help to store owners in both business and marketing decision-making..
Features:
Customize & compare report periods.

New advanced reports.

Display report data by charts.

Filter report elements.

Flexible dashboard layout.

Multiple Report dashboards.
The extension utilizes these cutting-edge UI technologies and improvements of Magento 2 to help you gain a deep insight into your performance indicators. You're not limited to data on Lifetime Sales, Average Order, Last Orders, Last Search Terms, and charts on orders and revenue. Get all important KPIs and data such as Low Stock Items, Refunds, Discounts, Invoiced, Grand Total Summary. Choose the preferred display format of this info: single value, table, or chart. The solution replaces the native Magento 2 dashboard with a highly customizable one. Build your reports by using the custom report builder tool.
Features:
20 + ready-made reports with real-time data.

Mobile and desktop dashboards with key metrics.

Interactive charts for data visualization.

Flexible filters for any column.

Custom Reports (Report Builder).

Web API support.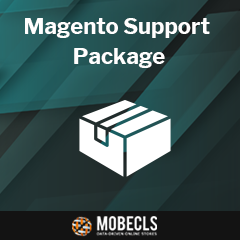 Mobecls team offers fixed-price service packages for Magento store support. Moreover, we'll help you to choose a plan according to your business needs and specifics. The starting price is $2000. You can also select the number of working hours and the range of services. A service package may include updates, the installation of modules, bug fixing, SEO support and many more. Contact us and we'll help you.