The whole world is facing a global threat, which is coronavirus (COVID-19). National governments are closing borders, fine people for leaving their homes with no urgent reasons, postpone mass cultural, sport, and political events. In the circumstances, the pandemic will impact everyone as the virus already strikes the world's economy. Moreover, no one knows how to handle the world's panic. 
Both offline and online businesses feel the impacts of the health crisis, starting from supply chain disruption to layoffs. Today I'll share with you some news on how coronavirus changes Amazon, the biggest online marketplace. 
Amazon Is Switching to Coronavirus-Related Products 
This week Amazon said that the company would prioritize shipments of household staples, medical supplies, and other coronavirus-related products over everything else. On the backdrop of global shipment issues, this news worries Amazon sellers a lot. 
In addition to these categories of products, the marketplace will prioritize baby products, personal and beauty products, grocery, industrial, scientific, and pet supplies. The changes are going to last through April 5. 
Although this decision will help customers who need these products, it can kill small third-party merchants who don't sell the prioritized products. This measure has already caused numerous layoffs among merchants who use Amazon as the only option for selling their products online. 
Product category prioritization means that if you don't sell coronavirus-related products, you are not able to use Fulfilled by Amazon (FBA). This service lets sellers ship products to Amazon warehouses, where company stores and ships goods to customers. Simply put, merchants have to manage their new inventory and ship their orders by themselves. Moreover, third-party sellers will have to charge customers for shipping, which is usually free for Prime members.
Amazon Punishes Merchants Running Out On Inventory  
This month Amazon sent a notice to sellers advising them to cancel orders that can't be fulfilled. Moreover, the company suggested online retailers put their business in "vacation status" or their listings will be demoted in search results by Amazon's ranking algorithms. Simply put, the fewer goods you have in stock, the lower will be your search positions.  
Amazon also tries to understand the "vendor capacity" by asking sellers about the location of their factories, their capacity, manufacturing delays and reasons for them, expectations about product delays.
It'll be hard to get back to a higher search position if Amazon's algorithm strikes you. You'll have to spend a lot on advertising to take your place back from the products that have replaced you.
In the circumstances, Amazon merchants have two options:
Cut down expenditures on advertising products that face low inventory. It's better to fall on 20-30% than 100%. 

Manufacturing diversification. Take a look at Turkey, Cambodia, India, and Malaysia. However, these countries can't offer you low prices and efficient production like China. The next problem is the size of your supply chain. The bigger it is, the more time it takes to make a shift.
Supply Chain Disruption 
Due to mass quarantine, many factories in China are still closed, which gravely disrupts supply chains of companies around the world. By the start of March, 9 % of container shipping fleets were inactive. 
Moreover, downtime in Chinese factories also hurts logistic companies that transport goods overseas. For example, during the same period last year, Unicargo had 60-70 shipments per day. Today the company has 10 or even fewer shipments a day. 
Merchants who fully depend on Chinese factories may face a stock collapse. Numerous retailers placed large orders of inventory ahead of the Lunar New Year (Jan 25, 2020) and the following 15 days of celebration. The problem is that lots of Chinese factories are still closed, so merchants can't renew their stocks. 
In the circumstances, most of the online sellers can run out of stock in 40-60 days. It depends on their level of manufacturing diversification.  
Zev Bernard, an Amazon merchant who sells sports equipment, says that his business has enough inventory for many popular items, made in the U.S. like sunglasses. However other items, such as bat bags, are sourced in part from Chinese manufacturers. He implies that he'll probably find certain items out of stock within 60 days due to a slowdown in production.
Nevertheless, not all the vendors face supply chain problems, especially those who buy and get products outside China. However, we can't predict how the story will go as numerous factories around the world can also stop production.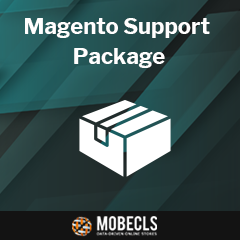 Mobecls team offers fixed-price service packages for Magento store support. Moreover, we'll help you to choose a plan according to your business needs and specifics. The starting price is $2000. You can also select the number of working hours and the range of services. A service package may include updates, the installation of modules, bug fixing, SEO support and many more. Contact us and we'll help you.