It is good if you understand whether your online store is convenient and clear for visitors, whether it is easy for them to find the desired product, how many of them come to checkout and purchase. All of these actions directly affect the potential growth of your income. If you're running and managing an eCommerce store, you'll need all the help you can get to make it easier and more efficient to track its growth.
Fortunately, there's a whole slew of free and paid eCommerce tools designed to help you achieve your goals such as increased sales and revenues, return on investment (ROI), and business growth.
While it's not always easy to know the tools that will be helpful for your eCommerce business to succeed, Google offers some free, yet powerful, tools that you can use to help you take your online store to the next level.
Best Google Tools to Scale Online Business
Google Analytics
Thanks to this tool, you can independently conduct an audit of the usability of your site: track traffic and check statistics about visitors. This will help you assess what content is "coming in" better and develop a publishing strategy.
Features:
Analyze user visits, their actions, and time spent;

Collect sales and conversion statistics.
Google Search Console
All web experts unconditionally recommend using the Google Search Console. Thanks to this tool, optimizing your site for search engines will not be a problem for you.
Features:
Analyze requests, external and internal links;

Check the indexing status and look for errors on the site;

Optimize a number of indicators, as a result of which you can carry out SEO website promotion.

Scan web pages to check for crawler accessibility.
 Besides, Search Console is a handy URL removal tool on Google. If you find a site or page in the search that has lost its relevance, you can submit a corresponding request to Google.
Google Merchant Center
If you need a one-stop shop to manage and advertise your products online, Google Merchant Center is your best bet.
The Google tool allows you to upload your products and manage how your in-store and online inventory appears on Google while using the information to run ads and reach target audiences.
Google Merchant Center integrates into other Google services for better oversight and control of Google-based eCommerce and marketing.
Features: 
Display product and store information so that potential buyers can find the details whenever they search on Google;

Reach more shoppers and get more sales across Google's suite of networks and sites by displaying products to relevant customers across free and paid channels.
Discover actionable insights and reports on price, merchandising, and more so as to drive your store's strategy. You can also manage all Google interactions through Google Merchant Center and increase visibility for your store, remarket to remind visitors of products they've viewed, and more.
Google AdWords
As you know, Google keyword matching is the key to successful SEO. Start by looking for words or phrases related to your products or services. The planner finds the keywords most relevant to your business, which you can then add to your plan.
Features:
Select key options for the specified conditions;

Assess their effectiveness;

Provide statistics for popular keywords.
With Google AdWords, setting up contextual advertising will become much easier, because you will have statistics on key queries and an analysis of their effectiveness.
Google Trends
Just the perfect news or blog tool that marketers often overlook. Trends are a very important tool for improving the performance of your Google site: with popular topics and queries, you can adjust your content plan by mentioning popular topics. Thanks to such news feeds, you attract large volumes of traffic.
Google Lighthouse
Google Lighthouse is a newcomer to the search engine body family that has already earned the love of developers.
Features:
Analyze the performance, visual design, and usability of sites;

List potential improvements – like many Google webmaster tools;

Check search engine optimization – even for incomplete pages;

Check Progressive Web Application status
PageSpeed ​​Insights
If you want to check the loading speed of your website pages, there is nothing more convenient than this service. Why is it important? Because since 2016, Google has prioritized fast page delivery. This is especially true for the mobile versions of the site.
Will check the speed of both versions of the resource by two metrics: first rendering of the content and DOMContentLoaded;

Suggest solutions for possible fixes to speed uploading.
SEO & Website Analysis
Another useful extension on the Google Chrome toolbar. The application allows you to get an SEO report about any site. Moreover, the resource is rated on a 100-point scale and Google gives its recommendations for pumping it by changing the core.
Google Alerts
Not all Google SEO tools need to measure or optimize something. This service allows you to create notifications about competitors – in total, you can add up to five of them to the database.
When a resource writes about the specified site, you receive an alert. An unpretentious principle of operation, however, allows you to control everything that happens in your niche.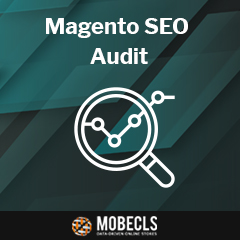 Mobecls team provides basic and advanced SEO audits, SEO and performance optimization services. We are SEO-focused development company that specializes in Magento | Adobe Commerce. It means that we know what and how to fix SEO issues, taking into account your UX, Marketing and Business specifics.