In recent years, marketplaces like Amazon have taken product delivery to a whole new level, leading customers to raise their expectations towards eCommerce service standards. Almost half of the shoppers said that one of the main factors in deciding whether to buy online is convenient and personalized delivery service.
Product delivery is a crucial point of contact in the customer journey. Fortunately, you can control the shipping process and boost the shopping experience. A good delivery will help you improve customer satisfaction and retention, which will lead to increased sales and revenue.
How to Provide Excellent Shipping Experience
There are two main aspects of good shopping experience:
Traceability
Your customers should be able to track what stage of product delivery is. They also need to receive delivery details such as estimated time of arrival, live delivery position, etc. Traceability is a critical factor in designing the best possible experience as it saves a lot of time and frustration. 
Proactive communication
As soon as the order is placed, be proactive when communicating with your customers. You can send customers the tracking link or keep them updated with the delivery by email or SMS. It is also crucial to stay in touch with your customers when issues arise to resolve them fast.   
Shipping Strategies to Boost Sales
Establishing a clear shipping strategy can help you set yourself apart from the competition and increase conversions, revenue, and your average cart value. Shipping strategy also helps reduce costs, increase margins, and increase customer satisfaction and brand recognition.
Before developing your shipping strategy, you need to choose the shipping options that suit your business specifics and needs. Here are the most popular shipping options you may include in your shipping strategy:
Free delivery 
Free shipping has become popular since Amazon introduced it for orders over $25. It's the easiest strategy to increase conversions and reduce cart abandonment. 91% of customers leave when the delivery isn't fast enough or free, and 79% prefer the delivery to be free rather than fast one. Using free delivery is an opportunity to meet the expectations of your customers. You can also use it as a powerful marketing option to differentiate yourself from your competition, but free doesn't mean free. You will still have to pay the logistics provider to get your products delivered to your customers.
So, before you offer free shipping, you need to understand how it affects your profit margins. Even though free shipping increases sales, there's no point in providing it if you loose money on every order.
Free shipping tactics:
Free shipping for orders of $X. Amazon, for example, uses $ 25 as a threshold. Don't set a random price, the check should cover the shipping cost. You can also set the minimum free shipping amount based on your average order value. For example, if your average order value is $37, set the minimum amount for free shipping at $40, which will increase your average order value. 

Free shipping for a certain category of products where your margins are high enough to cover shipping costs or products that have low shipping costs like jewelry or fashion.

Free shipping as a promotional event. It's a good way to boost sales, especially in high season. Remember to support this initiative with clear communication on your social media and other channels.

Free shipping costs for standard deliveries which are usually slow but cheaper. You'll waste less money on every order and satisfy customers looking for free shipping.
Flat rate shipping costs
Flat rate shipping is when you assign the same price regardless of the product you are delivering. For example, you charge your customers $6 for any delivery, regardless of size, weight, or order value. Flat rate shipping is a good option when you sell a products that are similar in size and weight. It's also a good way to set clear expectations and give your customers the right information. The advantage of flat rate shipping is that you have full control over the shipping price, which means you can cover the costs from your logistics provider.
Live carry rate
Live carrier pricing can be a good option, as you'll give your customers the flexibility to choose and pay for the service they need.
This option allows you to generate quotes directly when placing an order to cover your transport costs. It takes the weight, size, origin, and destination address to calculate the shipping cost.
The best scenario to use it is when you have a small line of products with similar dimensions. However, if you have several product lines with different dimensions and sizes, live carrier pricing can be problematic. When customers add multiple products to the cart, it may generate unrealistic charges due to items' dimensions. Many CMS platforms such as Magento integrate a real-time comparator to generate real-time prices and all possible shipping options.
The downside to this option is that you can't use it as a marketing and promotion tool because you can't sponsor any part of it. You cannot differentiate yourself from it because it is an outsourced service. It also does not factor in the costs of storage, packaging, and fulfillment that you will need to cover or add extra during the ordering process.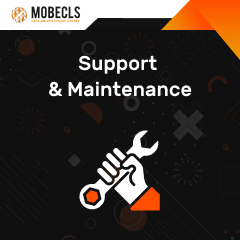 Shipping issues can be a real threat to your business: late shipment, expensive shipping costs, unfulfilled orders, wrong product shipped, unclear return policies, poor packaging, etc. When customers face these issues their retention and satisfaction go down to zero. Our team integrates the best shipping solutions like FedEx, DHL, Canada Post, and others.