In my last article, we dealt with Buyer Personas. Besides building a buyer persona, I touched upon building a Customer Journey Map (CJM). Today we gonna dive into CJM's. To be in the club, read my previous article to refresh your memory on the subject of Building Buyer Personas. These two concepts are indispensable for marketing and management.
What Is a Customer Journey Map?
In a few words, SJM is a tool that deals with persona's experience. Every customer passes through certain stages of interaction with your organization in order to achieve some goals. On each stage of a journey, a customer has different expectations about your service and may face a number of difficulties. If you know, what bothers your client on each stage and how you can improve user experience, both of the parties will be in a win-win situation.
It is similar to storytelling. You create a short novel where the main hero is your customer. He passes through challenges to reach the goal and you act like deus ex machina, helping your persona to overcome the difficulties. That's why it can't be 100 % accurate, but it is enough to develop a solid marketing and management strategy for your business.
The concept of CJM is simple, but it isn't so easy in realization. It is impossible to start working on a CJM without audience research. If you haven't identified your buyer persona there is no sense in building a map.
CJM is not an ultimate tool, as it is impossible to create an ideal one. There will be different customer journey maps for certain business industry and buyer personas.
Why Customer Journey Map Is Important?
CJM puts a customer in the center of your attention. Companies often focus on problems like SEO, lead generation and social media as they are separate and independent. The problem is that there is a complex background where all the problems occur. To see these problems in context, you need a customer journey map. If you have it, you see the gaps between you and your customer on a certain stage.
It helps you to understand why your social marketing or SEO doesn't work properly (we know the way your Magento Store SEO Support should be done). How to meet the expectations and needs of your clients. The idea is to focus on your clients and help them to improve their user experience while working with your organization.
Today we will cope with CJM's as if you've made all the necessary researches and will look at the example of a coffee shop journey map (the template is taken from UXpressia.com).  This template is so solid, that I'll just briefly comment all the stages as the template fully covers the topic. In this case, one image can say more than 1000 words.
Define Main Stages and Goals
When you've done the audience research, you guess what is the way your customer passes to buy your product. That's the time to set the possible stages of the journey and define what your customer is trying to achieve, moving through each stage. When you're setting the goals of your customer, keep in my mind that you set not your goals but the goals of a client.
Usually, there are five main stages: discovery, research, purchase, delivery, after sales. But you can define as many stages as you need. The offered template has 9, but the number of sections is optional, it's not an ultimate example. Sometimes, it's better not to overwhelm your map with piles of the information. It depends on the details number you want to cover.

Define the Expectations
When you defined the goals of your clients, make them more specific. What are the expectations of your clients? What options are they looking for?
Expectations might include a convenient location, the availability of e-payment, bonuses and discounts, fast service, friendly atmosphere etc.
This information will help you to understand, can you meet the needs of your clients or not? What should I do to meet them? These specific goals point your problems and make you think over dealing with the clients' problems.
Channels and Touchpoints/Process
These sections help you to understand how customers will find you and what steps they will take to do it. The channels can be different: social media, metasearch, signboards, persona's colleagues, brand's staff etc. Each stage of a journey has its own channel and the touchpoints your customer experiences.
It will help you to find out what channels suits your business most and on which stage you have a lack of brand awareness: weak advertising, inconvenient location etc. It also deals with the user experience and the way their expectations are met.
Emotions
Is the process of interaction with your organization is pleasant for your customer? Define the changes in their emotional state and it will help you to define the main pains which your customers have on each stage of the journey.
The dynamic emotional infographic points the strong and weak sides of your business at each stage. You can identify how many steps there are from negative to the positive experience.

Now it is the time to define the pains your clients face and the ways of dealing with them.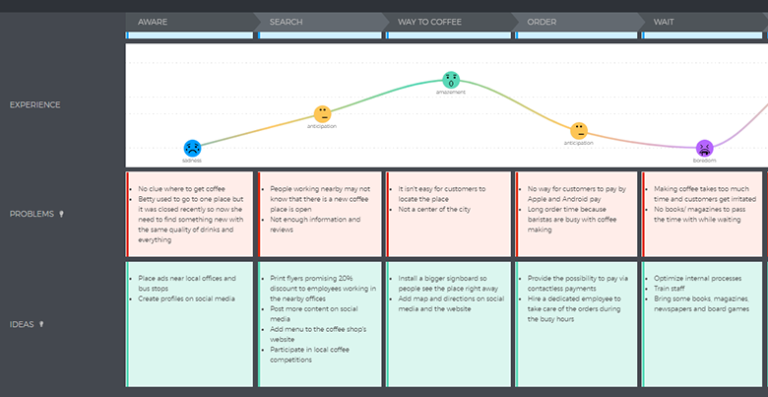 For example, a potential buyer doesn't know where to get the coffee, so there can be several solutions to this problem: to place adds near the local offices or create profiles on social media. If the client feels anticipated because he can't pay by Apple Pay, you should think about implementing this payment gateway.
The main idea of these sections is to improve the user experience, basing on the emotions your customer has during his/her journey.
Summary
CJM's deals with the user experience, their goals, expectations and emotions. Customer journey maps help your business to delight the needs and wishes of your clients, improve your marketing and management strategies. If a customer faces fewer pains during the journey and gains only positive emotions, your business will thrive. To create a customer journey map, you need to define the stages, goals, expectations, channels and touchpoints, the emotional state of a customer, the clients' problems on each stage and potential solutions to them. I'll repeat, the number of these sections is optional.
A customer journey map is an additional tool to a buyer persona, that helps you to understand your client better, find the gaps between you and a client, get rid of them and understand what are the reasons for these gaps.
You can manage to create a CJM even in Excel but I recommend you to use specialized services like UXpressia and others. I chose UXpressia template because I like the way they design their templates and their functionality. Nevertheless, there are a lot of tools for building customer journey maps such as Realtime Board, Columbia Road, UX planet etc. Some of them have free templates, so you can find a service you'll like the most.
UX/UI Design Services for Magento