Customer groups are an essential aspect of the eCommerce business. This feature helps to adapt quickly to the changing customer needs and market. You need to know how to manage your customers and how to cater to their needs effectively. Today we'll guide you through customer groups management in Magento | Adobe Commerce, what are the benefits of this functionality, and how to use it efficiently.
How to Manage Customer Groups in Magento 2
Step1: Add a New Customer 
Admin Sidebar > Customers > All Customers > Add New Customer
Fill in the customer information and save the new customer.
Step 2: Add New Customer Group 
Admin Sidebar > Customers > Customer Groups > Add New Customer Group
Name the group and select Tax Class
Why yo may need different Tax Classes? For example, If you create a customer group for foreign users, they should be taxed in another way.
Step 3: Assign Customer to Customer Group 
Admin Sidebar > Customers > All Customers 
Find the needed customer > Mark the checkbox > Actions > Assign a Customer Group > Choose between available options
Ways to Use Customer Groups in Magento | Adobe Commerce
Customer Group Pricing
This feature allows you to set and display discounted prices for members of a certain customer group. If you want to manage it, go to:
Catalog > Products > Choose a product > Advanced pricing

There you'll see the Customer Group Price section. Here, you can choose a website, customer group, quantity, and price.  After you click Done your product will have a special price for logged-in users belonging to the group you defined.

Applying Discounts to Customer Groups
You can apply both Catalog Price Rules and Cart Price Rules to customer groups. If you need to apply a price rule to a specific customer group do the following:
Admin Sidebar > Marketing > Catalog Price Rules or Cart Price Rules > Add New Rule
In the Rule Information panel select the customer group you want to this rule (hold down Ctrl key selecting customer groups to apply the rule to more than one group).
 Then, create the price rule as usual
To learn more about Cart Price and Catalog Price Rules configuration check out the post How to Set Magento | Adobe Commerce Discounts and Coupons for Holidays. 
Keep in mind that there's a difference between discounts for customer groups and customer group pricing. Usually, you use discounts as a promotional tool, whereas customer group pricing stands for displaying prices to group customers.

Restricting Products & Categories to Customer Groups
Unfortunately, this functionality is not available in Magento Community Edition. However, in Magento Commerce, you can limit category access to specific customer groups or entirely restrict it. For example, you can allow anyone to browse your website, but only logged-in users will have access to some categories. Guests won't even be able to see them on your website. If you're a Magento Commerce user, check the Category Permissions guide.
What to do if you're a Magento Community user, but you need this functionality? You have two options, buy a third-party extension, or develop a custom module. Once, we were creating a module for a wholesale retailer that had a large network of dealers. The problem was that it was hard to manage dealers' orders manually because of specific cooperation terms. Dealers had their own pricing, stock, offers, and exclusive rights.
Our module adds the next functionality:
Grant dealer access on a country level (one or more countries)
Grant exclusive rights to dealers
Hide categories from certain users
Advanced user grid to access dealers with exclusive rights quickly
Restricting Shipping and Payment Methods to Specific Customer Groups
This feature is crucial for wholesalers to impose restrictions on new trade customers. For example, a wholesaler may make new partners to pay upfront for goods until credit checks completion. In this case, you can create a "New Trade Customers" group to restrict "Payment on Account" or "Payment by Invoice" options. When you establish relationships and credit terms with trade customers, you can lift restrictions. You can also not allow customers to use some delivery option (e.g., 24-hour courier) if courier companies don't serve customers' locations.
You can add this feature only with the help of third-party extensions.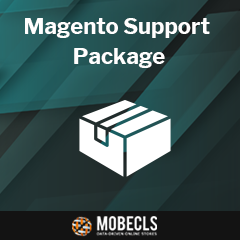 Mobecls team offers fixed-price service packages for Magento store support. Moreover, we'll help you to choose a plan according to your business needs and specifics. The starting price is $2000. You can also select the number of working hours and the range of services. A service package may include updates, the installation of modules, bug fixing, SEO support and many more. Contact us and we'll help you.