Customer reviews are simply feedback on the experience of your former customers. They can be published directly on your website or on other platforms dedicated to this mission. Platforms like Trustpilot or Verified Reviews allow Internet users to openly publish their opinions on their various experiences with eCommerce sites or online service websites. Customer or user reviews are used to describe their lived experience with websites and companies. We are all influenced by the reviews of other people and this influence can even affect purchasing decisions. 9 out of 10 consumers consult the opinions of other users posted online before deciding to buy or use the services of a business.
In reality, the decisions of online shoppers are influenced by customer reviews more than any other advertising or marketing action. The strength of customer reviews lies in the fact that users post their reviews freely and speak openly about their experiences. This makes customer testimonials much more authentic than any other advertising campaign the company takes.
Customer feedback is an important aspect of an eCommerce business.  Reviews create credibility for your products, and increased credibility means increased sales. According to numerous studies, a third of customers rank the customer rating function as the most important attribute of an online store. We'll tell you why you should integrate customer reviews on your eCommerce site.
Benefits of Customer Reviews for Online Stores
Credibility
Product reviews not only help an online business increase sales but also facilitate a lot of other factors that directly or indirectly help increase sales numbers. Some of these aspects are discussed below.
More than half of online shoppers prefer to shop from websites that feature a customer reviews section. In some cases, more emphasis is placed on customer feedback than on product descriptions offered by the manufacturer. Integrating customer reviews into eCommerce site helps shoppers make decisions, faster and better, and provides an enhanced shopping experience. These reviews can dramatically improve your online store's conversion rates and increase sales.
 Improved search engine rankings
Customer reviews help improve your online store's ranking in search engines and increase its visibility to a global audience. Reviews regularly deliver fresh content to an e-commerce site, and it is this user-generated content that sets it apart from other websites. Your website attracts more visitors, when customers search for similar products, like the ones you sell, thanks to keyword reviews.
Reviews provide unbiased insight
Genuine, organic reviews from people who have purchased a product from your website provide valuable insight into your products and eCommerce activity. Integrating customer reviews on your eCommerce site encourages more and more customers to visit your site and buy your products.
Feedback helps you deliver better products
When a customer reviews a product online, you get to know their preferences. In other words, customer reviews and ratings let you know the buying behavior of your audience. This allows you to improve your product offerings to your customers and retain them. Reviews are a great way to instill brand loyalty in your customers for your products.
If you build your eCommerce site without integrating customer reviews, you will not get all of these benefits and you will definitely miss the opportunity to improve yourself as a brand and as a product.
Where to place reviews on your website?
The placement of customer reviews is essential to reassure your potential buyers and to convert them. You must therefore define the strategic locations of your customer testimonials to increase the conversions of your site.
Generally, it is advisable to place customer reviews on the pages that are decisive for the conversion. It can be:
Home page
Whether it's the home of an online store or a showcase site, placing customer reviews on this page allows you to build trust and ensure that the visitor will continue browsing. Since the home page is the first impression of what you do, placing customer testimonials there allows you to create a serious and professional image.
Product pages
Leaving customer reviews and the overall rating given by consumers allows potential buyers to have a clear idea about the quality of the product and its uses. It allows you to stay authentic and reinforce your brand image. It also acts as a guarantee of confidence because Internet users are always afraid to buy products that no one is buying. Product reviews also allow you to influence users' purchasing decisions and generate more revenue.
Shopping cart 
This is the final step in the buying journey on your site. Placing customer reviews on the cart page allows you to boost conversions. In fact, they can reassure your potential buyers and give them a sort of guarantee on the quality of your products or services. The buyer who arrives on the cart page needs a final push to complete the transaction. Reviews and testimonials from past clients will do the trick.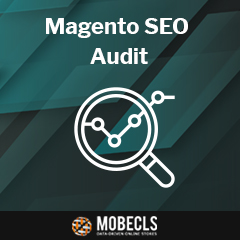 Mobecls team provides basic and advanced SEO audits, SEO and performance optimization services. We are SEO-focused development company that specializes in Magento | Adobe Commerce. It means that we know what and how to fix SEO issues, taking into account your UX, Marketing and Business specifics.