Although the B2B business sector is vast and diversified, what a digital commerce solution or a marketplace management platform can achieve is strikingly similar.
To provide the best customer experience and make it simple for others to conduct business with you, you need an eCommerce platform with B2B-specific capabilities. B2B sellers must equip their webstores with a number of critical features for B2B eCommerce in order to properly satisfy the demands of their online buyers and compete in their competitive marketplaces.
Top 8 B2B eCommerce Features 
Let's glance at the most crucial B2B eCommerce features as well as website elements to boost sales efficiency and customer experience.
Access Controls, Roles & Permissions
Customers on B2B marketplace platforms and eCommerce websites are frequently unique people with a range of responsibilities and job titles. Therefore, it is crucial to ensure that users have access to only the information they need to do their duties. There is always an admin user who can create extra customer users, provide access to buyers, and allow unauthorized people to utilize the system.
Buyers, the most prevalent type of user, can be further subdivided into purchase managers and junior buyers. In this scenario, a buying manager may have complete access to invoices, orders, tax codes, and so on, but junior buyers may only view quotations, pricing, and shopping lists.
Corporate Account Management
Unlike in B2C, the B2B eCommerce user experience necessitates a great deal of customization. When dealing with firm subdivisions or sub-units, a B2B account may have many users with distinct responsibilities and purchasing permissions.
Your system's corporate account management capabilities should be good at managing complex hierarchical corporate account systems. Buyers should be able to create their own account management structures, add authorized users, and establish purchase rules regardless of how many businesses, teams, departments, offices, or branches they have.
Multiple Organizations, Websites & Stores
Many companies manage international brands that operate in many countries, currencies, and tax jurisdictions. As a result, your B2B eCommerce solution's scalability and localization capabilities may become a vital necessity for your company.
These B2B eCommerce capabilities are often addressed out of the box by a purpose-built B2B platform. OroCommerce Enterprise Edition, for example, features versatile and sophisticated solutions that enable firms to manage many businesses, sub-brands, and divisions from a single location. If you're creating a bespoke eCommerce solution from the ground up, don't forget to account for the scalability and PCI DSS eCommerce security needs that come with multi-website possibilities.
Self-service Options
Customers increasingly choose to self-serve rather than call sales representatives. However, not any self-service portal will suffice. B2B portals should be responsive, easy to use, and provide unique features. Business buyers, for example, frequently need to request quotations, make orders, generate reorders, alter data, or track shipping – your solution should allow this.
However, all the B2B portal features in the world will not always be able to substitute human connection. Look for self-service B2B eCommerce capabilities that you can personalize for each customer or adjust as circumstances change. Self-service capabilities can help you achieve your aims of building and nurturing strong client connections.
Advanced Content Management 
Because B2B purchasers buy for realistic (rather than emotional) reasons, merchants must provide more information to ensure buyers understand what they are purchasing. Product descriptions, videos, certificates, marketing papers – all of this material helps you properly express the benefits of your products while also anticipating and addressing many decision-makers' queries and pain points.
Any B2B eCommerce platform must have excellent content management features in order to provide you complete control over the content, layout, and embeddable. Content editors should be simple to use and allow marketing and merchandising teams to easily change content and product pages without requiring technical experience.
Personalized B2B Catalog Management
When it comes to online retailing, there is no one-size-fits-all solution. Your eCommerce solution should be adapted to your company model, not the other way around. As a result, customized B2B catalog management is one of the most important B2B eCommerce features.
Sellers may tailor product catalogs to certain organizations, departments, business units, and even individual buyers or consumers thanks to many customizing possibilities. Each group has its own catalog, where buying managers may browse information and purchase things. For example, you could wish to group-specific goods together or set various minimum purchase quantities for different clients.
Flexible Custom Workflows
Don't forget to examine the versatility of your solution when choosing B2B eCommerce software. An eCommerce website should never be seen as a "set it and forget it" project. Markets will shift, opportunities will arise, and customers will request additional functionality.
During your technical examination, one critical capability should be the capacity to construct an endless number of bespoke eCommerce workflows to support both buyer and seller-related operations. You should be able to configure numerous workflows, from onboarding and quote through order submission, checkout, and replenishment, with a flexible workflow engine.
Segmentation & Custom Reports
Your B2B eCommerce platform is a goldmine of customer data, making it ideal for account-based marketing, segmentation, and customer behavior analytics. You should be able to measure important company KPIs and understand how different marketing approaches, UX enhancements, and new product offers influence them.
Your B2B eCommerce analytics system should offer a customizable reporting engine and dashboards that allow your marketing teams to acquire valuable insights into customer data. It will help you analyze your consumers' purchase patterns and develop timely, focused marketing campaigns in addition to tracking critical business KPIs.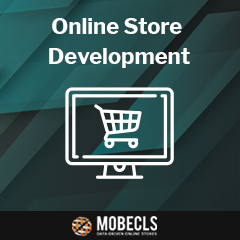 Mobecls team provides a wide range of eCommerce development services, starting from SEO and design to custom functionality development. Our 10+ years of Magento expertise allow us to provide unique eCommerce solutions taking into account industry and business specifics. If you want to take your business to the next level, we're ready to help!