An eCommerce return refers to a product returned by the buyer to the online sales site. The customer can indeed choose to return the purchased items. The more the number of products returned to the seller increases, the higher the eCommerce return rate is and costs the e-merchant more.
Two main levers allow an online store to optimize this return rate:
display a transparent return policy for consumers,

use a PIM solution to control the product information disseminated on an online sales site.
In this article, we'll examine how to meet customer requirements in order to decrease this rate and increase turnover.
Return Rate Optimization Tips
So how can you optimize your return rate?
Establish Clear Communication With Your Customers
Make it simple for customers to contact you if they have a product query or an issue. This keeps people from being dissatisfied and returning the goods because they don't understand how it works or believe it's broken. Consider using live chat or instant messaging in addition to the standard ways of phone and email. This creates an instant connection between the consumer and your company, eliminating wasteful returns and ensuring inquiries or difficulties are resolved as soon as feasible.
Update Your Return Policy
The majority of return policies are 30 days or fewer. Double or triple this if you want to minimize returns for your eCommerce store. While it may appear to be counterintuitive, increasing the number of days a consumer has to return a goods decreases the urgency associated with returns. Most returns are fueled by this urgency, but by eliminating it, your consumers are more likely to become connected to the thing they were about to return (or simply forget about it). This will reduce the number of returns you receive, and in some cases may strengthen the returns (and return reasons) you do receive, because the customer is more likely to be honest due to the increased timeframe, as opposed to a customer rushing to process a return and filling in any old reason to get it done before they are no longer eligible. 
Automate the Return Process
The more customer returns there are, the more the expenses related to logistics increase: transport, storage, handling, repackaging, not to mention the ecological impact. Free returns also represent a cost to be closely considered, both in financial terms, but also in terms of the brand image perceived by dissatisfied customers.
Fewer eCommerce returns thus mean a reduction in the costs to be borne, but also a significant time saving, which can once again be used to develop online sales.
Recently, our company has created a special module that helps to reduce the cost of the return process. Fedex return is the perfect example of how the return process can become easy and effective for both customers and store managers. Whenever a customer wants to return a product, they need only to enter the order number and shipping details, click the button and get a return label. This way they don't need to reach out to store managers and delivery services to complete the return.  
Learn More About Our FedEx Return Solution  
Use Sizing Guidelines and Fitting Tools
Examine your present size guides to verify they are current and simple to read on both desktop and mobile devices. This will prevent clients from buying the incorrect size by mistake and then returning them, boosting your return rate. Fitting tools can range from a simple slider on the product that shows how the product fits on the majority of consumers (i.e. fits as expected or fits larger than expected) to virtual room planners that demonstrate how furniture will fit into certain measurements and places. 
Reduce Your Ecological I
mpact
By reducing product returns, an e-merchant adopts an eco-responsible approach. Indeed, this reduction has positive effects:
fewer materials used "unnecessarily" for packaging (and repackaging),

less energy consumed,

less waste to be recycled on the consumer side,

less transport, therefore lower fuel emissions,

fewer returned pallets that generate the same types of costs.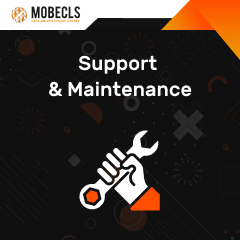 Mobecls team provides a wide range of eCommerce development services, starting from SEO and design to custom functionality development. Our 10+ years of Magento expertise allow us to provide unique eCommerce solutions taking into account industry and business specifics. If you want to take your business to the next level, we're ready to help!