There is no doubts, eCommerce has forever changed the way people shop. While online shopping has made more things available to more people all over the world, it has also created a slew of new issues that can irritate customers and cost companies sales. 
Common eCommerce Customer Complaints 
Let's take a look at some of the most prevalent eCommerce concerns and potential remedies.
Complicated Checkout Process
One of the biggest selling points of online shopping is that it is meant to be simple. A multi-step checkout procedure eliminates this value and may cause customers to abandon their carts.
Solution: Make the checkout procedure as simple as feasible. Make it clear what information is essential and attempt to limit the quantity of optional information you request. Allow clients to easily save their information for future orders.
Poor Security 
Customers like the convenience of keeping their information so that it is auto-populated the next time they order. They despise receiving notification that their account, password, credit card number, and other personal information may have been stolen as a result of a security breach.
Solution: Conduct a digital risk management evaluation on your website and mobile app, and close any possible security gaps that are discovered. This procedure will also indicate if your company complies with all applicable data protection and privacy laws in your jurisdiction. Make your privacy and data protection policy explicit and easy to locate so that consumers can trust you with their sensitive information.
 Difficulties in Getting Customer Service
One advantage of offline shopping is that you may obtain guidance and assistance from a sales representative. While most online shoppers are comfortable navigating a website and completing purchases, they may face difficulty or want further information before making a purchase choice. They may move their business elsewhere if they realize that customer support is only available during certain hours or that they must make a request and wait for an email answer.
Solution: A well-designed FAQs section combined with the implementation of a customer support chatbot may assist most shoppers in finding answers to their inquiries. If a client has a very difficult question, they should be able to reach out to a human, but these automated solutions can manage many customer inquiries. As an extra benefit, chatbot analytics may assist you in determining what information clients most frequently want.
Errors That Interfere With Browsing and Checking Out
Online shopping provides amazing ease, but users have learned to demand an almost immediate experience in exchange. As a result, if customers find poor load speeds, broken links, and error warnings when searching for and attempting to purchase a product, they will give up immediately. The same client who will enter a store, browse the shelves, and then ask the worker to "check if there's any more in the back" is unlikely to replenish the contents of a lost online shopping cart.
Solution: Error monitoring and online session replay can assist businesses in identifying consumer pain points, even exposing where customers decide to abandon the customer journey.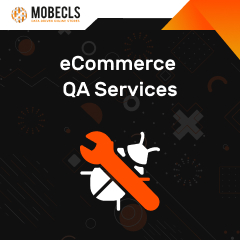 eCommerce QA audit highlights the weaknesses of online stores that may turn into a disaster in the future. The sooner they are revealed and fixed, the fewer headaches you will have later. Inaction will cost you a fortune. Bigger stores require much more resources and time for optimization.

The True Cost of eCommerce Issues
Your website needs to be your customer's guidance to the products displayed on it. Be productive in solving the upcoming complaints because by doing so you will potentially grow to the side where a lot of new clients come, as well as, old ones will stay. The impact of dissatisfied customers varies by industry, ranging from a potential loss of 11 percent of business for grocers, up to a loss of 25 percent for mass retailers. Considering the fact that e-commerce was projected to be a $5,5 trillion industry in 2022, retailers would be wise to do whatever they can to keep their piece of the pie intact.