Fraud is a problem that affects every business but eCommerce hit the hardest. From ad frauds to transaction and shipping frauds, online stores lose millions of dollars every day. In 2017, eCommerce Fraud Loss Reaches $57.8 Billion. Unfortunately, these figures continue to grow every year as scams develop new fraudulent schemes and improve the old ones.
Nevertheless, there are some schemes that seem to be a default. Forewarned is forearmed. It's important to know what you may face in order to prevent possible losses. In spite of modern security technologies and tools, it's still difficult to fight scams, especially online. You don't know who makes a purchase on your site as you can't see him and verify the identity.
Today we'll point out 5 widespread eCommerce fraud schemes and some preventive rules. Moreover, we'll tell how we implemented one of these safety rules to a Magento store.
Top eCommerce Fraud Schemes
Refund Fraud
A buyer tries to overpay an order and claims that it's just an accident. After that, he'll ask for a reimbursement. Most likely this "buyer" is using a stolen credit card or account. If he says that his card is closed and asks you to refund the excess amount using an alternative method, you may be sure that he's trying to fool you.
How to prevent: If you're not sure in the buyer's identity and you can't check it, it's better to cancel this order.
Friendly Fraud aka Chargeback Fraud
It occurs when a customer asks for a chargeback after receiving an order. Usually, there are two types of it:
Unintentional fraud. Customer is just frustrated by your service: lack of support, poor communication, long shipment or just impatience. Instead of asking a refund or solving a problem with a merchant, these customers will dispute the charge with their credit card company.
Intentional fraud. A customer purchases an item and already knows that he's going to ask for a chargeback. He wants to do two things at once: get a free item and a chargeback.
How to prevent: Fulfill orders on time and track return shipments. Delay is a usual issue in eCommerce but you shouldn't let your customers think that they'll never get their orders. Track every step of the shipment process and notify your customers if there're any delays. Blacklist chargeback fraudsters. If some buyers try to take advantage of your business several times it's time to ban them forever. Offer friendly, 24/7 customer service. It's better to solve a problem in person rather turn it into chargebacks.
Package Rerouting
A customer provides you with a fake shipping address. Then events develop according to the following scenario. A swindler addresses to the shipping company directly and asks to reroute his order as it couldn't be delivered. After that, he files a complaint that he didn't get any package and the merchant can't prove the fact of the delivery.
How to prevent: validate shipping addresses or block the opportunity to reroute orders.
Triangulation Fraud
This fraud consists of three components: a customer, online store and fake online store.
A fraudster creates a copy of your storefront on eBay or Amazon offering goods at extremely low prices. When a person "makes a purchase" on this fake storefront a fraudster gathers all the personal information (address, name, credit card info and etc.). Then he just uses this data to make purchases on the Net. When the order is going to be shipped he can easily reroute it and intercept it wherever he wants.
How to prevent (a piece of advice for customers): don't trust too juicy offers with free shipping option on eBay and Amazon. Monitor online auctions and list suspicious storefronts.
Account Takeover  
The most common type of fraud. A swindler just gets access to a customer's account and make purchases using his identity.
How to prevent: a fraudster will update or add a new shipping address to the account before the purchase so you need to track all the changes that happen with customers' shipping addresses.
Fighting Fake Customers Case Study
The prevailing part of all eCommerce frauds can be detected by fake and multiple shipping addresses. You may say that having multiple shipping addresses is ok and it isn't suspicious. Yep, someone can make a purchase and ship it as a gift to a friend or relative. It's ok to have 2 or 3 shipping addresses. Nevertheless, when a customer has more than 3 shipping addresses, it arouses suspicion.
Our client faced frauds who were using multiple shipping addresses for their schemes. What's more important, they were using users' data and adding extra shipping addresses.
We were asked to send notifications to the admin and site managers if a customer has more than 3 shipping addresses.  It helps to check and verify suspicious accounts before order acceptance.
You can enable or disable admin warning at any time and also set a number of email thresholds.

We also added this information to order and customer sections.

This module helps to verify and check suspicious customers before a possible fraud can be committed.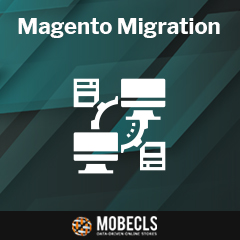 Mobecls Team provides several Magento migration packs. We help both middle-sized and large stores to smoothly migrate their data, design, custom functionality, extensions, SEO, etc. If you're interested in our migration scenarios, contact our experts or click the orange button.