The year 2021 has been more difficult than ever, due to the Covid-19 pandemic. However, it caused an eCommerce boom as there were 40 million online shoppers at the end of 2021, almost 2 million more than the previous year. Moreover, more and more businesses and physical stores moved online to provide their services and products to customers. If you want to stand out competitors in 2022, try to follow these eCommerce trends.
eCommerce Trends 2022
Customer retention
According to Forrester, marketing expenses related to customer retention will increase by 30% in Europe in 2022. This is to say if customer loyalty is a real strategic issue today. Attracting new customers is good, but keeping your customers as long as possible is even better, and this is especially true for hyper-competitive online business, where the cost of conversions and clicks seem to continuously increase.
There are several effective strategies to boost your customer retention:
The trick is to offer the option to create an account after the first order, as for newcomers creating an account can be intimidating.
Improve your customer service
The key is your customer support systems to consider: a live chat or support tool can turn a customer question into a sale, for example.
Start a customer loyalty program
Loyalty programs are an effective way to increase the frequency of purchases because they encourage customers to buy more often in order to earn rewards. It becomes a profitable trade for you and your customers.
There are lots of other strategies, like sending emails or giving discounts.
Personalized delivery
We noted it well in 2021 that delivery has become a pivotal point in the shopping journey, and consumers increasingly rely on an "à la carte" delivery service.
Currently, more than 70% of people consider that the range of possibilities offered for delivery is an essential criterion in their decision to buy. And the faster businesses, the more customers appreciate it. 
You must therefore make sure that your offer includes several delivery options, such as BOPIS (Buy Online, Pick-up In-Store), which can simply be called pickup, and optimize your delivery times. Delivery becomes a key factor in transforming prospects into real customers. They first consider the price of different delivery methods, but their second criterion is speed. A fast shipping strategy can boost your sales, maximize customer loyalty, and reduce the number of complaints received by customer service. The first important thing is to find a balance between the service and its cost. Of course, express deliveries are more expensive than standard deliveries. Therefore, they should be offered products with a high-profit margin.
Need Help to Find and Implement a Top-Notch Shipping Solution for Your Business?
Local marketplaces are on the rise
During the past year, a new phenomenon has been observed, the whole world market was triggered by the consequences of the Covid-19 epidemic – a number of local businesses have grouped together on marketplaces in order to continue selling their production. And this marketplace boom noted in 2021 (more than 50% of business volume) should continue this year.
Nearly 70% of people have considered that their small local shops should always offer an alternative to e-commerce sites, by being present on digital sales channels.
The Re-commerce boom
More and more people are shopping on re-commerce platforms, and this online second-hand goods market is expected to grow further in 2022, with expected growth of over 40%.
This type of business, which promotes the remarketing of used goods by organizing their resale, has existed for a long time, but now it is developing in all niches. To do good business among private individuals, the EU citizens now go to Vinted, for second-hand clothing, or even to Facebook Marketplace, which has long offered second-hand items for sale and purchase.
In the long term, this market should become twice the size of what is called "fast fashion", this practice which, for certain sectors of activity – especially in textiles and fashion – consists of releasing new items very often, to encourage consumption. The circular economy is taking off and now represents a high potential market.
Omnichannel strategy
This is a very noticed fact in the year 2021 and an indisputable reality. Consumers love the mix of genres. For example, one in two online shoppers prefers to order online from physical stores. It is undoubtedly the complementarity between the different channels – physical, digital, mobile that will shape the future of retail. Other examples, almost half of consumers want to be able to go to a store to observe a product before buying it, and more than 80% of them think that stores should put more on click & collect to facilitate the shopping experience. This strategy consists of initiating a dialogue with prospects with the aim of concluding a sale, via different channels – e-mail, SMS, telephone, chatbots. This allows future customers to ask all the questions they want, and then place their order with confidence. This new direct selling method (D2C) will be spread in 2022.
Going back to omnichannel, retailers will need to ask themselves the following type of question to see if they are offering a true omnichannel shopping experience:
Can customers discover a product in-store, scan it with your app, then add it to their cart for later purchase from home in a different size?
The rise of visual research
In 2021, it is now possible to find similar products via an image used as a means of research on Google or Pinterest, thanks to technological advances based on AI and deep learning.
And unsurprisingly, it is young people who appreciate this type of image search: more than 60% of those under 35 want the possibility of carrying out what is called a visual search during their shopping journey. This technique also makes searching easier for customers who cannot express their search terms accurately enough in words. An image of the relevant object in a situation like this solves the problem.
Visual search also saves customers valuable time. They avoid having to scroll through long lists of products. Instead, they can simply choose the desired product from the photos available as a result of their research.
Pinterest Lens perfectly illustrates this new trend. This tool allows internet users to find and buy whatever they see on the website and statistics provided by the platform state that more than 85% of users looking to buy clothes or furniture use the visual solution in place of textual search.
Split payments
A new standard has emerged in terms of payment, which makes it easier for consumers to make purchases during this difficult period – the possibility of split payments.
As a result, more and more e-merchants have started offering split payments on their online sales site. And most e-shoppers now expect to find this type of service on their favorite platforms. It has even become an essential criterion for online stores because almost 80% of Internet users who use this payment facility say that in the absence of a split payment offer on a given e-commerce site, they are ready to look elsewhere.
In addition, more than 70% of customers say that this solution is a real trigger to make an online purchase.
Storytelling is a marketing weapon for small businesses
The health crisis that has undermined the economies of countries around the world will at least have had a positive impact on the world. A renewed interest among consumers for our small artisans and traders, who are among those who have the most suffered – and still suffer – from the consequences of the pandemic.
With their history, their authenticity, their know-how, and their secrets, these small businesses have assets that the internet giants will never have.
By integrating elements of storytelling into their marketing strategy, these merchants have a real chance to capture the attention of Internet users and gain visibility.
Storytelling is a marketing process that involves using facts and stories to communicate the substance of your business or brand to your audience. Most of these stories are of course factual, while some are a bit embellished or improvised, the main thing being to best explain the central message you want to convey to your audience.
When small businesses become transparent and authentic, it inevitably strengthens the admiration consumers feel and encourages them to connect with them.
The important thing with storytelling is to create a narrative around your business, your brand or your product, in order to humanize them and to derive commercial benefits. This marketing process has its place in a social selling strategy.
Micro-interactions
Dan Saffer is the man who invented and theorized this concept of micro-interaction. These micro-interactions correspond to very brief and captivating moments, integrated into an application or a website, which stimulate a feeling of well-being once discovered by the users. This is one of the best marketing techniques for receiving rave reviews, improving user experience, improving customer satisfaction, and increasing retention.
As an example of micro-interactions, there are many actions on the screen of your laptop or desktop, such as clicks, scrolling, loading, changing pages, etc. anything that is visually reflected on the screen by the user's action.
However, we note that the conversion rates on sites with a pleasant and well-designed user interface are very high.
This is why designing micro-interactions, with great attention to detail, is the key to the success of any application or website, especially in the field of e-commerce. This improves UX by making the user interface more human-centric and less mechanical.
It is therefore essential for e-merchants, when designing their website, to respect 3 fundamental rules:
What's going to happen? (Inform the user of what will happen if they trigger a given action)

What is going on? (Continue to inform the user during the unfolding action)

What just happened? (This is the confirmation or the result of an action)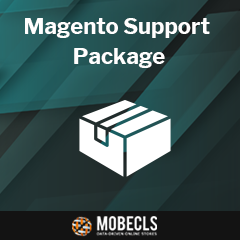 Mobecls team offers fixed-price service packages for Magento store support. Moreover, we'll help you to choose a plan according to your business needs and specifics. The starting price is $2000. You can also select the number of working hours and the range of services. A service package may include updates, the installation of modules, bug fixing, SEO support and many more. Contact us and we'll help you.