Although digital companies have gained in popularity over the years, consumers have been hesitant to adopt this new business technique. However, in response to the physical constraints imposed by the worldwide pandemic, an increasing number of businesses have resorted to digitization as a means of providing service to their clients.
Nonetheless, consumers have shown some reluctance to any digital initiative that requires digital monetary transactions and/or the usage of sensitive information, raising the question: is there a need for blockchain technology innovation? in order for the digital commerce industry to thrive?
Blockchain Benefits for Ecommerce
After reviewing consumer needs for digital goods and current market offerings, the following consumer and business owner needs emerged:
Increased Security
According to a 2018 poll, over half of Americans are at least somewhat comfortable completing monetary transactions online. Importantly, this study shows that half of respondents do not feel safe while purchasing online. With known worries about unwanted access to sensitive information, such as monetary assets and/or self-identification data, digital users require a platform that delivers a high level of security.
With greater security being one of the most valuable commodities connected with Blockchain technology, blockchain technology developments in the digital commerce industry that increase customers' and company owners' perception of security may bring enormous success. Designed to prevent unauthorized access to sensitive information, such as monetary assets or self-identification data, blockchain technology can allow consumers and digital merchants to easily manage transactions with minimal risk.
Transparency
The lack of transparency is one of the most significant barriers to e-commerce. Consumers appear to lack faith in their company suppliers, in contrast to in-person commerce, because purchasing online eliminates some components of control.
With concerns raised about the quality and/or delivery of services, as well as monetary transactions, it is clear that customers would benefit from a more transparent online buying system. Blockchain technology can be useful in this market since it allows consumers to clearly trace their transactions.
Accessibility
According to a 2018 poll, one of the perks of virtual shopping is the opportunity to digitally browse a larger assortment of items. However, expecting access to relevant and innovative items might be detrimental to digital company owners. With eCommerce competition rising by the day, eCommerce owners must match consumer expectations to remain relevant, and blockchain technology may be the answer.
Recent blockchain industry advances are making it simpler to access goods and/or services all around the world. Blockchain technology has proved its ability to link any buyer to any product or service, regardless of region, whether through near-zero fee transactions or the safe transmission of information. Blockchain technologies may be widely sought after for this quality in the highly competitive eCommerce industry due to the clear potential connected with blockchain and the highlighted business necessity.
Financial Flexibility
When asked about their online purchasing habits, consumers said they typically bought higher-priced things from local stores and lower-priced ones from US or overseas retailers. This purchasing habit may be connected to people's capacity to fund themselves through local central governments. This online shopping habit, on the other hand, may be both a headache for local and international online company owners and an opportunity for blockchain technology pioneers.
Because the underlying cause of this buying behavior appears to be a lack of digital financing choices, blockchain technology advances that allow users to acquire products in a number of ways may enable potential consumers all over the world to purchase more expensive items. Indeed, blockchain technical advancements for digital loans, collateral, credits, or payment installments can meet the indicated rising need for new payment options in e-commerce checkouts.
Furthermore, emerging digital payment technologies such as cryptocurrencies and digital wallets are already proving popular in China's eCommerce marketplaces, with projections indicating that China will control more than a third of the Chinese eCommerce industry within the next four years. As a result of these factors, eCommerce operators will require blockchain technology to adapt to this demand and serve present and future markets.
Bottom Line
Although individuals are gradually acclimating to the online purchasing experience, many still anticipate all in-person services to be offered through digital means. People anticipate a large product catalog, receipts, transparency, no-fee payment choices, and other features, many of which are possible with blockchain technology.
Furthermore, blockchain technologies have already begun to permeate the eCommerce sector in several countries and are linked to its tremendous success. As more online firms attempt to surpass their competitors and identify the capabilities of blockchain technology to suit their demands, the demand for blockchain innovations is expected to be at an all-time high, establishing blockchain technology as the standard for eCommerce.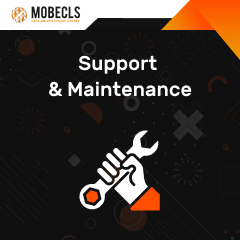 Mobecls team provides a wide range of eCommerce development services, starting from SEO and design to custom functionality development. Our 10+ years of Magento expertise allow us to provide unique eCommerce solutions taking into account industry and business specifics. If you want to take your business to the next level, we're ready to help!