The UX design of an eCommerce site is at least as important as the quality of the products it offers. UX design refers to all the elements of a website that aim to improve the user experience (UX) of its visitors. The more pleasant the experience, the more the visitor will be tempted to make purchases on the e-commerce site in question. But how do you go about boosting the user experience of a website? 
This article presents you with several tips in UX design e-commerce and top extensions for Magento 2. 
UX Optimization Tips
Tip 1: Optimize Site Navigation
The first tip in UX design is about the visual of your e-commerce site should make visitors want to stay there as long as possible. Make your online store both fluid and ergonomic. Visitors should feel that navigation is quick and easy so that they can quickly find the information they need. This will boost their trust in your site. They will then be more eager to buy your products.
Position the basket at the top right;

Indicate the availability for each product (in addition to its characteristics, of course);

Always put the navigation bar in the same place on all the pages of the site;

Include a quick search bar for easy navigation;

Differentiate between links to other pages (internal and external).
Tip 2: Offer quality content
Your content is at the heart of the user experience you offer on your e-commerce site. It must be particularly neat: exit the errors of the chosen language, syntax, or typography, which generate the suspicion of the Net surfers! It's your branding that's at stake.
In addition, your content must provide all the information that visitors need to decide to buy your products. Words should be chosen wisely in order to arouse envy. It is essential to supplement the writings with photo content, and even video if possible. Don't we say a picture is worth a thousand words? Confucius was already right!
Tip 3: Adopt "Responsive Design"
With the increasing use of smartphones in Internet browsing, the norm is "responsive design". More than advice in UX design e-commerce, this is an absolute must! In concrete terms, a responsive website guarantees your visitors a smooth and pleasant experience, regardless of the device used (mobile, tablet, desktop, etc.).
Your eCommerce site will thus adapt to the dimensions of each type of device. Responsive design has become necessary to keep users on a website. The loading speed and the space between clickable items should be suitable for mobile use. If in doubt, you can seek help from a web agency.
Tip 4: Put safety first
Another essential UX design tip: pay attention to security on your e-commerce site. Remember that a customer must have a maximum level of confidence to be willing to buy from a website. If he fears for the protection of his data, he may not take the risk of buying precisely.
This is why you need to set up security certificates (https, padlocks, trust seals, security standards, etc.) and put them forward during the crucial payment stage. The customer will be both reassured and all the more motivated to order from you.
Tip 5: Have a UX design consistent with the brand image
This series of UX design tips would be incomplete if it did not mention the importance of overall consistency. The web design of an e-commerce site must be thought out in a coherent way to help your visitors to recognize (and like) your brand on the web.
For this, we recommend that you set up a style guide. It will be used to record the choice of the graphic charter, colors, formats, typography, visuals, etc. And this is for all the pages of your e-commerce site. Get support from an expert agency to define your brand strategy.
Top UX Extensions for Magento 2 to Follow These Tips
Build the ultimate customer shopping experience and boost the store SEO rankings with a feature-rich navigation system. Display multiple filters and handy widgets to help visitors instantly find the products they need.
Flexible tailor filters' display to match your store needs

Use vertical and horizontal navigation blocks

Provide customers with extended filtering by Brands

Generate SEO-friendly URLs for your store pages

Speed up product filtering with AJAX

Apply custom sorting options for brand products
Convert searches into sales with Elastic Search for Magento 2. Instantly show the most relevant search results to customers — guiding them to what they're looking for quicker.
Full-text and full-website multilingual search

Partial search by SKU, name, attribute, or category

Autocomplete suggestions and typo corrections

Add alternate search terms and words to ignore

Optimized for all devices
Advanced Content Manager for Magento 2 supports you with your extended management and content creation. With this Magento swiss army knife, plenty of new features will satisfy your many needs and allow you to build powerful and structured content to enrich your online store.
Easy and intuitive to use

A complete CMS toolbox for Magento 2

Adding, configuring, and managing the content and the layout without coding

Time-saving features and ready to use back office

Fully customizable to adapt to your client's needs
Supply your Magento 2 store with a user-friendly One Step Checkout to speed up the shopping to the checkout process and heavily enhance customer satisfaction. Create converting checkouts just in a few clicks to boost store revenue.
Two customizable mobile-optimized themes

Let customers edit product options on the checkout

Display delivery date and time options, enable Order and Delivery comments

Supports popular payment systems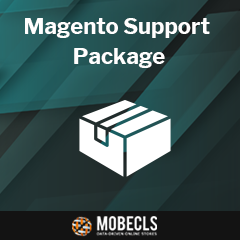 Mobecls team offers fixed-price service packages for Magento store support. Moreover, we'll help you to choose a plan according to your business needs and specifics. The starting price is $2000. You can also select the number of working hours and the range of services. A service package may include updates, the installation of modules, bug fixing, SEO support and many more. Contact us and we'll help you.