Dropshipping is an intermediary store that sells goods from a supplier's warehouse. The reseller attracts visitors, converts them into buyers, and passes the completed order to the dropshipper. A dropshipper is a supplier or manufacturer of a product.
That is, the intermediary does not need to:
rent your own warehouse;

have a budget for the purchase of products;

register a company;

buy cash register equipment;

report to the tax office.

the logistics are also provided by the dropshipper.
Such a trading system allows the owner of an online store to sell someone else's products under his own brand and easily expand the assortment – dropshipping suppliers can be different, as well as the categories of goods they have.
In this case, the seller's earnings are either the difference in price or the percentage that the dropshipper pays to sell their goods.
Benefits of Dropshipping
Here are several pros when you use dropship extension:
Low capital: No start-up capital is required, which means there are no financial risks. No need to invest in warehouses, transportations, or manufacturing.
Flexible places: You don't have to burden your home with goods or look for a warehouse to store them. All you need is a computer with the internet to place your orders.
A wide range of item offerings: You have the opportunity to place a huge assortment of goods of various categories in the store since you do not purchase them in advance, but only advertise on your website.
Simple scale enlargement: When your current stores develop, it's easy for you to build up your scale. Just choose other suppliers and they will process the rest of the work for you.
Drawbacks of Dropshipping
Low productivity: Your customer is added to the supplier's customer base. The supplier can lure him "to his side", attracting an even lower price.
Inventory management: It might get difficult to keep track of inventories since you do not own any physical product.
Shipping problems: In case your customers order products from multiple suppliers, you need to forward the same number of orders and face some extra shipping fees.
Supplier's errors: In the merchandising process, there may be some unforeseen mistakes from your suppliers. But you still have to take responsibility for it.
Top Dropshipping Extensions for Magento 2
If you are looking for an extension that will help you to upgrade your Magento online store, check out the Aliexpress Dropship for Magento 2. It is a useful and reliable shipping program.
With Magento 2 Aliexpress Dropship Extension, users have the opportunity to import various products from Aliexpress into your online stores and launch your company smoothly. You can also keep a record of orders more easily via many warehouses thanks to Aliexpress Dropship.
Highlights:
Design endless warehouses

Create price rules for warehouses

Import items from the Aliexpress

Login warehouse manager separately

Support multiple inventories

Freely set up shipping methods for particular warehouses
Dropshipping extension from Boost My Shop goes together with the Embedded ERP Extension Suite, one of the most influential Warehouse Management Systems. This is a tool that supports the simplest and most convenient warehouse management for any e-commerce store.
Highlights:
Automatically the suppliers with the fair price

Speedily import supplier stock and price

Keep a record of Dropship workflow

Provider info about supplier email inc. client packing slip
uDropship is regarded as one of the most trusted Dropship solutions in e-commerce. It allows users to sell items from many suppliers and manage inventory easily.
Unirgy Dropship Extension automatically serves the entire process between dropshippers and stores, updating orders and shipments when required. It allows customers to get rich and best features so the high price is relatively reasonable.
Highlights:
Maintain many shipping sources for orders

Compatible with all third-party providers

Cooperate with multiple suppliers for a product

Auto deliver the details to suppliers

Pre-order shipments for each supplier
Xtento Dropship is an ideal pick for those who have difficulty in foreseeing orders and shipments. It is compatible with all kinds of suppliers and drop shippers.
When using this Dropship extension, you can save plenty of time and effort as it offers a speedy and trustworthy integration procedure.
Highlights:
Work with any stock supplier and dropshipper

Offer auto-order export

Keep track of order status in Magento 2

Feature four separate modules including Order Export, Tracking Number Import, Stock Import, and Product Export

Download and install with ease
The platform is really easy to use and has a ton of features to set up shipping rules and make sure that orders are being processed correctly. Their wide array of different shipping carriers makes it easier to decide and integrate the carriers that best fit the user's needs.
Highlights:
Offer separate selections (carrier, place, and email address) for every warehouse

Let multiple suppliers login into a warehouse

Flexibly selecting the shipping means

Auto-send report to shopper's emails when they order products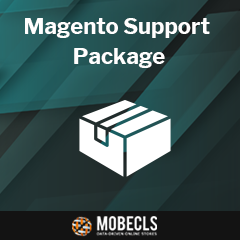 Mobecls team offers fixed-price service packages for Magento store support. Moreover, we'll help you to choose a plan according to your business needs and specifics. The starting price is $2000. You can also select the number of working hours and the range of services. A service package may include updates, the installation of modules, bug fixing, SEO support and many more. Contact us and we'll help you.