Product bundling is a commercial marketing concept when numerous connected items or services are offered and sold as a package solution. This technique is sometimes known as Package Deals. Usually, it consists of add-on components or, less frequently, related things. As an example of a bundled item, consider a beach set that contains sunscreen, sand toys, sandals, and towels.
Product bundling may efficiently raise average order value by selling more without higher transaction costs. Furthermore, product bundling can encourage cross-selling if the package includes products from new categories.
In this article, you'll learn about the benefits of product bundling and how to do it properly.
Product Bundling Benefits
Product bundling provides lots of benefits both to merchants and customers. Below, we'll take a look at some reasons this technique is so popular.
Better Customer Experience. product bundling allows customers to choose products or services grouped according to their needs. It makes decision-making much faster and easier. Moreover, if you let customers create their unique bundles (remove, add, edit products), this technique will be even more satisfying. Furthermore, bundled products save customers' time as they don't need to spend tons of time surfing through vast catalogs.
Increase Average Order Value.  Product bundling increases average order value as customers buy more than one item during a shopping session. For example, instead of purchasing sunglasses, you can give a customer an option to buy a beach set that includes sunglasses, a towel, sunscreen, a bathing suit, etc.
Reduce Inventory Waste. No merchants like deadstock items that add inventory costs. Product bundling is a great technique to clean up your stock and sell deadstock items before they become a problem. For example, you can group slow-selling products with bestsellers. This way, you can reduce inventory waste, free up your warehouse and decrease inventory costs.
Lower Marketing and Distribution Costs. Product bundling lets you sell more goods and decreases marketing and distribution costs. You don't need to promote every product in your catalog, as you can group similar products and market them as a single product. Moreover, bundled products require less packaging, which allows you to save money on shipping.
Product Bundling Types
There are several product bundling techniques:
Pure Bundles 
Pure bundles contain exclusive products that customers can only get when they purchase the set. This technique limits the choices offered to the consumer. However, the exclusiveness of products in a bundle motivates customers to buy them. You can pair this technique with FOMO (fear of missing out) marketing like limited time or deficit.
New Product Bundling 
This technique implies grouping newly-launched products with existing or popular products to help customers discover your latest products. Mix your new products with bestsellers to gain some exposure for the new product.
Custom Bundles 
The custom bundles technique allows customers to choose among multiple products. Specify a few products for your customers to choose from to help them create their custom bundle from the available options. It's a great way to boost customer confidence and encourage them to buy products in bulk without forcing them to purchase items they don't need. For example, you can offer your customers to match complementary pieces of clothing for a fixed price (e.g., a shirt, trousers, and sneakers for $50).
Gifting Bundles
Gift bundles aimed at shoppers looking for gift during holiday seasons. It's a stressful period of time for consumers as everyone is looking for a perfect gift to a loved one. Gift bundling is an ultimate solution for customers during holiday seasons as you've already grouped top items for them. Customers will highly appreciate saved time and efforts.
Inventory Clearance 
In this bundling technique, you want to pair bestsellers with deadstock items to clear inventory space and decrease inventory costs. Customers interested in your top products see the whole bundle as a bargain and will be more inclined to buy it. It's a win-win situation both for merchants and customers. You get rid of deadstock items and customers get top products.
Tips on Product Bundling
When specifying things to put together, choose products that complement one another. Strategically consider the following.
Assemble helpful things, such as accessories, that a buyer is likely to require when shopping. For example, if a battery-powered device is sold without a battery, include it in the bundle to save the buyer time hunting for it.

Deliver genuine value by guaranteeing that your packages save clients money.

Look at sales trends to determine what consumers like to buy together to gain insights from actual data.

Investigate the products of your competitors.
Use data and analyze product performance
You can use artificial intelligence (AI) and machine learning (ML) tools to harness the full power of data to boost conversions and sell smarter. As innovative eCommerce development grows, we will continue to see the positive impact of AI and ML tools on e-commerce sales.
Big players like Amazon or AliExpress are leading the way in leveraging AI and IM to collect data from every customer interaction to optimize product bundles and increase your sales.
What are your customers already buying?
Customers are more likely to make extra purchases that they would not have considered otherwise if they notice substantial discount offers or unique product bundles.
For example, if you're looking for a present for someone who loves Kylie Cosmetics, you may get lip kits. It's a product bundle that includes lipstick and lipliner in a single package. That is the strength of product bundles. The customer spends a bit more on complimentary items, and the merchants earn more money.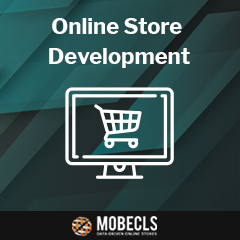 Mobecls team provides a wide range of eCommerce development services, starting from SEO and design to custom eCommerce development. Our 10+ years of Magento expertise allow us to provide unique eCommerce solutions taking into account industry and business specifics. If you want to take your business to the next level, we're ready to help!