The Meet Magento New York 2023 event is now behind us, but the memories and insights are fresh in our minds. It was a time of connections, learning, and some eye-opening moments in the world of online shopping.
Think of it as a big gathering of folks who love talking about eCommerce, sharing stories, and picking up new ideas. From the main talks to smaller discussions, the event was buzzing with activity.
In this blog post, we're going to walk you through the event, the coolest stuff we saw, and what it all means for the future of online shopping. Let's dive in and relive the highlights together.
About Meet Magento New York 2023 
Meet Magento New York 2023, powered by Above The Fray and supported by the Magento Association, stands as a significant milestone in the world of eCommerce. This annual gathering is a celebration of innovation, community, and the ever-evolving landscape of digital commerce.
About the Organizers:
Above The Fray: Above The Fray is a global eCommerce agency specializing in boosting online sales and transforming businesses. They excel in consulting, designing, integrating, and evolving digital commerce solutions, with a focus on B2B and D2C businesses. Their approach combines meticulous analysis, expert architecture, and advanced engineering to drive process efficiency and growth.
Magento Association: The backbone of Meet Magento events with a presence in over 40 countries. They empower the global Magento community, fostering open collaboration, education, and thought leadership. Moreover, their vital role extends to helping community event organizers ensure the success of Meet Magento events globally.
Meet Magento New York 2023 Top Sessions: Mobecls' Choice  
The heart of any great event lies in its sessions, and Meet Magento New York 2023 was no exception. Here are the top five sessions that had us glued to our seats:
Is AI Coming for My Magento Job? – Speaker: Talesh Seeparsan, CEO Bit79
Talesh delved into the intersection of AI and job security within the eCommerce industry. He highlighted the growing role of AI in various aspects of eCommerce and how it's reshaping job roles. As AI continues to advance, it's essential for eCommerce professionals to stay agile and adapt to these changes.
A crucial point discussed was the ownership of data. Talesh emphasized the importance for merchants to assert control over their data. Using platforms that don't exploit your data for training machine learning models (LLMs) is vital. The idea is to build your internal data flywheel and not allow platforms to leverage your data for their own gains.
In addition, Talesh highlighted the security concerns associated with generated code. While AI-driven code generation can be efficient, it may not always prioritize security. It's a reminder that, even in an AI-powered world, the security of code remains a critical concern.
For many reasons – including security – "human in the loop" is a requirement for successfully deploying AI. —@_Talesh at #MM23NYC pic.twitter.com/R3VTskqhDY

— Joshua Warren (@JoshuaSWarren) October 11, 2023
The Evolution of B2B Capabilities in Adobe Commerce – Speaker: Igor Miniailo, Principal Enterprise Architect Adobe
Igor Miniailo's session was a fascinating journey into the dynamic world of B2B eCommerce. We explored how Adobe Commerce is addressing the specific needs and challenges of B2B commerce, and the key takeaways from this insightful session are as follows:
Unique B2B Challenges Solved: The session highlighted how Adobe Commerce is tackling generic points in B2B commerce. It offers solutions for issues like supporting complex products with unique pricing, personalizing intricate buyer journeys, and facilitating complex sales ecosystems with multiple sales representatives, distributors, and partners.
Adobe Commerce's Uniqueness: One key takeaway was the distinctiveness of Adobe Commerce in the B2B eCommerce space. Besides Adobe Commerce, no other eCommerce platform provides these capabilities tailored specifically for B2B commerce.
Advanced B2B Capabilities: Igor Miniailo introduced substantial B2B capability improvements within Adobe Commerce. These include features like Advanced Quoting & Procurement, which encompasses Shared Carts, Company Address Books, and Carrier Optimization. These enhancements aim to streamline B2B processes and enhance the overall procurement experience.
The session gave us a clear picture of how Adobe Commerce is changing the game in B2B eCommerce. It's not just about solving problems; it's about going beyond limits and adding powerful features that help businesses succeed in the tough world of B2B commerce.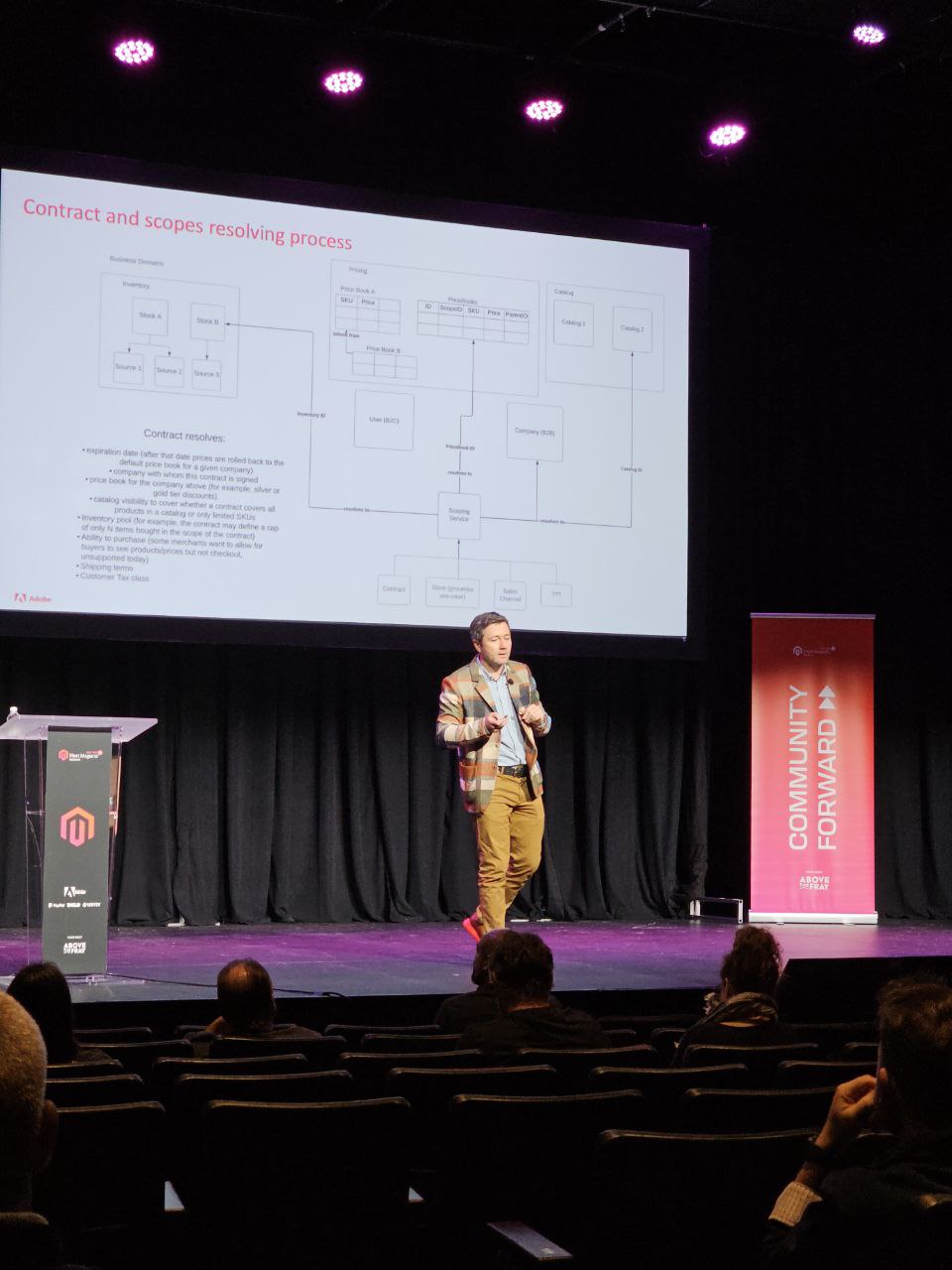 Why Developers Love Hyvä Theme, Checkout, UI and… – Speaker: Willem Wigman, Founder/CEO Hyvä
Willem Wigman's session introduced us to the exciting world of the Hyvä theme, a game-changer in Magento 2 front-end development. The session shed light on the emergence of the Hyvä theme as a groundbreaking technology in Magento 2 front-end development.
One of the standout features of the Hyvä theme is its focus on performance. It's engineered to deliver faster and more responsive eCommerce experiences. For developers, this means crafting websites that not only look great but also perform exceptionally well.
Hyvä theme doesn't just stop at performance. It's designed to be flexible and scalable, allowing developers to adapt to various project requirements and future growth. This flexibility is a breath of fresh air for developers looking to create unique and tailored eCommerce solutions.
Willem Wigman highlighted how the Hyvä theme has been gaining traction and attention within the Magento community. It's a testament to its potential and the enthusiasm it has generated among the eCommerce community. The buzz around the Hyvä theme is a reflection of its promising future.
Exciting Announcement: During the session, Willem Wigman shared an exciting update. He announced that the Hyvä Checkout will soon be available for stores on the Luma theme, adding even more flexibility and performance enhancements for Magento stores.
Increase Revenue With Building Accessible Ecommerce – Speaker: Kuba Zwolinski, Founder & CEO Snowdog
Kuba Zwolinski's session shed light on the critical importance of integrating accessibility into the development of eCommerce websites. Here are the key takeaways that emphasized why this is a crucial aspect for eCommerce success:
Accessibility as a Preventative Measure: The session highlighted that weaving accessibility into the processes and construction of an e-commerce website from the start is a preventive measure. Neglecting accessibility in the early stages can lead to increased expenses and time spent fixing accessibility issues later on.
Globally, e-commerce businesses are losing $6.9 billion dollars due to accessibility issues on their website. @snowdog at #MM23NYC pic.twitter.com/rgzjDRPvqT

— Joshua Warren (@JoshuaSWarren) October 11, 2023
Beyond Legal Compliance: The session made it clear that accessible e-commerce websites go beyond merely complying with the law and providing a better user experience. They also bring technical and SEO benefits. Accessibility isn't just a requirement; it's a strategic advantage. 
The key message from this session is clear: Accessibility is not just a moral and legal obligation; it's a smart business move. It not only prevents costly issues down the road but also has the potential to significantly increase revenue and improve a website's overall performance.
Fireside Chat: What's Up Magento?
This session was undoubtedly one of the highlights of the event, where Jo Baker, CEO/Founder of ShipperHQ, steered a discussion with representatives from the Magento Association and MageOS. 
"I am here to restore balance to the Magento ecosystem. We need differing viewpoints and open conversations." — Jo Baker 
Jo Baker's words resonated with the audience when she emphasized the need for balance within the Magento ecosystem. She highlighted the importance of diverse perspectives and open conversations to drive progress in the Magento community.
The session was marked by tough questions aimed at addressing community-curated inquiries. It was a testament to the commitment of the Magento community to transparency and accountability.
Unfortunately, the entire conversation wasn't recorded, and not a single pen was in sight to take notes. However, the good news is that the full talk will soon be uploaded on the official YouTube channel of Meet Magento New York. You won't want to miss it!
While we await the full recording, a few moments from this pivotal conversation were captured by our cameras. 
Captured Moments from Meet Magento New York 2023
These snapshots capture the lively and exciting atmosphere of the event. They showcase the engaging sessions and the valuable conversations that made the event memorable for us and everyone who attended. Take a look at the lively world of eCommerce, Magento, and the people who make it all happen.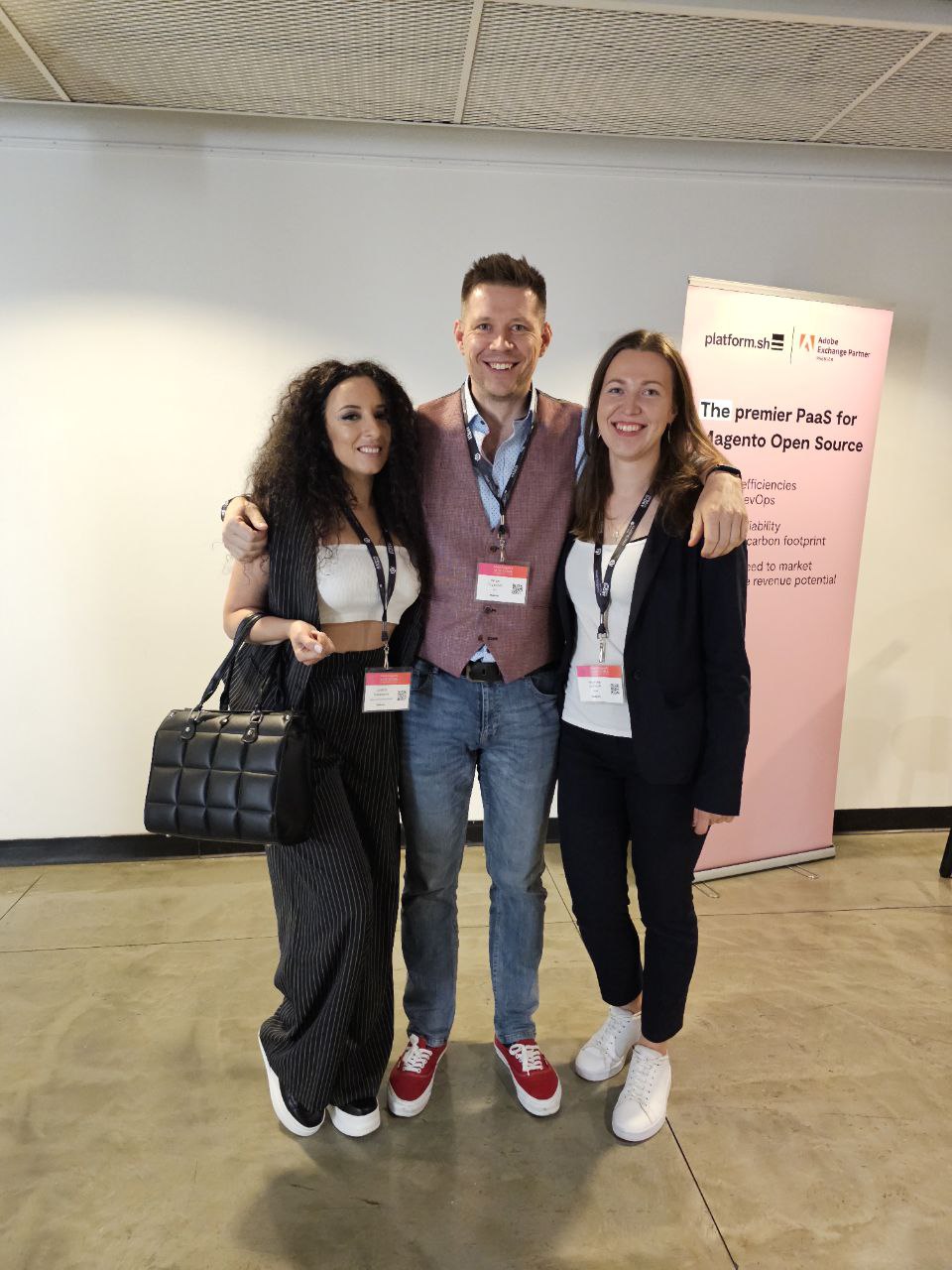 Mobecls team at Meet Magento New York: Jullietta Kasparova, Artem Pugachev, Veronika Lutovich  
The Big Apple From Empire State Building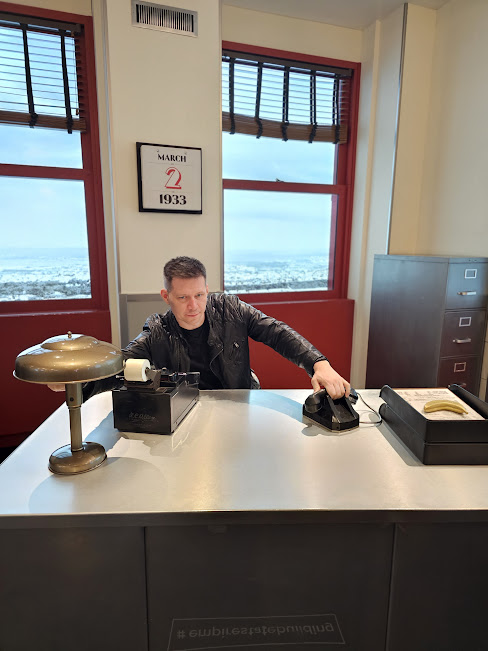 Artem Pugachev, Boss of Bosses
Shopware United & Preparty Openening Word by Marsha Naidoo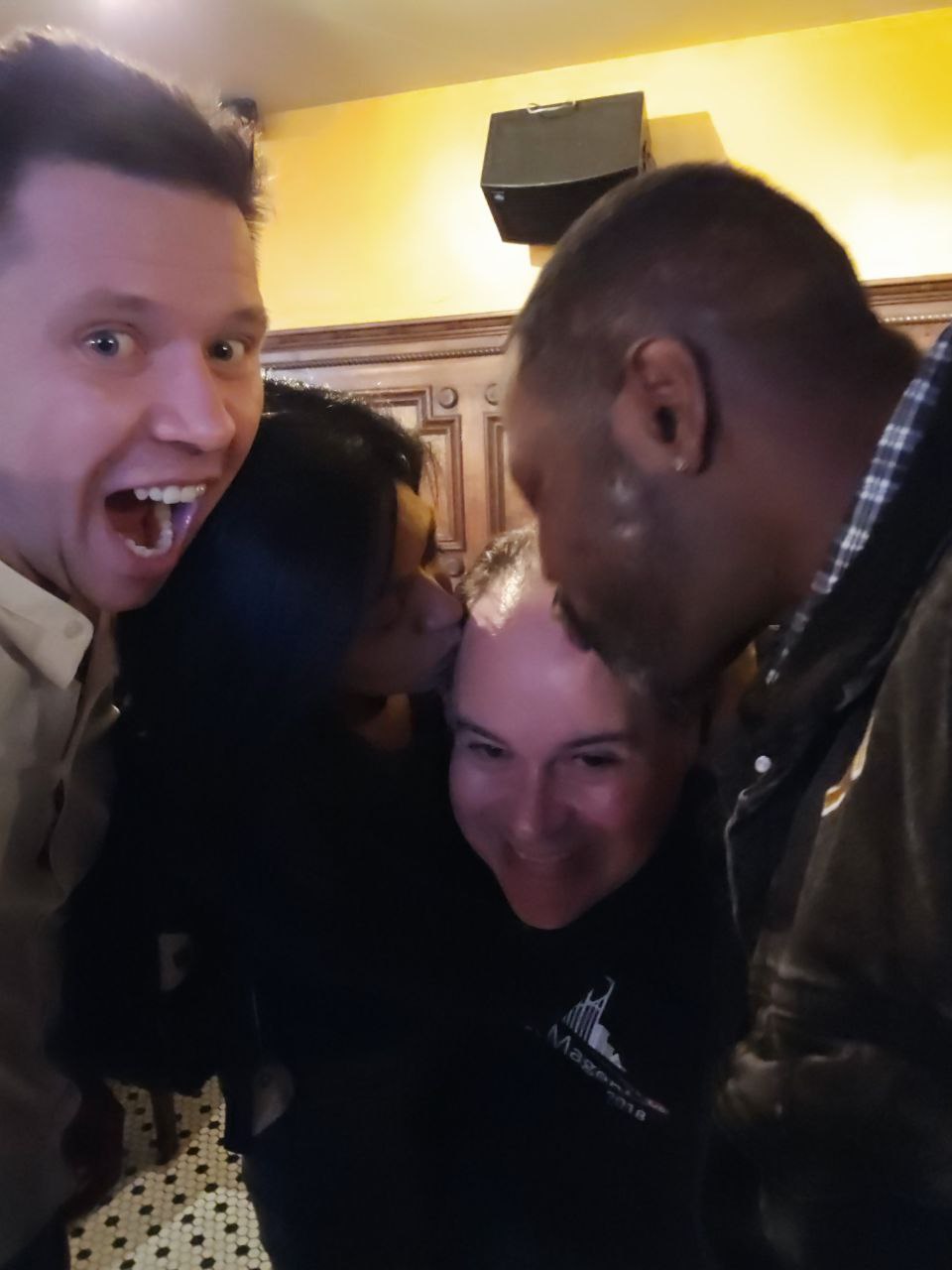 Having fun at Preparty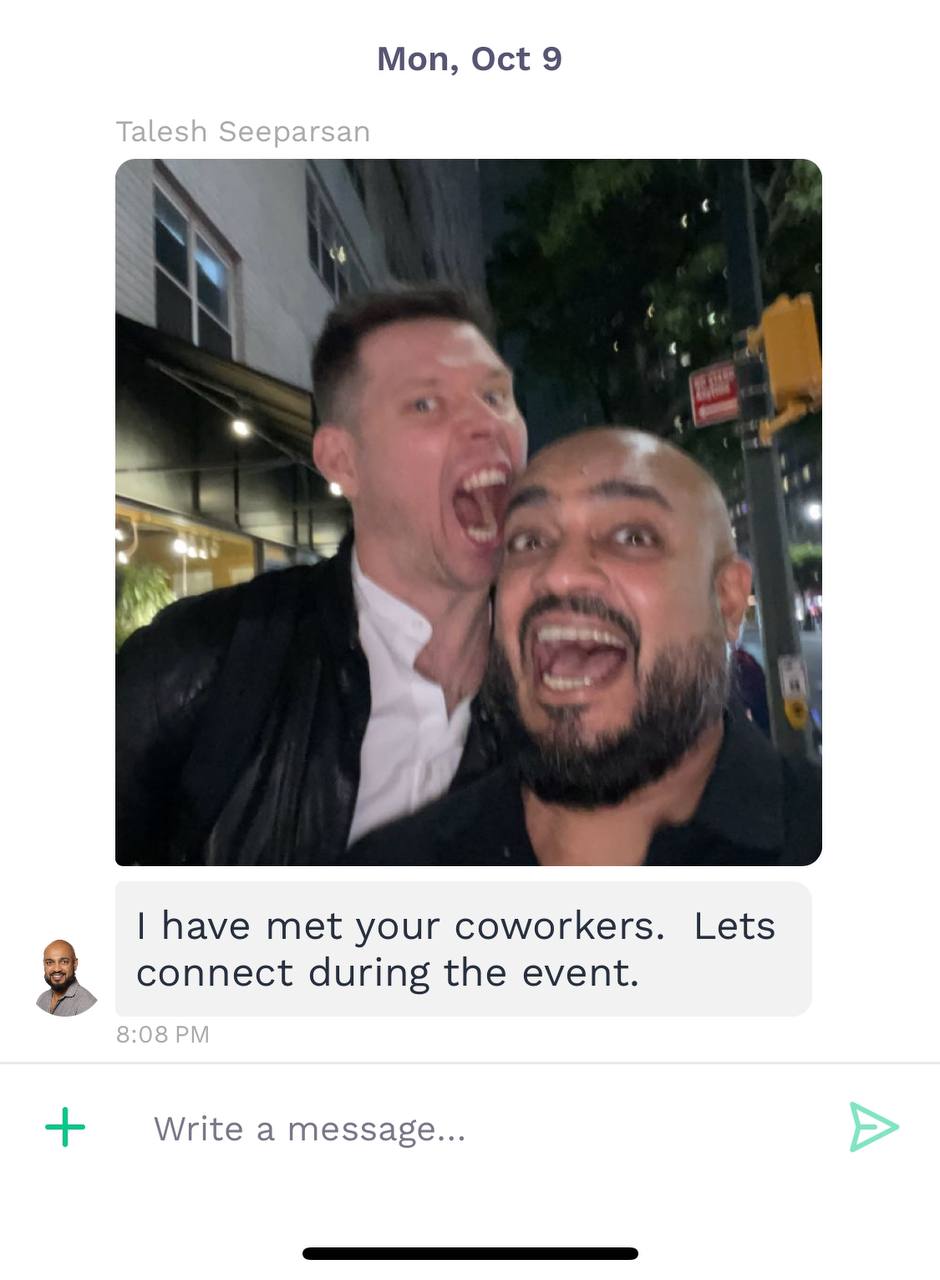 Hey Boss, how hungry are you?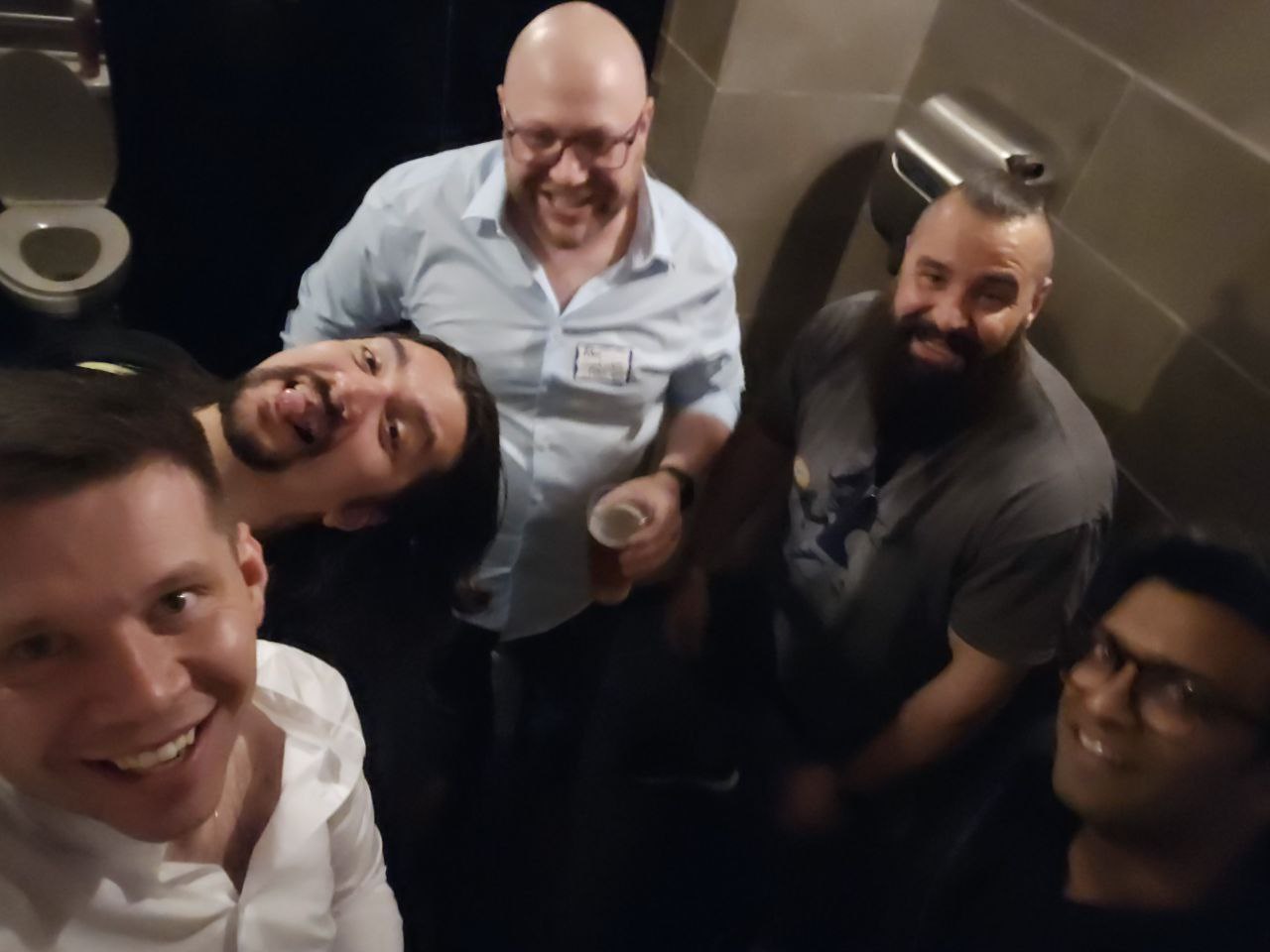 You never know where you'll get your portion of the insights.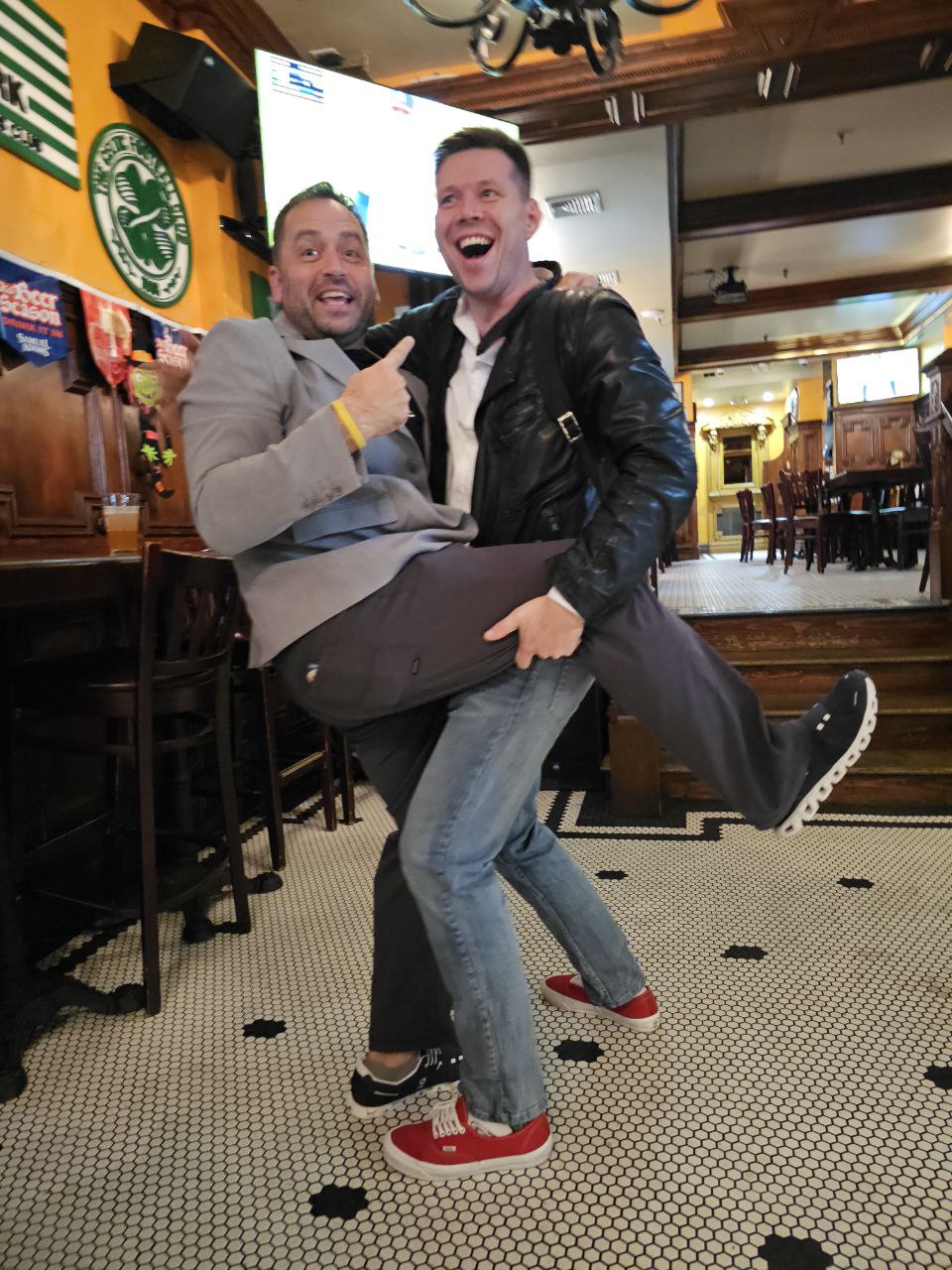 Double the party – double the fun. Shopware United + Preparty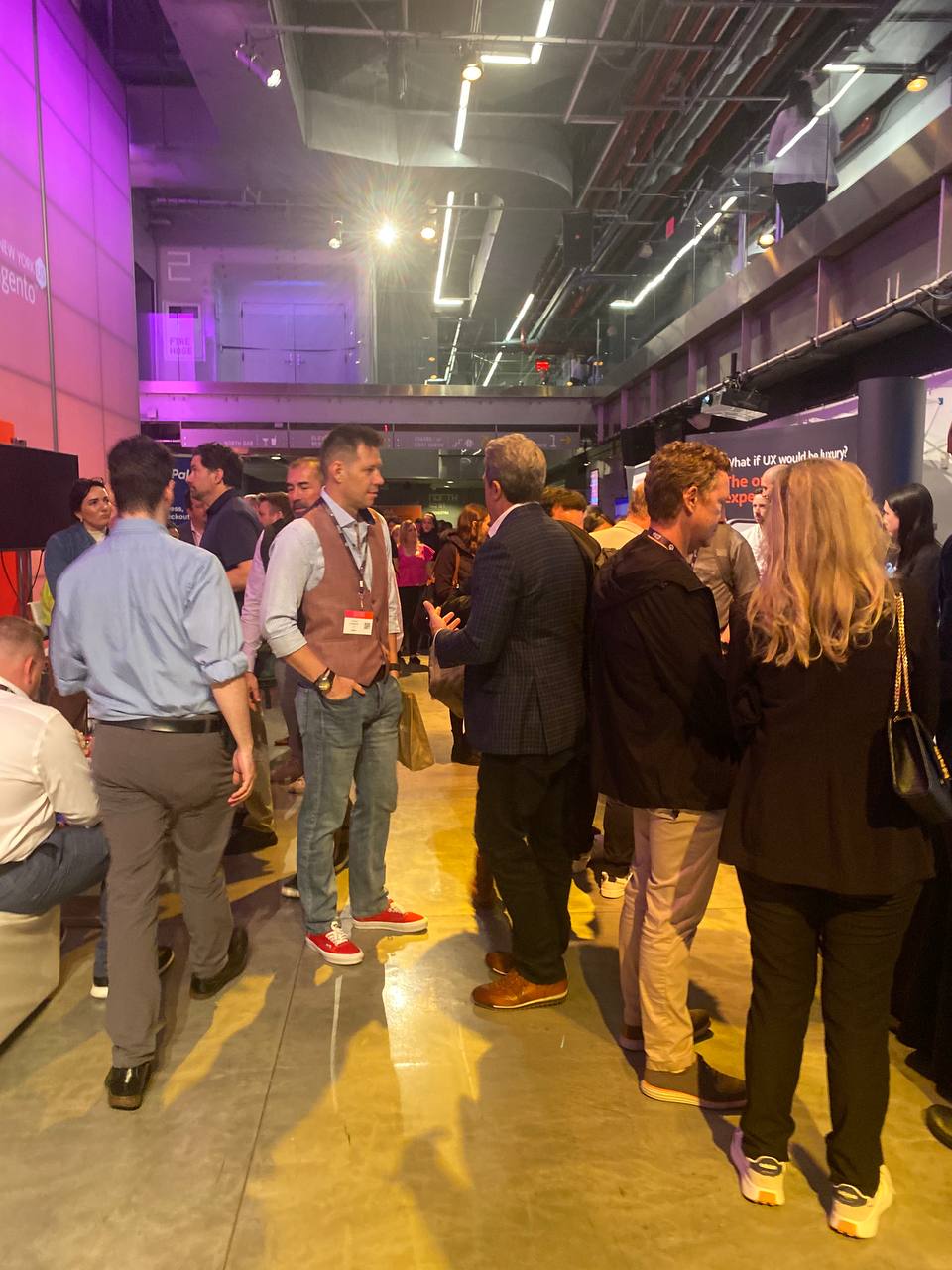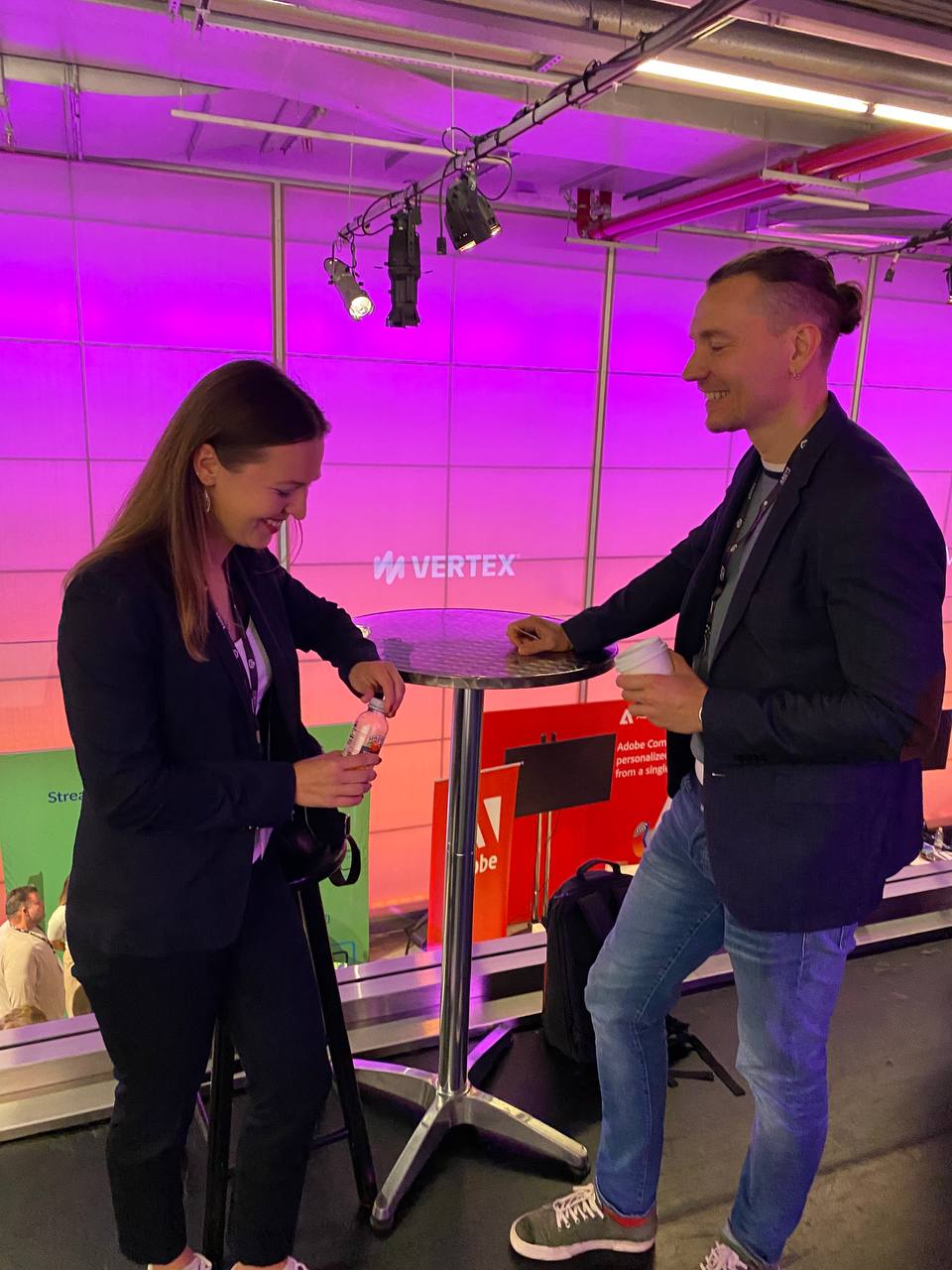 Networking Atmoshpere at MM23NYC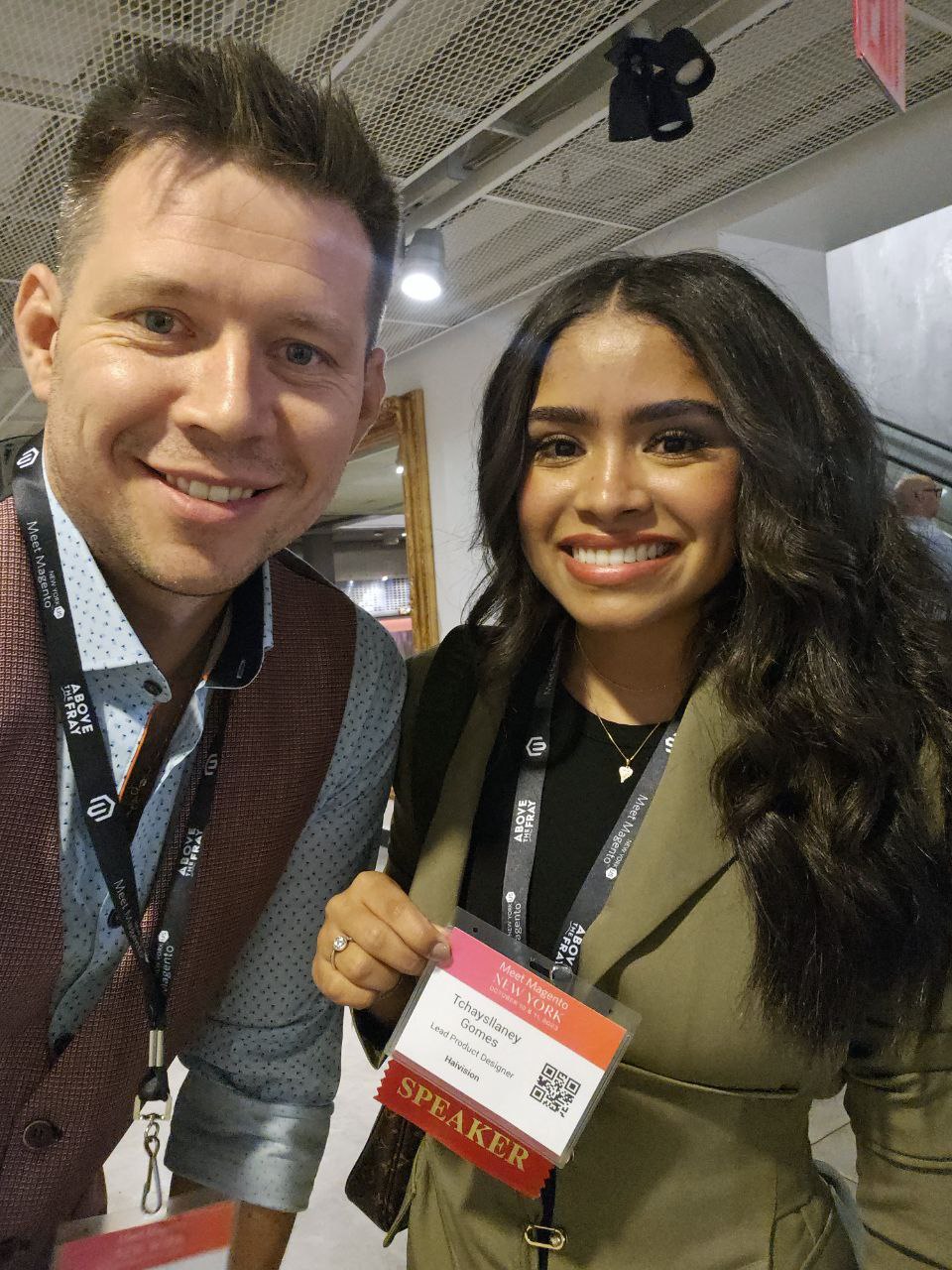 Diversity is what enriches our discussions and drives innovation. Tchaysllaney Rayenelly . Topic: The Art of E-Commerce Design: Bridging Product Craftsmanship and User Experience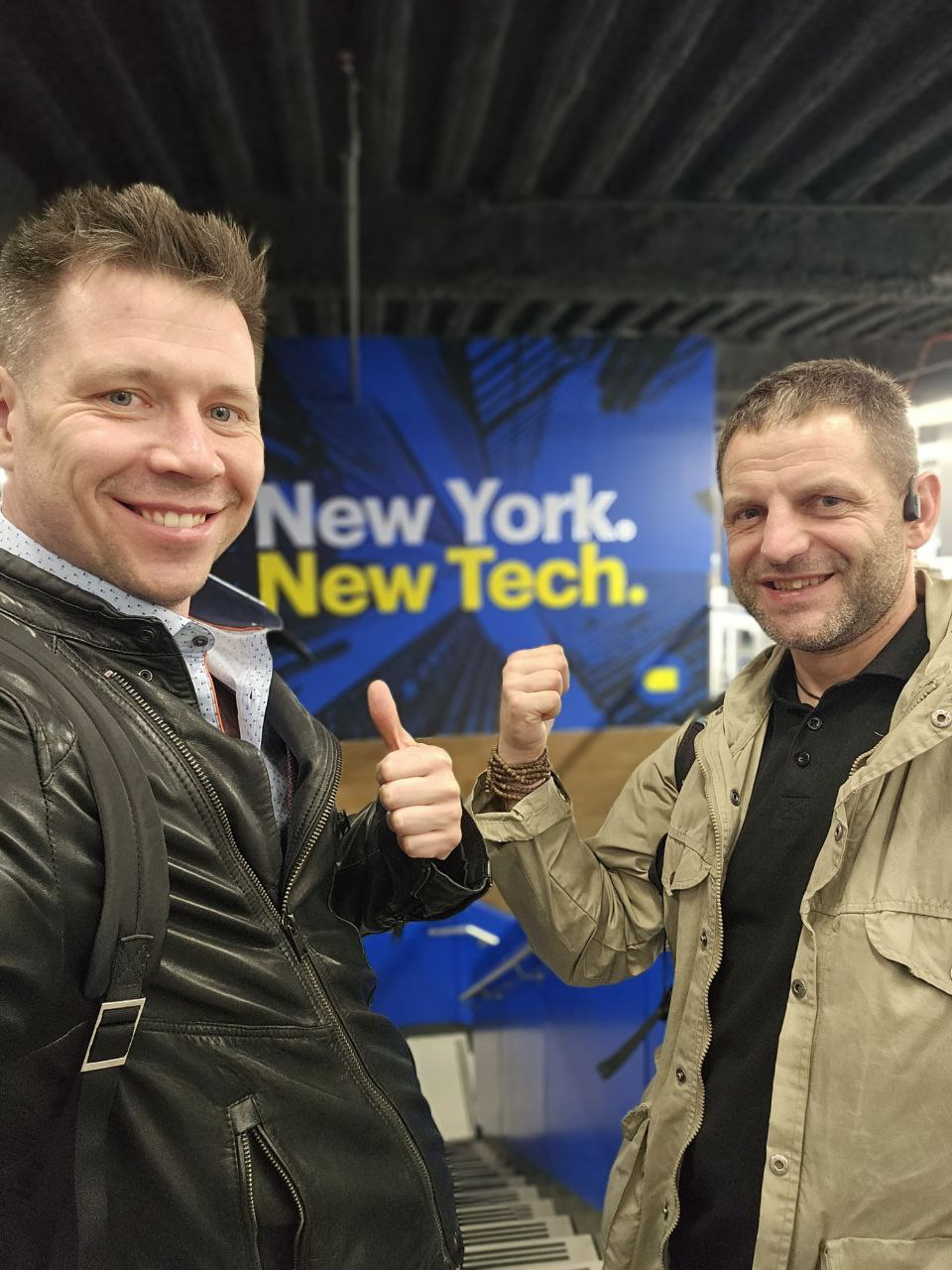 Cassually met Kuba Zwolinski in the city. Wherever you go, there is Meet Magento everywhere.
Real Ninjas from Atwix 
Why We Attend Ecommerce Events 
At Mobecls, we have a deep-rooted commitment to staying at the forefront of the eCommerce industry. We understand that staying still in this fast-paced digital landscape isn't an option. That's why we make it a point to attend events like Meet Magento New York 2023, and here's why:
Learning and Growth: For us, attending events is all about learning. We're eager to keep up with the latest trends, best practices, and emerging technologies in eCommerce. Every event is an opportunity to gather insights that help us serve our clients better.

Networking and Connections: In this digital age, there's no replacement for real, human connections. We attend events to meet industry experts, thought leaders, and like-minded professionals. The relationships we build often lead to collaborations that benefit all parties involved.

Shaping the Future: Events like Meet Magento are where industry professionals come together to discuss the future of eCommerce. Our presence allows us to contribute our ideas and perspectives, actively shaping the industry's future.

Celebrating Diversity: We also attend events to celebrate the diversity of the eCommerce community. The different backgrounds, experiences, and perspectives of event attendees enrich the discussions and drive innovation.

Bringing Value to Our Clients: Ultimately, everything we learn and everyone we meet at these events comes back to benefit our clients. We attend events to bring new insights, best practices, and fresh ideas to our work, ensuring that our clients get the best eCommerce solutions.
Events like Meet Magento New York 2023 align perfectly with our mission of continuous improvement, excellence, and client success. We attend not just as observers but as active participants, and we're excited to share what we've gained with our clients and partners.
Want to Get More Insights from the Event?
Subscribe and get the  most useful news from the Meet Magento NY 2023!