With subscriptions, you can plan your income better. You make yourself less dependent on other platforms, and your business grows on its own. If you do it right. We will explain how to build and scale a successful membership/subscription business.
Subscription business models have many names: Club membership, communities, maintenance contracts, subscription concepts or flat rates are just a few examples. Magazines, insurance companies, fitness centers, and many more have long relied on this in their business models. Digitalization is now making this an option for numerous other offers, products, and companies.
For example, you can have consumables sent to you regularly by Amazon or other providers and get them cheaper that way. The graphic design application, on the other hand, no longer costs hundreds or thousands of euros upfront, but a manageable amount per month. This adds up over time, of course, but the barrier to entry is lower. And the "surprise boxes" model is also based on this, with ever new products on a firmly defined overall theme.
Reasons to Run a Subscription Based eCommerce Website
Subscriptions are interesting for companies, agencies, and freelancers for various reasons, which allows for very different concepts:
The income is more predictable due to the recurring payments. Of course, this is not 100% true, but it is more than if you always have to stimulate new purchases.

Customers often spend more than if they had to order again each time. Because the hurdle between you and the customer is now somewhere else. It is no longer the purchase that is associated with effort, but the non-purchase (i.e. canceling the subscription).

You become less dependent on third-party platforms because more and more of your income comes from your existing customer base. If you do it right and inspire your customers, they can even recruit new customers who then contribute to your regular income. For example, through commissions, bonuses, free products, or affiliate models.

Your company is more interested in a takeover or a sale with such a business model.

Your income does not depend as much on successful marketing measures as is the case with other concepts.
What Are the Different Types of Member Sites?
There are many types of membership sites you can choose from to make your membership site more suited to your business and student needs.
There are 7 different membership models:
The drip model: content is drip (unblocked and delivered) at regular intervals (for example, weekly, monthly) and requires a monthly payment to access a private area for members only.

The "all-inclusive" membership site: where all membership content becomes available immediately for a fixed prepaid fee or monthly payment.

The online course: the content can be provided in a modular model, in advance, or at specific times, and it is sold at a fixed price with the possibility of being paid in one go or in several installments.

The online community: where the content revolves around a specific topic that is of common interest and unites a group of people. Access to private forums, messaging systems, or online groups is chargeable.

Fixed-term membership site: content is accessible for a specific period of time ranging from 7 days to one year. Payment is made either monthly for the duration of the membership, or in advance.

The digital product model: A digital product is protected and can only be purchased or used in a specific format, for example after a download or by using a login address to access an online membership portal. This model is often offered for a one-time payment.

The service model: content is accessible through the provision of a service. This service is often accompanied by a private area of ​​online tools, for example, worksheets.

The hybrid: a combination of different membership sites that share the characteristics of more than one model thus offering a range of possibilities.
How to Build and Scale a Successful Membership / Subscription Business
In December 2021, Mobecls team hosted the eCommerce Tech Inspire Summit to discuss cutting-edge trends, new technologies, COVID impact, and other hot topics. During the summit, experienced eCommerce experts shared their insights, tips, best practices, and more. During the event, Vinod Suresh, VP Growth at Go daddy and Formerly Walmart Plus, delivered an excellent speech on scaling Membership / Subscription Business.
About Speaker:
Vinod Suresh specializes in in building game changing, innovative, fun and engaging products. Thought leader in subscription , membership and customer loyalty. Led billion $ product transformation to ' bend the curve' at Samsclub, incubate WalmartPlus business using behavior and data science. I am an innovator and architect of Patent pending 'best in class' Omnichannel and Fintech experience. Empathetic people leader managing large cross functional teams driving impact through influence and vision.
Key Points:
What is the role of eCommerce and omni in traditional retail
How to unlock the value of testing to drive growth
How to drive loyalty value through partner ecosystem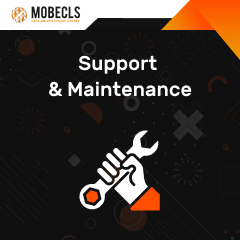 Mobecls team provides a wide range of eCommerce development services, starting from SEO and design to custom functionality development. Our 10+ years of Magento expertise allow us to provide unique eCommerce solutions taking into account industry and business specifics. If you want to take your business to the next level, we're ready to help!