Tendencies in omnichannel marketing offer a glimpse into the future. one in which traditional distinctions between channels, as well as between the real and digital worlds, are no longer valid. Only the businesses that can recognize and adapt to these trends will remain competitive in 2022 and beyond as the game's rules change.
Omnichannel Trends 2022
Follow this five crucial omnichannel trends if you want to deliver the seamless customer experience across all of your sales channels that contemporary customers now demand. 
Digital-first companies expanding into physical stores
Many businesses find brick-and-mortar stores to be an appealing alternative since it offers a chance to build a presence in the community and add another sales channel to the mix. The potential of expanding into physical stores has become increasingly alluring due to factors such as the rising expense of online client acquisition, the extraordinarily high rate of online returns, and the capacity to offer more enticing retail experiences.
Merging outdoor and online activities
The merging of online and offline encounters is tangential to the expanding trend of brick and mortar establishments. Popular use cases include "purchase online, pick up in-store" and the growing integration of mobile applications into the shopping experiences of consumers. For instance:
Customers may check store inventory before traveling, compare pricing, and get exclusive discounts and benefits on mobile devices when shopping in-store via the loyalty program provider Target Circle's app.

The Starbucks app allows users to order ahead for in-store or curbside pickup, receive incentives from in-store purchases, and even integrate Spotify so that customers can see what songs are playing inside the coffee shop.
But it's also taking place at a far deeper level. With the complexity offered by contemporary augmented reality (AR), the distinction between online and offline is becoming even hazier and a new phygital world (which combines the physical and digital) is emerging.
The usage of smart mirrors for virtual try-on of clothing and preview placement of furniture that enables consumers to see goods in situ in a digital reproduction of their house before making a purchase are two significant examples of how this is occurring.
Virtual shopping
Real-time access to skilled salespeople is becoming crucial as creative merchants attempt to replicate the in-store experience online.
Sales representatives may help customers through the purchasing process by using live chat, video chatting, and even social media interaction.
Video chat is one of the fastest emerging technology for online purchasing. Over 50% of consumers report watching videos when buying in-store, and 82 percent of all web traffic this year will be made up of videos.
The interactive benefits of an in-store experience may be brought to the convenience of home shopping by using video to link internet customers with in-store sales associates. For instance, it provides a method to do showroom tours, perform product demos, and even conduct personal shopping expeditions inside a business.
And this strategy is not simply advantageous for the retail industry. Additionally, there is no longer a need to physically attend a site to receive services like personalized financial planning and assistance.
Another piece of technology that is altering how consumers purchase is visual search. Users may upload a photo of a product they like and then search for it with a single click. Visual search technology may thus quickly advise you where to get something comparable when someone walks by wearing something that captures your attention but you have no idea how to get your hands on it. On a mobile device, it's like having a personal shopper.
Multi-channel attribution
Every marketing and sales executive wants to know if their efforts are bringing in a profit. However, client journeys are seldom exactly linear, and one channel will never provide you with an accurate view of your sales success (or lack thereof).
Multi-channel attribution is required to properly profit from omnichannel marketing initiatives. In essence, multi-channel attribution allows you to collect data in real-time across all channels, then use cross-channel analytics to investigate customer behaviors holistically.
Multi-channel attribution is a concept that digital marketers have long been aware of. What has changed is the combination of this well-known digital strategy with offline channels.
Changing consumer expectations
Markets are fundamentally driven by consumers. That is why it is critical to monitor what customers expect from their online and physical experiences. Here are three instances of shifting consumer expectations that businesses must satisfy.
Consumers want brands to deliver consistent information and experiences regardless of device, channel, or platform. Inconsistent client experiences, on the other hand, might lose you, consumers.
When it comes to customer service, 90% of consumers consider a "instant" response to be vital or extremely important. One illustration of the importance of speed in the customer experience is the rising popularity of same-day delivery.
When your numerous channels are not effectively connected, friction occurs, which may cost you clients. Automation and integration, particularly between online and physical channels, are critical to meeting customer needs for rapid, high-quality service.
When firms provide individualized experiences, 80 % are more inclined to make a purchase. True personalization is only feasible through omnichannel integration, which collects data from all consumer interactions to present a complete picture of their behaviors and interests. This is also important in giving excellent customer service. Because all data is routed through a single location, service representatives will always have access to the information they need to maintain a continuous conversational flow with consumers, even if those encounters are spread across time and devices.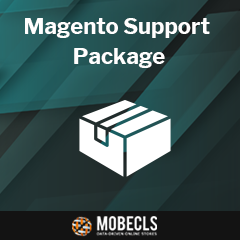 Mobecls team offers fixed-price service packages for Magento store support. Moreover, we'll help you to choose a plan according to your business needs and specifics.  A service package may include updates, the installation of modules, bug fixing, SEO support and many more. Contact us and we'll help you.